My inspiration for writing this recipe was my grandmother. I call her Ah Bu, meaning maternal grandmother. The reason why this dish holds a special place in my heart is because it was the first meal I learned how to make on my own and be proud of. Growing up my mom used to make dumplings all the time when she was a Mandarin tutor. When I was 14, I tried to make dumplings on my own, but I never knew how to correctly season the dumplings, so they'd always come out bland and dry. When I was around 16, I finally asked my Ah Bu if she could show me how to make them. After about 3 hours of hard work, I finally got down to the proper way to make the filling using the proper amounts of certain ingredients. The trick was adding enough salt and making sure the meat is kneaded to the proper consistency for a homogenous juicy consistency. I have been practicing this ever since. Eventually I started to research how to make homemade wrappers and I started practicing that as well. I can confirm that making dumplings from scratch is a skill learned through tons of repetition. Personally, I don't feel I've mastered the technique quite yet, however I never miss the chance to practice.
| | |
| --- | --- |
| TYPE | APPETIZER |
| SERVES | 6 |
| DIFFICULTY | MODERATE |
| PREP TIME | 15 MINUTES |
| COOK TIME | 15 MINUTES |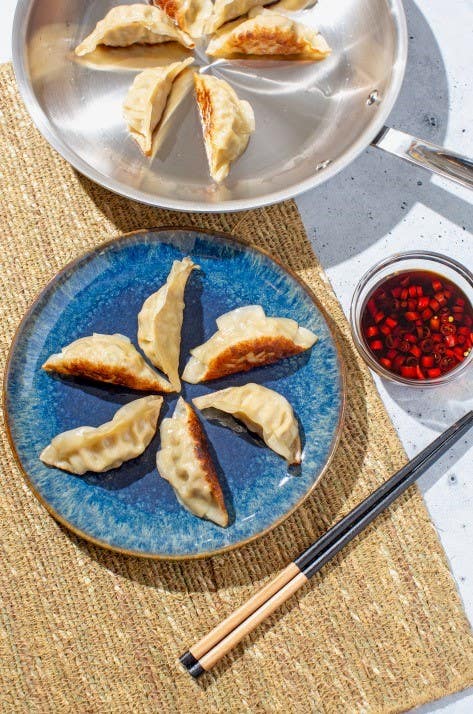 Ingredients
2 Dumpling Wrappers packages (store bought)
3 stalks Baby Bok Choy (blanch, shock)
2 lbs. Ground Pork
4 Egg Whites
2 tbsp fresh ground Ginger
4 tsp minced Garlic
5 stalks Green Onion, thinly sliced
1 tbsp Rice Wine Vinegar
2 tsp Shaoxing rice wine
2 tbsp Kum Chum Brand Soy Sauce
1 tbsp Lee Kum Kee Pure Sesame Seed Oil
Salt to taste
6 to 8 tbsp water
Egg wash
1 large egg
1 tbsp of water
Directions
Blanch, and shock Bok choy leaves. Small dice. Squeeze out all moisture.
In a large mixing bowl, add all components to the filling but the water. Mix through with a pair of chopsticks or hands.
Slowly add the water in one tablespoon at a time while mixing vigorously. The goal is to achieve a filling texture that is very malleable but not oozing or dripping.
Don't forget to season the filling with salt. To taste and check the seasoning levels of the meat, we suggest searing off a small portion of the meat mixture in a sauté pan.
Add the two egg wash ingredients in a mixing bowl, and whisk combining completely. Use egg wash to coat the edges of a dumpling wrapper and add 2 teaspoons worth of filling. Pleat the edges to seal the filling.
In a large stockpot, boil the dumplings for 5 to 7 minutes or steam for 7 to 9 minutes.
To give one side a nice crunchy crust, heat 2 teaspoons of neutral oil in a D3 sauté pan. When hot add the dumplings flat side down and sear until golden brown. Remove from the pan and place on a paper towel to reduce the excess oil. Serve immediately .
Pro Tip
If you prefer to steam, use a multipot. Take parchment paper and cut a piece the same size as the diameter of the steam basket. Punch perforated holes throughout the parchment paper to allow the steam to pass and then lightly coat the paper in oil.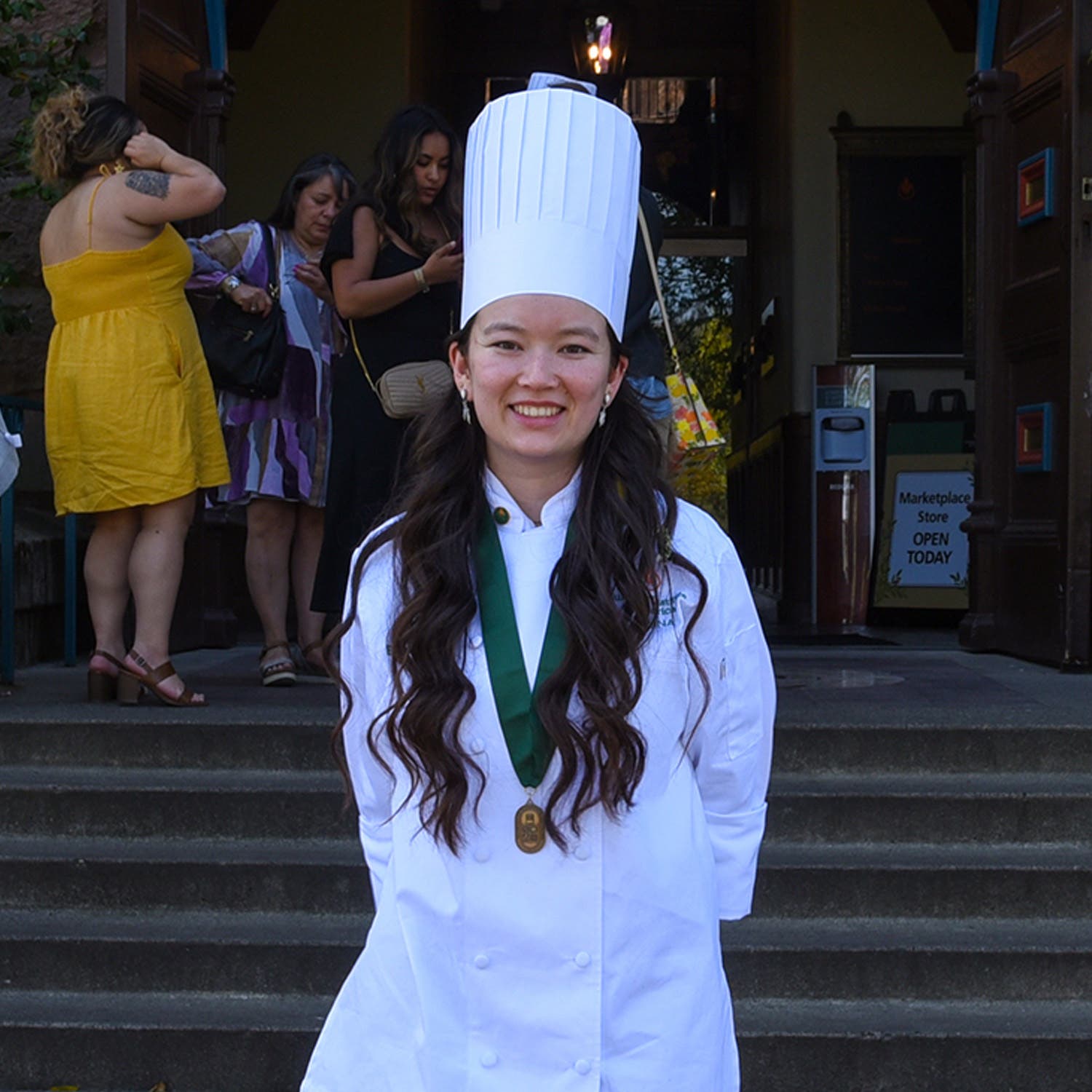 ---
All-Clad's Resident Chef Derek has been working with flavors and fragrance for his entire career. Finding a path from perfumery to food, Derek competed on numerous amateur cooking shows which led him to the All-Clad Test kitchen. Here he excels in creating new recipes, blogs, video demos, and food photography for our consumers.