This is a twist on a classic dish from my father incorporating my passion for Asian cuisine, resulting in a beautiful combination.
| | |
| --- | --- |
| TYPE | MAIN COURSE |
| SERVES | 4 TO 6 |
| DIFFICULTY | MODERATE |
| PREP TIME | 20 MINUTES |
| COOK TIME | 35 MINUTES |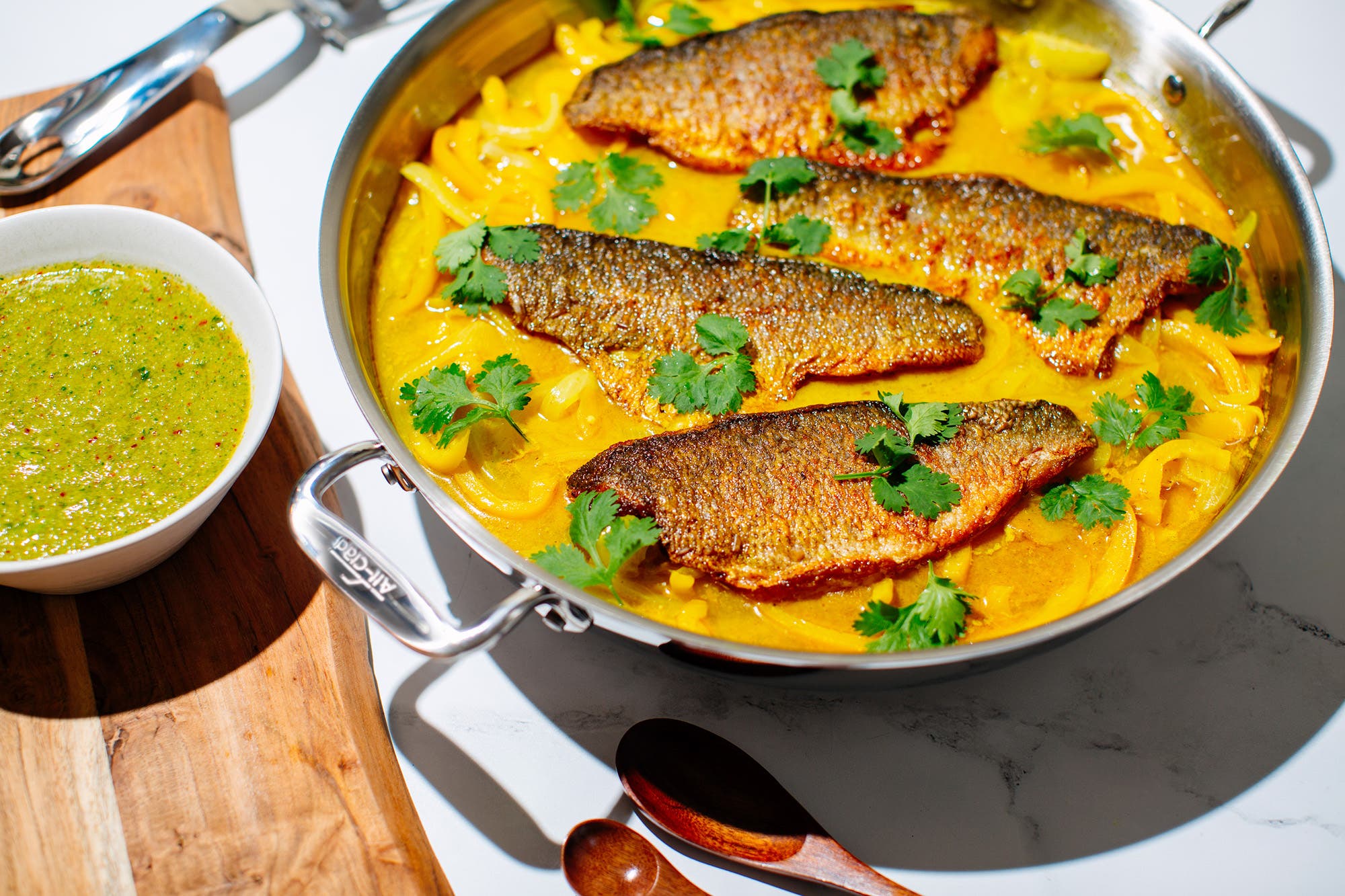 Ingredients
Curry Sauce & Fish
3 Tbsp extra-virgin olive oil
4-6 branzino filets, skin-on (or similar)
Fresh cilantro, garnish
1 loaf crusty bread or challah
Savory Soup Hawaij Spice Blend
1 Tbsp coriander, ground
3 Tbsp cumin, ground
2 tsp turmeric, ground
1.5 tsp black pepper, ground
1 tsp cardamom, ground
0.5 tsp cloves, ground
0.5 tsp nutmeg, ground
1 medium onion, sliced
4 medium garlic cloves, chopped
2 large yellow bell peppers, cored, seeded, and thickly sliced
1/4 cup sliced preserved lemons, seeded
1.5 tsp Savory Soup Hawaij (see below)
1/2 tsp turmeric, ground
1 tsp salt
1 can coconut milk (13.5 oz.)
Schug Condiment
10 garlic cloves, coarsely chopped
4 dried red chiles
Seeds from 2 cardamom pods
3 jalapeno chiles, cored, seeded, and coarsely chopped
2 cups packed fresh cilantro leaves
1 tsp kosher salt
1/4 tsp cumin, ground
3/4 cup canola oil
Directions
To make the schug, combine garlic, red chiles, cardamom seeds, jalapenos, cilantro, salt, cumin, and canola oil in a food processor until the sauce is smooth. Store in an air-tight container in the refrigerator.
Next make the Savory Soup Hawaij Spice Blend by combining the coriander, cumin, turmeric, black pepper, cardamom, cloves, and nutmeg together in a mixing bowl. Store in a small glass jar.
Heat 2 Tbsp olive oil in the D3 Stainless Steel 7 Qt. Sunday Supper Pan over medium-high heat. Add the onion, garlic, and bell peppers and sauté until the peppers are soft, 5 to 7 minutes. Stir in the preserved lemons, Savory Soup Hawaij, turmeric, salt, and coconut milk and cook for another 2 minutes. The mixture should be thick but not stiff; if it's too thick, stir in up to 1/2 cup water. Taste and adjust the seasoning and set to simmer.
In a D3 Stainless Steel 12" Fry Pan, heat 1 Tbsp olive oil over high heat. Lightly salt and oil the filets and add the fish skin-side down, searing to a crisp. Remove and reserve skin-side up.
To finish, add the fish skin-side up in the sauce and simmer for 5 minutes until cooked through.
Serve directly from the Sunday Supper Pan with schug, fresh cilantro, and plenty of crusty bread or challah.
Pro Tip
Schug is a very versatile Yemenite compliment -- make a big batch and use it with everything!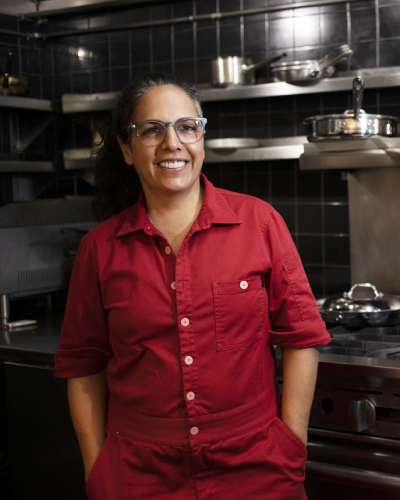 ---
Admony is a pillar of the international Israeli cooking community. Her food tells an intricate story of strong immigrant roots and living the American Dream. Having grown up in Tel Aviv, she served as a cook in the Israeli Army before traveling Europe to work in kitchens, and eventually landing in New York City as an ambitious young chef. After 15+ years leading the New York culinary scene and establishing multiple restaurants, Admony continues to innovate and inspire with elevated yet comforting homestyle cooking from her childhood. Admony is a double-time champion and competitor of Food Network's Chopped and Throwdown! with Bobby Flay. She has been featured by The New York Times, Bon Appetit, HuffPost, Forbes, among many others. Admony has authored two cookbooks with Artisan Books: Balaboosta (2013) and Shuk (2019). In 2014, she was a recipient of the Great Immigrants Award from Carnegie Corporation of New York for exemplary contributions to American life. Outside of leading several expanding food businesses, Admony can be found at home in Brooklyn or at her country house in the Hudson Valley, cooking for her two children, Liam and Mika, her husband and business partner, Stefan Nafziger, and a steady stream of dinner party guests.
To learn more about this chef, please visit their website at chefeinat.com
Connect with them on social Instagram: @chefeinat and Facebook: Chef Einat