Fundamental Cookware for Starters: The Dutch Oven
---
This article is one of a three-part series: Essential Cookware for Starters, where we share our go-to cookware for embarking on your culinary journey. Check out our posts on the Sauce Pan and Frying Pan, and read ahead to learn more about why a Dutch Oven is the kitchen hero you didn't know you needed.
What makes an All-Clad D3 Dutch Oven so versatile?
While fry pans and sauce pans allow you to blanch, shallow fry, sear, and simmer, the Dutch Oven allows you to add braising, browning, boiling, baking, roasting, and even deep-frying to your kitchen repertoire. Our tri-ply bonding technology ensures even heat throughout, so there won't be any hot or cold spots. The domed lid helps capture condensation and redistribute it back into the pan. Finally, our D3® Stainless cookware is oven safe up to 600°F, so it can go from stovetop to oven.
Here are some of our favorite ways to use a Dutch Oven.
Making Tougher Cuts of Meat Super Tender
All of these features make a Dutch Oven ideal for cooking tougher cuts of meat such as brisket or chuck roast. The even heat and large capacity allow you to sear to a golden crust from end to end on the stovetop. Then add your cooking liquid, put on the lid, and pop it in the oven, where the domed lid will capture and redistribute moisture to the meat, resulting in a tender, juicy meal.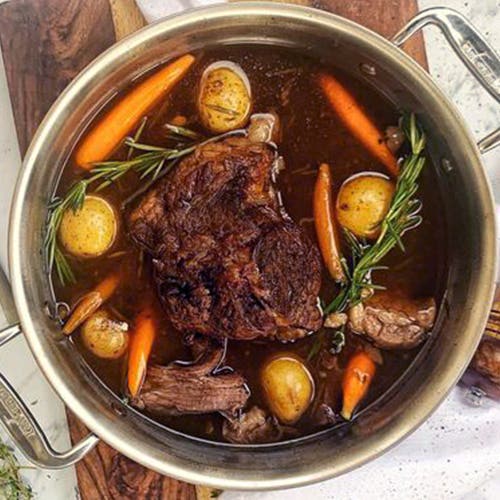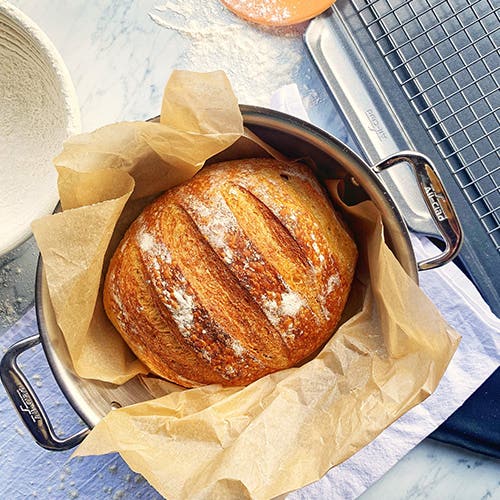 Bread in a Dutch Oven
What's a delicious roast without some homemade bread? Chances are, you were one of many people who baked bread for the first time recently. A Dutch Oven is a perfect vessel for creating a freshly baked loaf of sourdough. The domed lid creates a larger space for a steamy environment, which the crust to remain soft and cool. Plus, the D3® Stainless Dutch oven is adept at retaining heat, so when it's time to remove the lid, the pot will hold enough heat to give the crust a beautiful golden brown color.
Carbs for a Crowd
Are you entertaining a large group? If you need to boil potatoes to mash or water for pasta this 5.5 Qt Dutch Oven gives the space to feed the masses.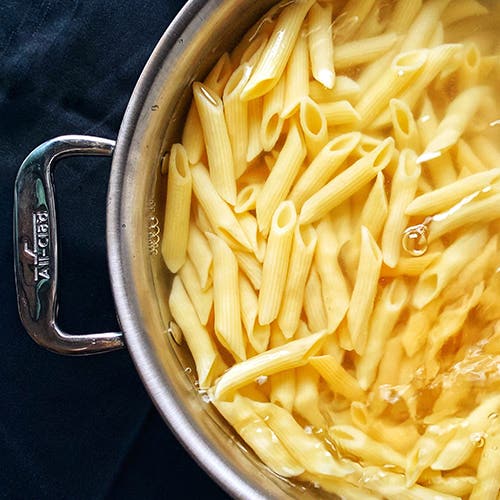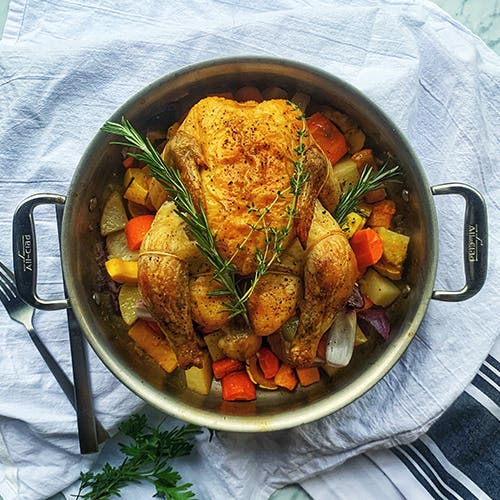 Make a One-Pan Chicken Dinner
Short on space and don't have a roasting pan? The Dutch Oven is a perfect way to create the most crispy, juicy, tender roasted chicken dinner. With high sides that retain heat so well, your bird will cook evenly and with extra crispy skin all over - not just on top.
Deep Fry without the Fryer
No deep fryer? No problem. All Clad's Dutch Oven large capacity is ideal for deep frying, plus our famous even heat distribution and retention keeps your oil temperature consistent - vital to ensuring your food is cooked to crisp perfection all over. The high sides will keep the splatter outside of the pot to a minimum. Our favorite thing to fry up lately? Crispy falafel served with a light salad and creamy hummus. Check out this link to our falafel recipe.