A classic Chanukah dish with a delicious Israeli twist. The Preserved Lemon Yogurt is a great condiment for any occasion!
| | |
| --- | --- |
| TYPE | SIDE DISH |
| SERVES | 4-6 |
| DIFFICULTY | MODERATE |
| PREP TIME | 20 MIN |
| COOK TIME | 10 MIN |
Ingredients
For the Latkes:
1 cup potato, peeled and grated
2 cups Jerusalem artichokes, also known as sunchokes, peeled and grated
1½ cups onion, grated
1 egg
1 tablespoon thyme leaves, chopped
4 tablespoons all-purpose flour
1 teaspoon rosemary
1 tablespoon salt
1 pinch of black pepper, freshly ground
canola oil for frying
For the Preserved Lemon Yogurt:
4 pieces of preserved lemon
2 lemons, juiced
⅔ tablespoon honey
1 tablespoon extra virgin olive oil
1 cup greek yogurt
1 pinch turmeric, optional
Directions
Place a towel over a mixing bowl and grate both the potato and sunchokes onto the towel using a box grater. Once complete, bring the corners of the towel together and squeeze all of the liquid out.
Grate the onion into a separate mixing bowl and add the grated potato and sunchokes in with the onion. Proceed quickly to the next step to avoid oxidation.
Add 1/2 inch of canola oil to an All-Clad D3 Stainless 10 Inch Fry Pan and place over medium heat, bringing oil up to 370 °F.
Add the egg, thyme, flour, rosemary, salt, and pepper to the onions and potatoes in the mixing bowl and combine by hand.
Once the oil has reached temperature, create 2-inch patties from the mixture and fry on both sides until they are golden brown.
Remove the patties from the pan and let sit on an All-Clad Pro-Release Cooling Rack with a Half Sheet Pan placed underneath until ready to serve.
While the Latkes cool, create the yogurt sauce. First rinse, deseed, and finely chop the preserved lemon pieces. In a small bowl, mix the lemon with honey to taste. To balance the bitterness, add more honey if necessary.
Add the yogurt, olive oil, and lemon juice, mixing gently until combined.
Include a pinch of turmeric for color if desired and garnish with olive oil.
Pro Tip:
To ensure a crispy quality fry, don't crowd the pan! Start with just a few patties and add more once the oil has returned to temperature.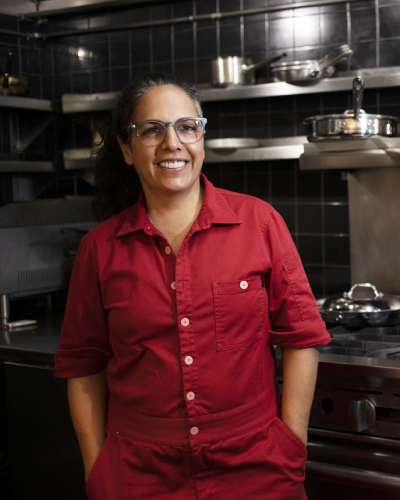 ---
Chef Einat Admony, known as the ultimate balaboosta (meaning "perfect housewife" in Yiddish) is the James Beard-nominated chef and owner of Balaboosta, the fine-dining Middle Eastern & Israeli restaurant and the beloved fast-casual falafel chain, Taïm. Admony is a pillar of the international Israeli cooking community. Her food tells an intricate story of strong immigrant roots and living the American Dream. Having grown up in Tel Aviv, she served as a cook in the Israeli Army before traveling to Europe to work in kitchens and eventually landing in New York City as an ambitious young chef. After 15+ years of leading the New York culinary scene and establishing multiple restaurants, Admony continues to innovate and inspire with elevated yet comforting homestyle cooking from her childhood. Admony is a double-time champion and competitor of Food Network's Chopped and Throwdown! with Bobby Flay. She has been featured by The New York Times, Bon Appetit, HuffPost, Forbes, among many others. Admony has authored two cookbooks with Artisan Books: Balaboosta (2013) and Shuk (2019). In 2014, she was a recipient of the Great Immigrants award from Carnegie Corporation of New York for exemplary contributions to American life. Outside of leading several expanding food businesses, Admony can be found at home in Brooklyn or at her country house in the Hudson Valley, cooking for her two children, Liam and Mika, her husband and business partner, Stefan Nafziger, and a steady stream of dinner party guests
To learn more about this chef, please visit their website at chefeinat.com
Connect with them on social Instagram: @chefeinat and Facebook: Chef Einat