Nina Compton's Blackened Octopus
Octopus is a popular dish at my restaurants, but not many people cook it for themselves. I have created this fun and easy recipe that anyone can make at home.
| | |
| --- | --- |
| TYPE | APPETIZER |
| SERVES | 6 to 8 |
| DIFFICULTY | MODERATE |
| PREP TIME | 15 MIN |
| COOK TIME | 5 HOURS AND 15 MIN |
Ingredients
For the Hot Honey:
1 cup raw honey
1 habanero torn
For the Octopus:
1 head octopus
2 sprigs rosemary
1/4 cup olive oil
2 cups blackening seasoning, store brought or prepared on own
For the Corn Puree:
6 pcs corn cobs cleaned, washed, and kernels taken off, reserve the cobs
6 tablespoons olive oil plus 1/4 cup
1 pinch chili flake
Water as needed
Salt as needed
For the Garnish:
1 cup sauteed corn
1 cup cherry tomatoes
4 basil leaves torn
Olive oil
Salt as needed
1 radish thinly shaved
Directions
For the Hot Honey:
Add the honey and habanero to an All-Clad D3 Stainless 1.5 Quart Sauce Pan. Simmer on low heat for 15 minutes.
Take off heat and allow to steep overnight, leave the pepper for any extra spice if you like.
For the Octopus:
Set the All-Clad Sous Vide Immersion Circulator at 175°F. Cut the octopus into separate tentacles, place 1/8 cup olive oil and rosemary in a vacuum sealed bag, or if not available use a ziplock and cook for 5 hours.
Remove from the circulator vessel and immediately cool down in ice water. Remove the octopus from the bag and dust generously with blackened seasoning.
Preheat the oven to 350°F.
Heat an All-Clad D3 Stainless 10 Inch Fry Pan fry pan on high heat, add the remaining olive oil, and sear on all sides. Then, finish in the oven for 5 minutes.
For the Corn Puree:
In an All-Clad D5 Stainless Polished 3 Quart Sauté Pan on medium heat, add the olive oil. Add the corn and sauté for 5 minutes, season with salt. Reserve 1 cup of corn for garnish.
Add the cobs and cover with water and simmer on low for 20 minutes.
Remove the cobs and place cooked corn in a quart sized container. Use the All-Clad Immersion Blender and puree until smooth, drizzle in olive oil, and adjust seasoning.
For the Garnish:
Gently warm all ingredients on low heat in an All-Clad D3 Stainless 2 Quart Sauce Pan for 3 minutes.
Once complete, place the corn puree on the plate. Brush the honey on the blackened octopus and place it over the corn. Top the octopus with the remaining sautéed vegetables.
Pro Tip:
My preferred equipment to finish the ice cream is the Paco Jet, which delivers a silky smooth texture that is restaurant quality. If you do not have one available, you can use your favorite Vanilla bean ice cream or use an ice cream machine by pouring the chilled custard directly into the machine and following the manufacturer's directions.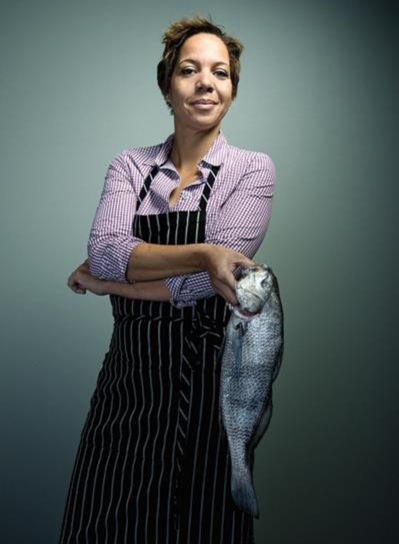 RECIPE BY
Nina Compton
---
Nina Compton was born and raised in St. Lucia. She grew up with the flavors and beauty of the Caribbean and pursued her career in the United States. She graduated from America's finest culinary school and developed skills that allowed her to be an award-winning chef and restauranteur. She is the chef/owner of Compère Lapin in New Orleans' Warehouse District. Nina also has a second restaurant venture, Bywater American Bistro (BABs), located in New Orleans' "Sliver by the River" Bywater neighborhood.
Since opening Compère Lapin, the restaurant has received critical acclaim awards including Eater National's "Best Restaurants in America 2017", a rave review in The New York Times, and Top 10 Winner of Playboy's Best New Bars in America 2016. At Compère Lapin, the talented toque creates robust dishes that meld the flavors of her Caribbean upbringing and love for French and Italian cuisine, while highlighting the Gulf and Louisiana's beautiful indigenous ingredients. Nina is the winner of the 2018 James Beard Awards "Best Chef: South" and one of Food & Wine magazine's "Best New Chefs 2017".