Gavin Kaysen's Spice Crusted Salmon with Romesco & Couscous
---
| | |
| --- | --- |
| TYPE | MAIN COURSE |
| SERVES | 4 |
| DIFFICULTY | MODERATE |
| PREP TIME | 20 MIN |
| COOK TIME | 20 MIN |
Romesco:
12-ounce Piquillo or other canned high quality sweet red pepper, drained and lightly rinsed
1 each Large Vine-ripened Tomato
1 small Yellow Onion, peeled and thinly sliced
3 each Garlic Cloves, peeled and crushed
½ cup Slivered Almonds, toasted
3 tbsp Extra Virgin Olive Oil
1 tbsp Sherry Vinegar
2 tsp Salt
Couscous:
4 qt water
2 tbsp salt
2 cups M'hamsa Couscous or Equivalent
2 tbsp Luberon #4 spice blend
2 tbsp EVOO
Salmon:
1 1/2 inch thick Salmon filet skin and pin bones removed
1 tbsp Dijon Mustard
2 tbsp Izak # 37 Spice blend
Directions
For the Luberon #4 Spice Blend:
Combine ¾ cup dried tarragon leaves, 1 T dried basil leaves, 2 tsp dried dill, ¾ tsp dried lemon peel, ½ tsp black peppercorns - yields ⅓ cup (we will use 2 Tbsp for this recipe)
For the Izak #37 Spice Blend:
Combine 2 T sweet paprika, 1½ tsp caraway seeds (toasted), 1 tsp dill seeds, 1 tsp white peppercorns, 1 tsp juniper berries - yields ¼ cup (we will use 2 Tbsp for this recipe)
For the Romesco:
Place a grate directly on the stove burner, char the tomato on all sides. Reserve.
In a small saucepan over medium heat, sweat the chopped onion and crushed garlic in 1 tbsp olive oil until translucent. About 10 minutes
In a blender, combine the onion-garlic mixture and all ingredients except the oil and vinegar. Blend on low speed and continue to raise the speed slowly until the ingredients start to form a puree.
Slowly drizzle in the remaining oil. Continue to blend until a smooth sauce consistency has been achieved. You can adjust the consistency with some of the reserved tomato juice.
For the Salmon:
Heat the saute pan over medium-high heat. Season the fish fillet with salt evenly on both sides.
Brush the mustard evenly over what was the skin side of the fish fillet. Mix the crushed spices in a bowl, skip if using Izak #37 blend, dust spices evenly over the mustard. If salmon is not completely covered after 2 Tbsp, add more spices. Lightly push on the crust to make sure it sticks.
Add the oil to the pan and place the fillet crust side down in the pan. Turn the heat to medium and cook gently to toast the spices. Check by lifting a corner of the fillet with your spatula. The spices should begin to toast and give off a pleasant fragrance.
When the spices are an even golden brown, flip the fillet and place the fish in the oven. Continue cooking for four minutes. Remove the fillet from the pan and let it rest for 2-3 minutes before serving.
For the Couscous:
Bring water and salt to a boil. Add the couscous and cook for 8 minutes at a boil.
Strain the couscous through a mesh strainer. In a boil mix the couscous with lemon zest and juice, herb blend, and olive oil.
Taste and adjust seasoning as needed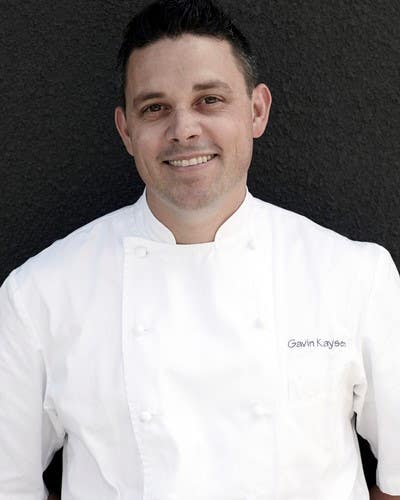 RECIPE BY
Chef Gavin Kaysen
---
Chef Bio
To learn more about this chef, please visit their website at name of link
Connect with them on social name of link