Marcus Samuelsson's Shrimp Piri Piri
Piri Piri is a chile grown in Africa and this namesake sauce is the most common way to use it. Follow this recipe for Shrimp Piri Piri by Chef Marcus Samuelsson for a delicious seafood dinner any night of the week.
| | |
| --- | --- |
| TYPE | MAIN COURSE |
| SERVES | 4 |
| DIFFICULTY | EASY |
| PREP TIME | 20 MIN |
| COOK TIME | 10 MIN |
Ingredients
12 jumbo shrimp peeled and deveined
¾ cup of Piri Pira (½ cup for shrimp marinade, remainder for toppings)
3 tablespoon olive oil
½ tsp salt
1 lime quartered
12 bibb lettuce leaves
For the Piri Piri:
8 red bird's-eye chilies, seeds and ribs removed, chopped
½ cup fresh lemon juice
1 tablespoon chopped cilantro
1 tablespoon chopped parsley
2 garlic cloves
½ cup olive oil
Directions
Combine the chilies, lemon juice, cilantro, parsley, and garlic in a quart container using an All-Clad Immersion Blender and puree until smooth. With the immersion blender running, add the oil in a slow, steady stream, and blend until well combined. Store in an airtight container in the refrigerator for up to 2 weeks.
When ready to cook, toss the shrimp with ½ cup of the Piri Piri in a large mixing bowl. Refrigerate for 20 minutes.
Heat the olive oil in an All-Clad Fry Pan over medium heat. Add the shrimp and cook for 2 minutes on each side, or until opaque throughout.
Transfer the shrimp to a plate and sprinkle with the salt.
Squeeze the lime quarters over the shrimp.
Spread ½ a teaspoon of the remaining Piri Piri sauce on each lettuce leaf. Place a shrimp on each leaf and fold over the bottom and sides to form a wrap. Serve immediately.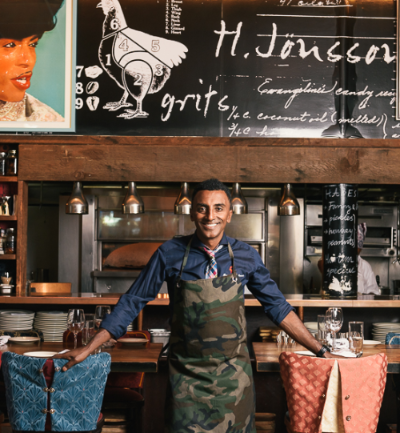 RECIPE BY
Marcus Samuelsson
---
Chef Bio
To learn more about this chef, please visit their website at name of link
Connect with them on social name of link