Marcus Samuelsson's Helga's Swedish Meatballs
---
| | |
| --- | --- |
| TYPE | MAIN COURSE |
| SERVES | 4 to 6 |
| DIFFICULTY | EASY |
| PREP TIME | 15 MIN |
| COOK TIME | 20 MIN |
Ingredients
For the Meatballs: (Makes approximately 24 meatballs)
2 tbsp olive oil
1 medium red onion, finely chopped
½ cup dry bread crumbs
¼ cup heavy cream
½ pound ground chuck or sirloin
½ pound ground pork
2 tbsp honey
1 large egg
Kosher salt and freshly ground black pepper
For the Gravy
1 cup chicken broth
½ cup heavy cream
¼ cup lingonberry preserves
2 tbsp pickle juice
Kosher salt and freshly ground black pepper
Directions
For the Meatballs:
Heat the olive oil in a small skillet over medium heat. When it simmers, add the onion and cook until softened, about 5 minutes. Remove from the heat and let cool.
Combine the bread crumbs and heavy cream in a large bowl, stirring with a fork until all the crumbs are moistened.
Add sauteed onion, beef, pork, honey, egg, salt, and pepper to the bread crumbs and mix well. Wet your hands and shape the mixture into meatballs the size of golf balls placing them on a plate, lightly moistened with water.
Heat a D3 Everyday Skillet over medium-high heat. Cook the meatballs, in batches, if necessary, until browned all over and cooked through about 9 minutes.
For the Gravy:
Bring the broth, cream, preserves, and pickle juice to a simmer in a large saucepan over medium-high heat.
Add meatballs to the gravy, reduce heat to medium, and simmer until the gravy thickens slightly and the meatballs are heated for about 5 minutes. Season with salt and pepper to taste.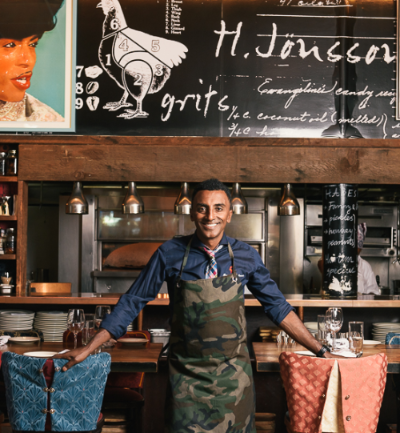 RECIPE BY
Marcus Samuelsson
---
Chef Bio
To learn more about this chef, please visit their website at name of link
Connect with them on social name of link