A bright acidic Greek relish on top of these pork chops gives a simple protein a very light finish for a delicious weeknight dinner.
| | |
| --- | --- |
| TYPE | MAIN COURSE |
| SERVES | 4 |
| DIFFICULTY | EASY |
| PREP TIME | 15 MINUTES |
| COOK TIME | 20 MINUTES |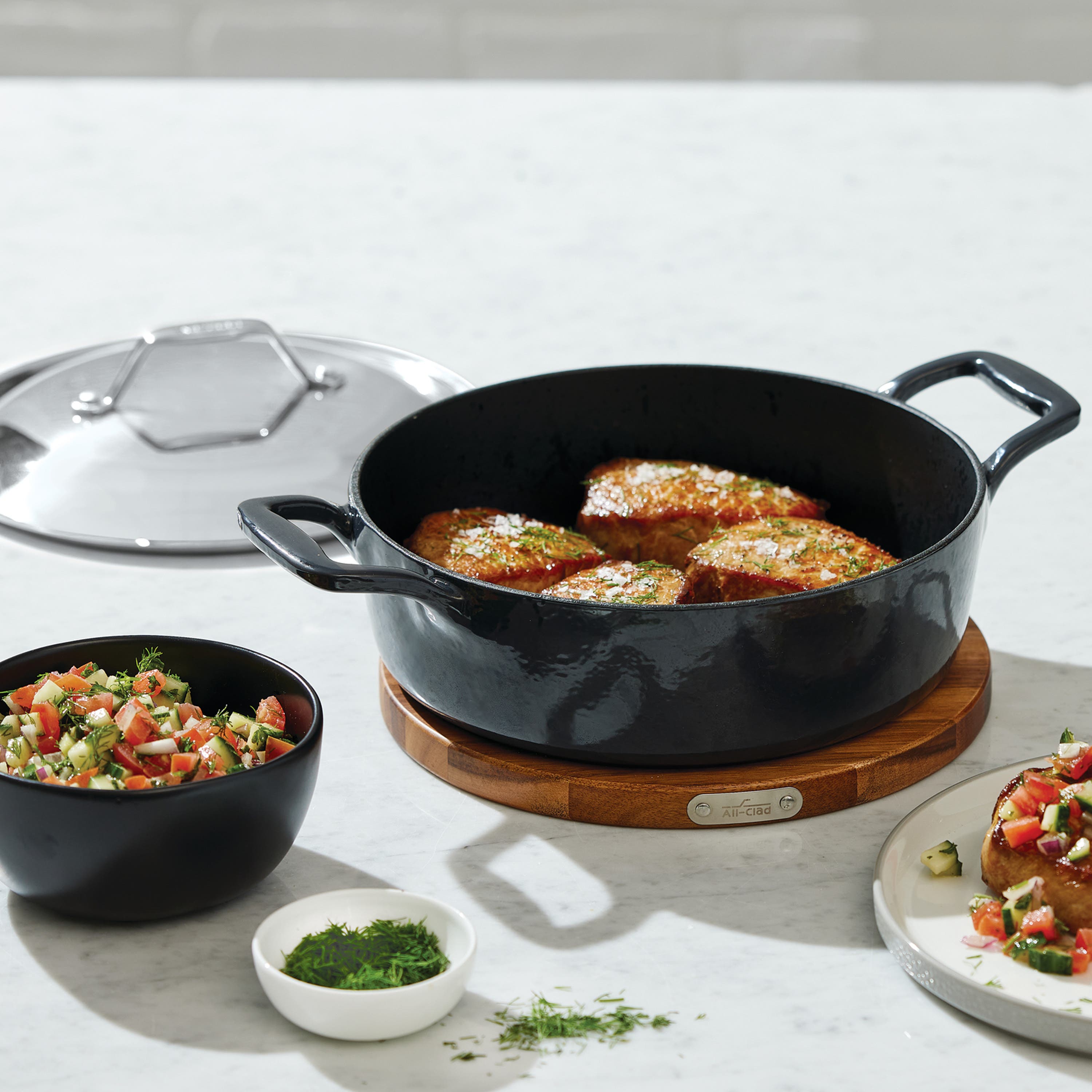 Ingredients
4 Boneless Pork Chops
Salt and pepper to season
Greek Relish
4 Roma Tomatoes diced
1 large seedless cucumber diced
1 small red onion diced
1/4 cup finely chopped parsley
1 teaspoon fresh chopped dill
1/2 teaspoon of salt
1/4 teaspoon of black pepper
1 lemon zested and juiced
1/2 tablespoon red wine vinegar
1 clove of garlic grated
1/2 teaspoon Dijon mustard
2 tablespoon of extra virgin olive oil
salt and pepper to taste
Neutral Oil
Optional for sides: Greek yogurt, hummus, tzatziki sauce and pitas
Directions
Preheat the oven to 400 degrees. Season the Pork chops with salt and pepper. Let rest at room temperature for 30 minutes.
In a large mixing bowl, combine the tomatoes, cucumbers, red onion, parsley, and dill. Season with 1/2 teaspoon of salt and 1/4 teaspoon of black pepper.
In another mixing bowl, whisk together the lemon juice, lemon zest, red wine vinegar, grated garlic and mustard. Season with a pinch of salt and pepper. Whisk in the olive oil. Taste and adjust the seasoning if needed. Once combined, add into the chopped vegtable bowl, cover and place in the refrigerator until ready to serve.
In your All-Clad 4 qt. Enameled Cast Iron Braiser Pan, heat 1 tablespoon of neutral oil over medium high heat. When hot, sear the pork chops two at a time on both sides until golden brown, roughly 3-4 minutes per side. Add all 4 to the braiser pan and place in the oven to cook for 10 to 15 minutes or until the pork chops reach 145 degrees. Take the braiser pan out of the oven, cover it with the stainless steel lid and let rest for 10 minutes before serving.
Serve the pork chops topped with the relish or bring the cast iron braiser pan directly to your table with the included wood trivet and let everyone help themselves to the relish.
Serve with your choice of Greek yogurt, hummus, tzatziki sauce and pitas.
Pro Tip
The method of this pork chop can even be turned into pork chop gyros if you want to really get inspired. Sliced thin and topped with the relish and some Greek yogurt in a pita will give the gyro feel to this pork chop.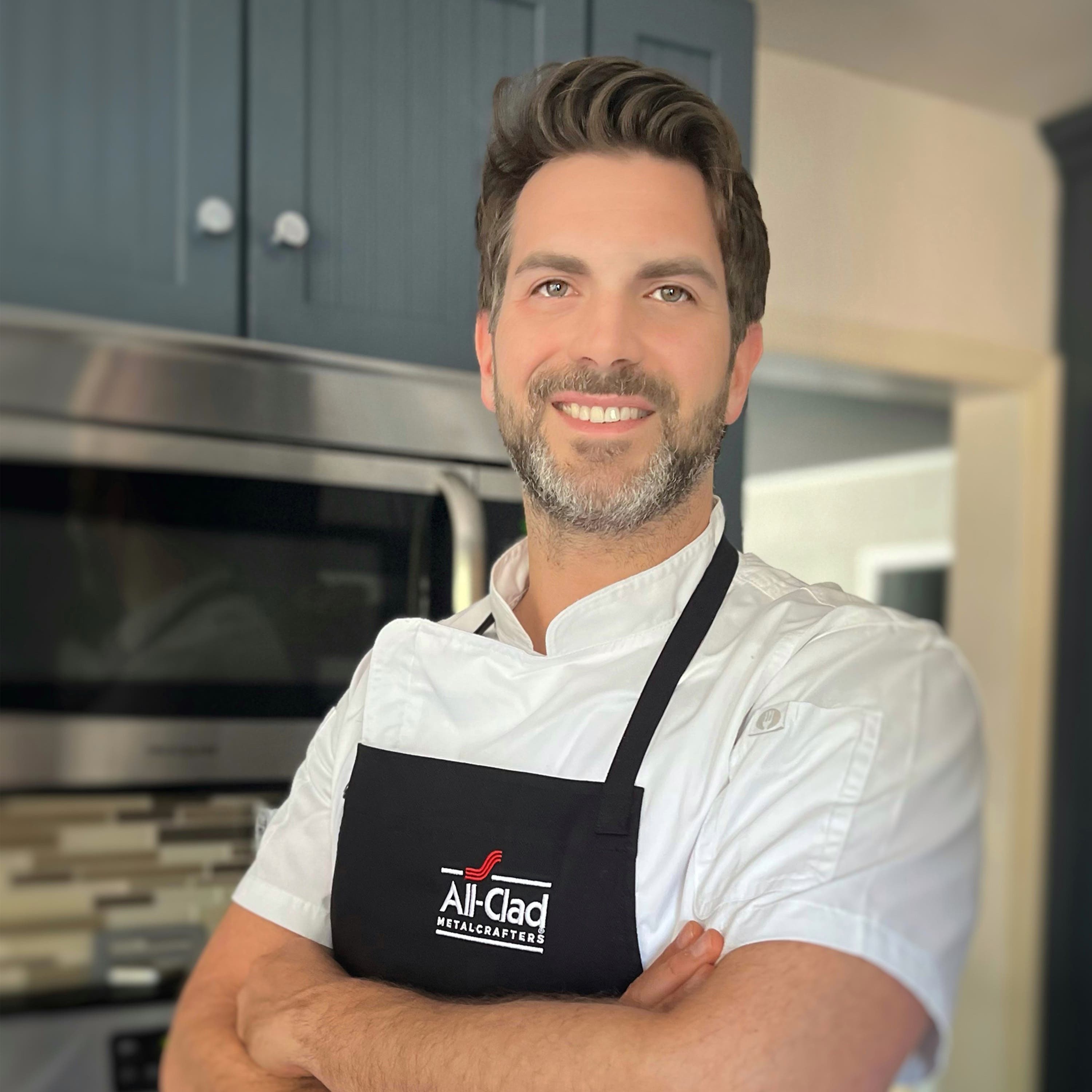 All-Clad Resident Chef Derek Finocchiaro
---
All-Clad's Resident Chef Derek has been working with flavors and fragrance for his entire career. Finding a path from perfumery to food, Derek competed on numerous amateur cooking shows which led him to the All-Clad Test kitchen. Here he excels in creating new recipes, blogs, video demos, and food photography for our consumers.