Chef Ambassador Paul Kahan
Chef & Owner at Avec, The Publican and Big Star Mariscos
Widely recognized as the face of Chicago's dining scene, Executive Chef and Partner Paul Kahan has earned international acclaim for his hand in helping to pioneer the chef-driven farm-to-table movement, which subsequently swept across the country in the years to follow. His restaurants, now considered institutions, are all part of the renowned One Off Hospitality collective and have included community pillars like Blackbird, Avec, The Publican, Big Star, Publican Quality Meats, Dove's Luncheonette, and Publican Quality Bread. Each establishment reflects Kahan's commitment to working with Midwestern farmers–which helped him earn the James Beard Foundation Award for Outstanding Chef in 2013, Who's Who of Food & Beverage in America in 2014, Best Chefs in America in 2004, and retain a Michelin star at Blackbird for all nine years stars were offered by the tire company in Chicago while the restaurant was operating. Kahan has garnered the praise of many who claim him to be one of America's most influential working chefs. In 2018, his cookbook "Cheers to the Publican, Repast, and Present: Recipes and Ramblings from an american Beer Hall," won the IACP award in the "Chefs and Restaurants" category. In 2019, Kahan released his second book, 'Cooking For Good Times,' which was named 'One of the Best Cookbooks Of The Year" by the New York Times Book Review. Despite numerous accolades, Kahan's biggest accomplishment remains his work as a mentor for young chefs. Kahan is a co-founder of Pilot Light, an organization dedicated to enhacing school children's preception of food through hands-on education, and he is a passionate supporter of Alex's Lemonade Stand Foundation for pediatric cancer research.
"I think the 50 years that All-Clad has been around is really a testament to the level of quality. The beauty of a high-quality finish is that when it gets to the right temperature nothing is going to stick to it."
These are the pieces Chef Paul Kahan told us he can't live without, both at home and in his restaurant kitchens.
Signature dishes developed by Paul Kahan using his favorite All-Clad cookware of course.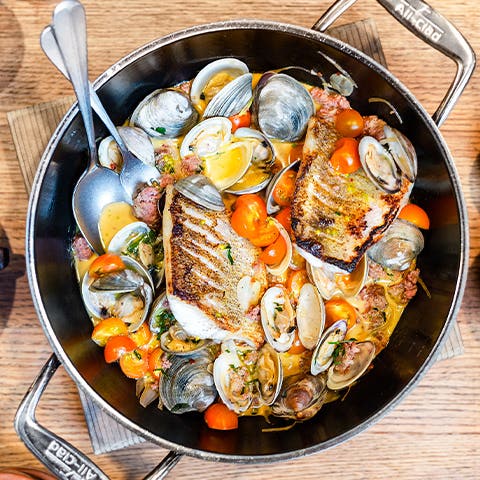 Pan Roasted
Walleye with Steamed Clams,
Spicy Sausage and Tomato Broth
A delicious Italian inspired seafood preparation combined with my favorite Midwestern lake fish.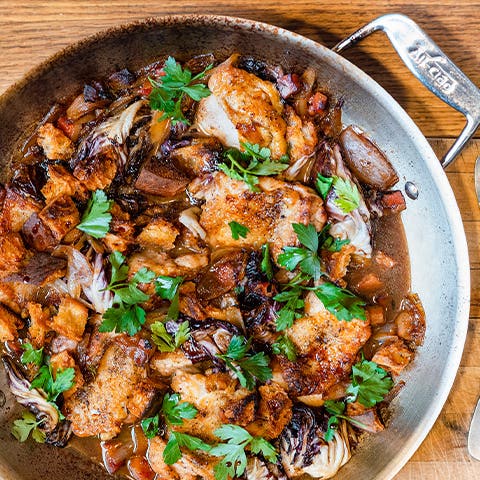 Chicken Thighs with Pancetta,
Caramelized Onions and Charred Radicchio
Delicious, full-flavored, oven-to-table dish for the Fall.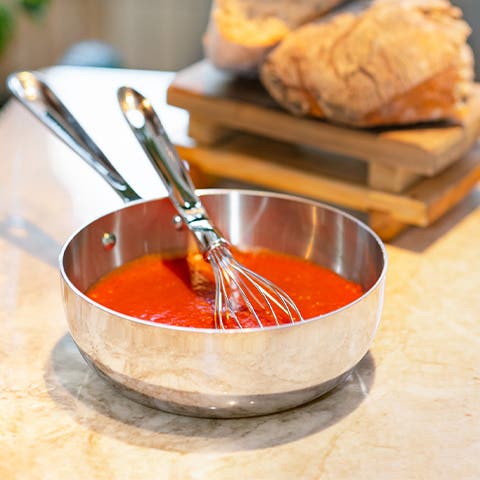 Piquillo Pepper
Tomato Sauce
In classical French cooking, the term "mother sauce" refers to any one of five basic sauces, which are the starting points for creating an enless amount of recipes. This recipe is take on a classic 'sauce tomate' - one of the French mother sauces that has become the mother sauce of my award-winning restaurant, avec, for the last 19 years.