Though you could use a piece of cheesecloth, I love the palm workout I get when I wring the excess moisture from boiled greens. Removing as much water as possible from fruits and vegetables intensifies their flavor (think of a raisin versus a grape). Here, the trick is to reintroduce moisture— we want a juicy filling!—but in the form of fat, richness, and huge flavor, which you can control with ingredients like salty cheese, good eggs, and olive oil.
Smooth pastry, similar to strudel dough, is hand-stretched into a tissue-thin square, like the skin of a balloon. The greens-and-cheese filling is carefully rolled up inside and twisted into place. Look for fresh, juicy bundles of Swiss chard, lacinato kale, curly kale, or escarole with broad leaves and crisp ribs.
| | |
| --- | --- |
| TYPE | BREAKFAST & BRUNCH |
| SERVES | 6 |
| DIFFICULTY | MODERATE |
| PREP TIME | 2 HOURS |
| COOK TIME | 45 MINUTES |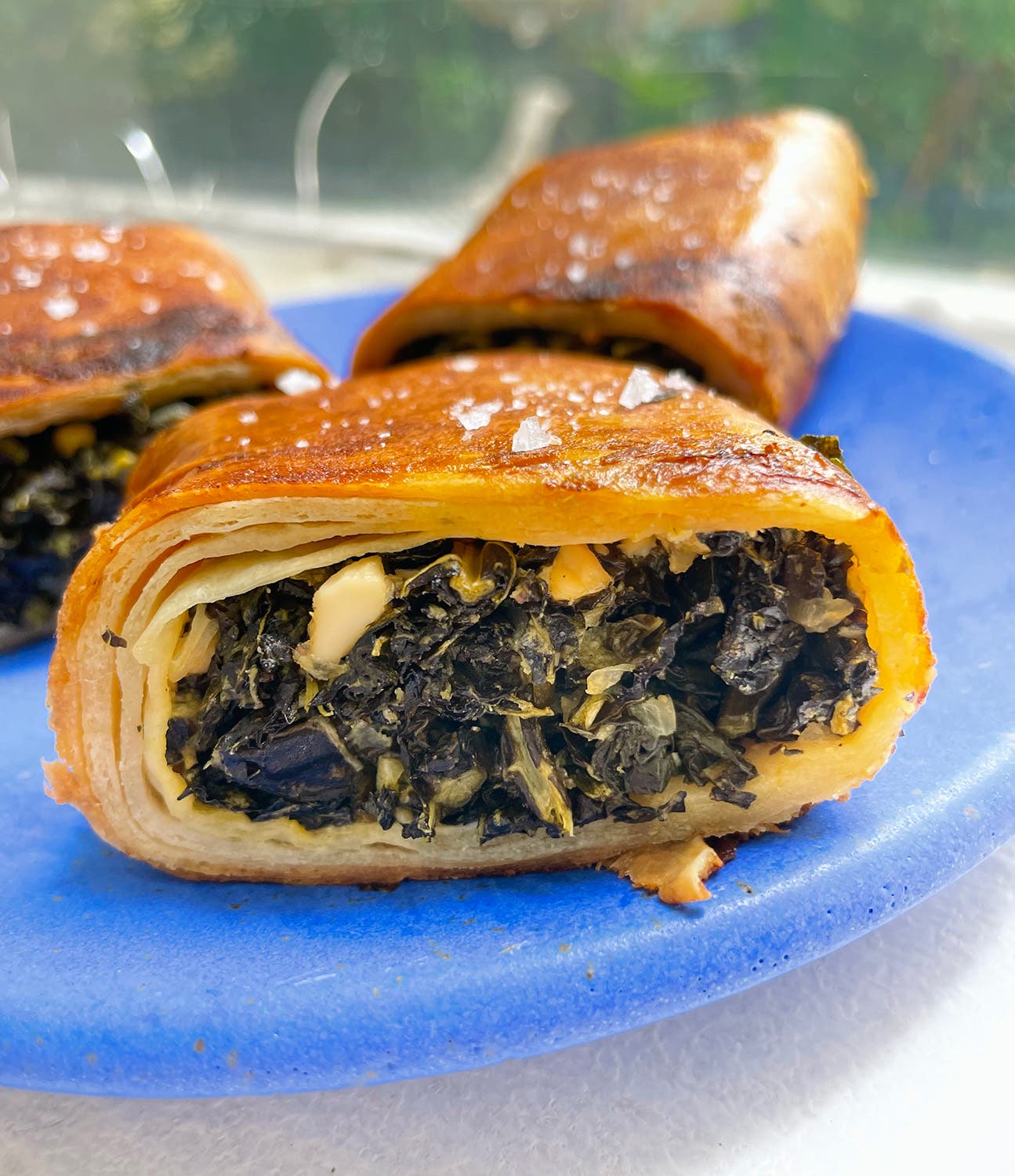 Ingredients
For the dough:
2 cups (240 g) white bread flour.
1⁄2 cup (120 g) water, at room temperature.
1⁄4 cup (60 g) olive oil.
1⁄4 teaspoon baking powder.
1 teaspoon kosher salt.
For the stromboli:
2 large bunches dark greens, such as lacinato kale, Swiss chard, curly kale, escarole, or collard greens.
2 eggs (100 g).
1⁄2 cup (50 g) finely grated Grana Padano or Parmesan cheese.
1⁄4 cup (30 g) crumbled feta cheese.
2 tablespoons (30 g) extra-virgin olive oil.
1 tablespoon (15 g) apple cider vinegar, plus more to taste.
1⁄2 teaspoon kosher salt, plus more to taste.
1⁄4 teaspoon freshly ground black pepper.
Pinch of ground nutmeg.
3 tablespoons (11⁄2 ounces/45 g) unsalted butter.
2 teaspoons sugar.
Directions
In a stand mixer fitted with the dough hook, beat together the white bread flour, water, olive oil, baking powder, and salt on medium-low speed until combined, 3 to 4 minutes. (If mixing by hand, knead all the ingredients until a smooth ball forms, 6 to 7 minutes.) Shape roughly into a ball, wrap in plastic, and refrigerate for at least 1 hour to rest, or up to 2 days.
Strip the midribs out of the greens and chop the leaves roughly. Rinse the greens very well; do not pat dry. Add the wet leaves to a dry stock pot and set over medium heat. Cover and let steam, stirring occasionally, until most of the water has evaporated out of the stock pot and the leaves look blanched and tender, 6 to 10 minutes. Let cool, then use your hands to wring out as much excess water as possible. Finely chop and set aside.
Separate one of the eggs and set the white aside in a small container for brushing on the crust later. Transfer the yolk to a medium bowl. Add the remaining whole egg, chopped greens, grated Grana Padano or Parmesan, crumbled feta, oil, vinegar, salt, pepper, and nutmeg. Mix well with a wooden spoon. Taste a bit of the filling and add more vinegar or kosher salt, if necessary. The mixture should taste fresh and savory. (This filling can be made ahead and stored in the refrigerator for up to 2 days or in the freezer for up to 2 weeks; thaw before using.)
Preheat the oven to 400°F (200°C). Coat a half-sheet pan with cooking spray and top with parchment paper.
In a small saucepan or in the microwave, melt the butter and set aside to cool. Remove the dough from the refrigerator. Lightly grease a clean countertop with cooking spray or a little vegetable oil. Using your fingertips, firmly push the dough outward, flattening and stretching it as you go. If the dough starts to bounce back, let it rest for several minutes, then resume stretching. Don't stress if small tears in the dough appear; just keep stretching, tugging, and pressing the dough until it is so sheer and thin, you could clearly read a book through it. No need to shape the dough into a perfect rectangle or square; aim for a squarish shape at least 30 to 36 inches (76 to 91 cm) across.
Drizzle the melted butter all over the surface of the dough (or paint on with a pastry brush, being careful not to tear the delicate pastry). Shape the filling into a 15-by-3-inch (38 by 7.5 cm) log along the closest edge of the dough. Starting at the bottom of the dough, use your fingertips to roll up the edges, moving left to right, until a log has formed. Trim the excess edges of pastry on the end with scissors or a sharp knife. Use both hands to pick up the stromboli from each end and transfer to the prepared half-sheet pan. Gently nudge the shape into an S-shape to fit. Use a small knife to cut three vents 3⁄8 inch (1 cm) long along the surface.
Brush the surface of the stromboli with the reserved egg white and sprinkle with the sugar. Transfer to the oven and bake until the pastry looks deeply browned and feels crisp, about 45 minutes. Let cool for 20 minutes, then using a serrated knife to cut the pastry into 4-inch-long (10 cm) cross sections. The stromboli is best the day it is made, when the pastry is the flakiest, but is also delicious served at room temperature the next morning.
Pro Tip
Bread flour has a higher percentage of protein, making it more resilient (and thus less likely to tear) when it's being stretched so thinly, but regular all-purpose flour, or a combination of both, is also acceptable. Avoid flours lower in gluten (like spelt), which won't be strong enough to stretch into a tissue- thin sheet.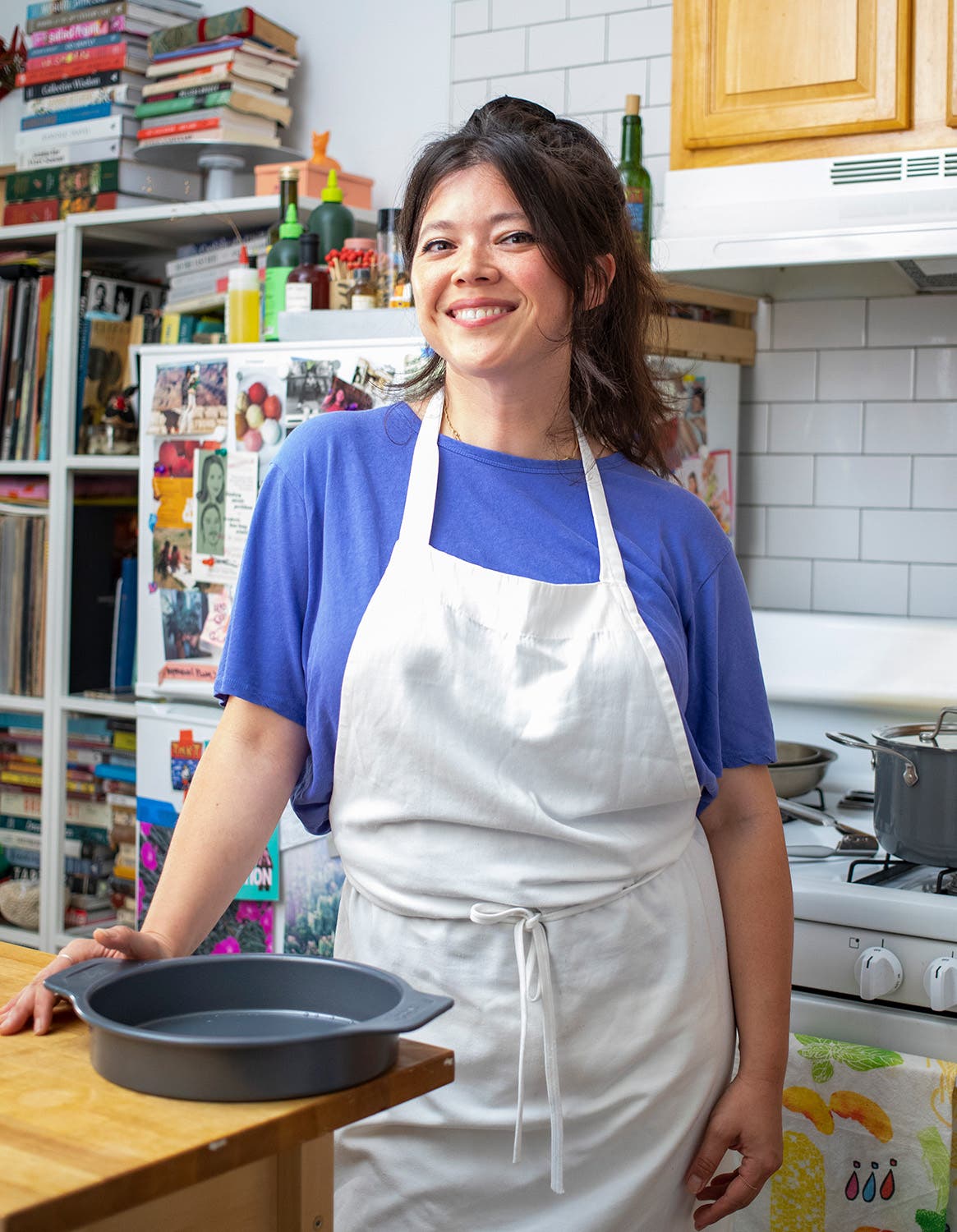 ---
Natasha Pickowicz is a New York City–based chef and writer. She is a three-time James Beard Foundation Award finalist. Much of her pastry work explores the relationship between baking and social justice, including ongoing collaborations with seminal New York City institutions like Lenox Hill Neighborhood House, God's Love We Deliver, the Brigid Alliance, and Planned Parenthood of Greater New York, for whom she produced a massive city-wide bake sale, raising more than $150,000 between 2017 and 2019. Currently, Pickowicz runs the pastry pop-up called Never Ending Taste, which has been held at NYC's Superiority Burger, Brooklyn's the Four Horsemen, the American-Vietnamese bakery Ba. n B., the Taiwanese tearoom T. Company, Los Angeles's Kismet, and the legendary Chino Farm in Rancho Santa Fe, California. Pickowicz's recipes and writing have been published in the New York Times, the Wall Street Journal, Bon App.tit, Saveur, Food & Wine, New York magazine, Cherry Bombe, and many other publications. Follow her on Instagram at @natashapickowicz.