Chef Einat Admony's Spicy Moroccan Fish
This dish is almost mandatory at my Shabbat dinner, it's a part of my new family tradition. I make this dish very spicy for my daughter.
| | |
| --- | --- |
| TYPE | MAIN COURSE |
| SERVES | 4 |
| DIFFICULTY | MODERATE |
| PREP TIME | 15 MIN |
| COOK TIME | 30 MIN |
Ingredients
½ cup olive oil
10 garlic cloves, smashed
⅓ cup tomato paste
1 jalapeño, cored, seeded, and thinly sliced
2 tablespoon harissa
2 tablespoon preserved lemon, sliced very thin
3 tablespoon sweet paprika
1 teaspoon ground caraway
1½ teaspoon ground cumin
2 pints rainbow cherry tomatoes
kosher salt
½ cup water
1 cup cooked chickpea
1 large bunch of fresh cilantro
4 Branzino filet
Challah Loaf
Directions
Pour the olive oil into an All-Clad D3 Stainless 6 Quart Sauté pan. Immediately add the smashed garlic cloves and cook over low heat until fragrant, about 3 to 4 minutes. Make sure the garlic does not brown, or it will become bitter.
Increase the heat to medium-high, add the tomato paste, half the jalapeño, 1½ teaspoon of the harissa, and all the paprika, caraway, and cumin, and stir for a minute or two, until fragrant.
Add 1½ pints of cherry tomatoes, preserved lemons, and season with salt. Reduce the heat to medium and cook, occasionally stirring, until the tomatoes start to break down, roughly 7 to 8 minutes.
Pour in the water, bring to a simmer, cover, and cook over low heat for about 30 minutes, or until thick and saucy.
When you have reached the right consistency, add the cooked chickpeas.
Remove about 3 tablespoons of whole leaves from the cilantro bunch and reserve them for garnish. Tear up the rest of the bunch and toss it into the pan. Give it a minute to blend with the sauce, then taste and adjust the seasoning with salt, pepper, the remaining jalapeño, and 1½ teaspoon of harissa if you want more heat. Bear in mind that once you add the fish, you won't be able to stir the sauce and play with the seasonings — make sure the flavor and level of spiciness are to your liking.
Add the Branzino fillets, skin-side up, tucking them gently into the sauce.
Sprinkle the remaining ½ pint of cherry tomatoes on top of the fish.
Bring to a simmer over medium heat. Reduce the heat to low, cover, and simmer, without stirring, until the fish is cooked roughly 7 to 8 minutes.
To check the fish for doneness, make a small incision in the thickest part of the fish and make sure the flesh is opaque and flaky.
Serve straight out of the pan, garnished with the reserved whole cilantro leaves, with a lot of toasted Challah alongside.
Pro Tip:
For some extra texture and color, once this is finished on the stovetop, remove the cover and broil the whole dish on high for 5 minutes.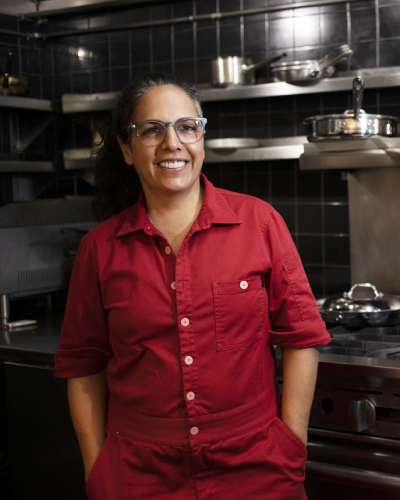 RECIPE BY
Einat Admony
---
Chef Einat Admony, known as the ultimate balaboosta (meaning "perfect housewife" in Yiddish) is the James Beard-nominated chef and owner of Balaboosta, the fine-dining Middle Eastern & Israeli restaurant and the beloved fast-casual falafel chain, Taïm. Admony is a pillar of the international Israeli cooking community. Her food tells an intricate story of strong immigrant roots and living the American Dream. Having grown up in Tel Aviv, she served as a cook in the Israeli Army before traveling to Europe to work in kitchens and eventually landing in New York City as an ambitious young chef. After 15+ years of leading the New York culinary scene and establishing multiple restaurants, Admony continues to innovate and inspire with elevated yet comforting homestyle cooking from her childhood. Admony is a double-time champion and competitor of Food Network's Chopped and Throwdown! with Bobby Flay. She has been featured by The New York Times, Bon Appetit, HuffPost, Forbes, among many others. Admony has authored two cookbooks with Artisan Books: Balaboosta (2013) and Shuk (2019). In 2014, she was a recipient of the Great Immigrants award from Carnegie Corporation of New York for exemplary contributions to American life. Outside of leading several expanding food businesses, Admony can be found at home in Brooklyn or at her country house in the Hudson Valley, cooking for her two children, Liam and Mika, her husband and business partner, Stefan Nafziger, and a steady stream of dinner party guests.
To learn more about this chef, please visit their website at chefeinat.com
Connect with them on social Instagram: @chefeinat and Facebook: Chef Einat