Wafu is a term used when using Japanese ingredients in a dish. Fusion cuisine holds no boundaries when Italian ingredients meet Japanese ingredients for an elevated main dish.
| | |
| --- | --- |
| TYPE | MAIN COURSE |
| SERVES | 4 |
| DIFFICULTY | MODERATE |
| PREP TIME | 20 MIN |
| COOK TIME | 25 MIN |
Ingredients
4- 6oz sea bass filets
2 cloves of garlic, sliced thin
2 scallions whites, sliced thin and green, cut on bias for garnish
1 tablespoon of minced ginger
1 tablespoon of Calabrian chili paste, plus more if desiring additional spice
½ cup Sake
½ cup mirin
¼ cup white miso paste
1 teaspoon of honey
1 teaspoon of white sugar
¼ teaspoon of toasted sesame oil
1 tablespoon of soy sauce
1 teaspoon of lemon juice
1 small bunch of parsley for garnish
3 tablespoons of neutral oil
¼ teaspoon kosher salt
Directions
Prepare the marinade the night before. In an All-Clad D5 Brushed 2 Quart Sauce Pan, heat 1 tablespoon of neutral oil over medium-low heat. When the pan is hot add the ginger, garlic, and scallions and saute for 2 to 3 minutes or until very fragrant.
Add the Calabrian chile paste and continue to cook for an additional minute or until darkened and caramelized. Add the sake and mirin and deglaze the pan. Continue to cook for an additional 5 minutes to cook out the alcohol.
Add the miso paste, soy sauce, honey, and sugar. Cook, simmering for an additional 2 minutes.
Remove the pan from the heat, and add 1/2 the lemon juice. Taste and adjust with remaining juice if desired.
Once you have reached your desired taste, whisk in the sesame oil and let cool to room temperature.
Once cooled, in a large mixing bowl, combine the sea bass filets with the marinade and refrigerate overnight.
When you are ready to cook the filets, remove the bowl from the fridge and let it sit at room temperature for 30 minutes to 1 hour. Preheat the oven to 450°F.
Heat 2 tablespoons of neutral oil over medium heat in an All-Clad D5 Brushed 3 Quart Sauté Pan. When the oil is hot add the fish filets skin side down. Let cook untouched for 4 to 5 minutes or until the fish filets naturally release from the pan. When the skin releases and is charred, flip the filet over and put it into the oven to cook for 15 to 20 minutes or until the fish has a deep caramelized color to it.
Remove from the oven and garnish with scallion greens and parsley leaves.
Pro Tip:
You can sub out the sea bass in this recipe for another white fish such as cod.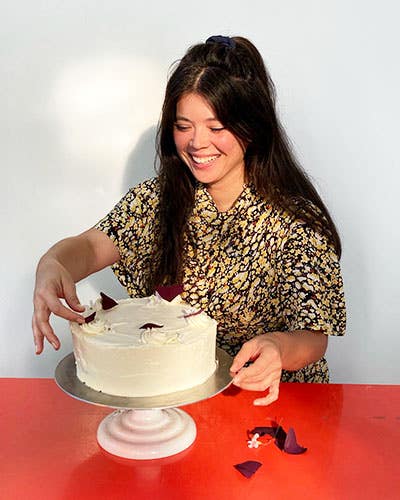 ---
Natasha Pickowicz is an NYC-based pastry chef and writer. She is a three-time James Beard Foundation Award finalist, recognition from her time spent running the pastry programs at the award-winning restaurants Altro Paradiso, Flora Bar, and Flora Coffee from their opening in 2016 until March of 2020. Currently, Natasha runs the acclaimed pastry pop-up called Never Ending Taste, which celebrates the relationship between local farming, social justice, and community bake sales. It has been held at NYC's Superiority Burger, Brooklyn's The Four Horsemen, the American-Vietnamese bakery Bạn Bè, the Taiwanese tea room Té Company, LA's Kismet, and San Diego's Chino Farms. She is now working on her debut cookbook.
Connect with Natasha on social @natashapickowicz