When the weather begins to heat up, so should your grill. Healthy, seasonal, and easy is the only way to describe this summer favorite- grilled kebabs!
| | |
| --- | --- |
| TYPE | MAIN COURSE |
| SERVES | 4 |
| DIFFICULTY | EASY |
| PREP TIME | 10 MIN |
| COOK TIME | 20 MIN |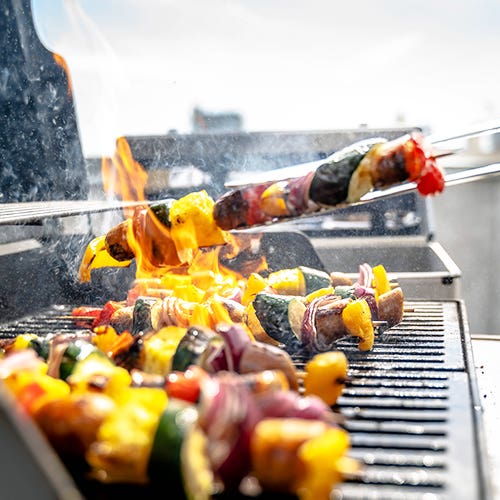 Ingredients
1 pound of chicken breast cut into 1 inch chunks (to ensure everything cooks evenly try to keep these pieces the same size)
2 medium sized zucchini cut into 1 inch rounds
2 medium sized red bell peppers cut into 1 inch pieces
1 red onion cut into 1 inch pieces
Marinade
1/4 cup avocado or another high heat oil, plus more for the grill
1 tablespoon of chopped parsley
2 cloves of garlic, grated or minced
1 lemon juiced
1/2 teaspoon of cumin
1 tablespoon paprika
1 1/2 teaspoon of salt
1 teaspoon black pepper
Directions
Prepare your chicken and vegetables and place to the side.
Combine all of the marinade ingredients in a large mixing bowl. Whisk to completely combine.
Place the chicken and vegetable pieces into the marinade. Ensure they are coated thoroughly, cover, and refrigerate for at least two hours. For best results let marinade overnight.
30 minutes before making the kebabs, soak your wooden skewers in water. This will help ensure they do not burn during the grilling process.
Assemble the skewers - lining the chicken, zucchini, red pepper, and onion. Repeating the process until the skewer is filled. Repeat this process with the remaining skewers. Be sure to not overcrowd the skewers. You should have enough ingredients to make 6-8 kebabs.
Preheat your grill to medium high. Then hot brush the grill grates lightly with avocado or another high heat oil. Place the kebabs on the grill. Let them cook for 15-20 minutes turning occasionally to cook on all sides.
Take off the grill and let rest for 5 minutes before serving.
Pro Tip
Try different proteins such as chicken sausage or seasonal vegetables for variety. Making it the perfect BBQ entrée for entertaining.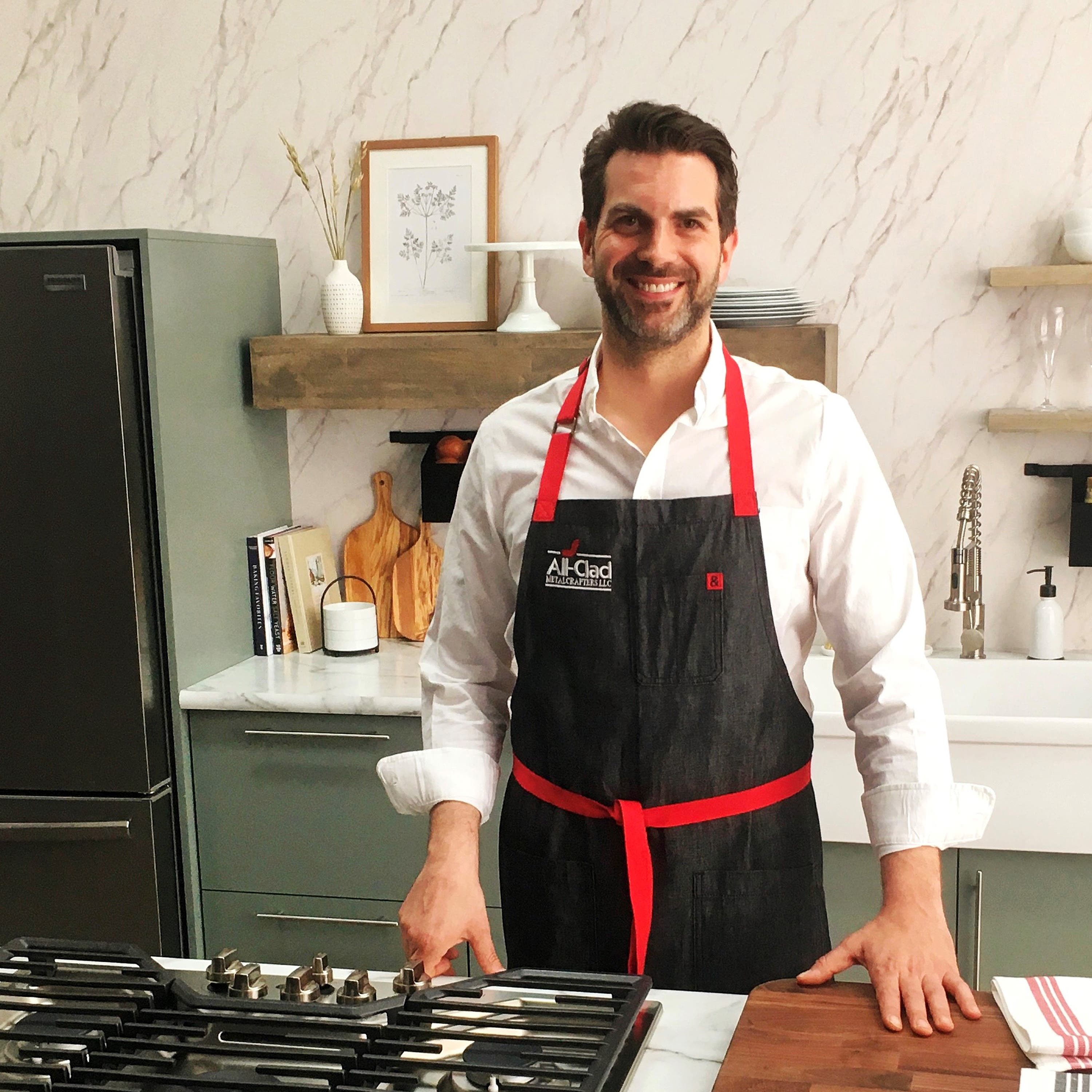 All-Clad Resident Chef Derek Finocchiaro
---
All-Clad's Resident Chef Derek has been working with flavors and fragrance for his entire career. Finding a path from perfumery to food, Derek competed on numerous amateur cooking shows which lead him to the All-Clad Test kitchen. Here he excels in creating new recipes, blogs, video demos, and food photography for our consumers.