This cross between a tartlet and cookie is buttery and sweet perfection in every bite. Perfect to enjoy with your morning cup of coffee -you can whip this dessert up with only a few ingredients.
| | |
| --- | --- |
| TYPE | DESSERT |
| SERVES | 12 |
| DIFFICULTY | EASY |
| PREP TIME | 30 MIN |
| COOK TIME | 25 MIN |
Ingredients
1 cup unsalted butter, softened + more for greasing
¼ cup granulated sugar
⅓ cup powdered sugar
2 teaspoons vanilla extract
2¼ cups all-purpose flour
¼ teaspoon kosher salt
½ cup seedless raspberry jam
Directions
Preheat the oven to 350°F. Grease an All-Clad Pro-Release Nonstick Muffin Tin with unsalted butter.
Cream the butter, sugars, and vanilla extract together until combined.
Add in the flour and mix just until combined. Be sure to not overmix-the mixture, it should be a little crumbly. This will be used for the base and topping of the cookie.
Take about ¼ cup of the mix and add into each muffin well. Press into the bottom of the pan forming a well.
Spoon about a tablespoon of raspberry jam into the center of the wells.
Sprinkle the top of the jam with a tablespoon of the remaining dough mixture.
Bake for 20-25 minutes or until lightly golden.
Let cool and then remove from the pans. Dust with powdered sugar.
Pro Tip:
Try out different jams based on the season, blueberry and strawberry are also delicious options.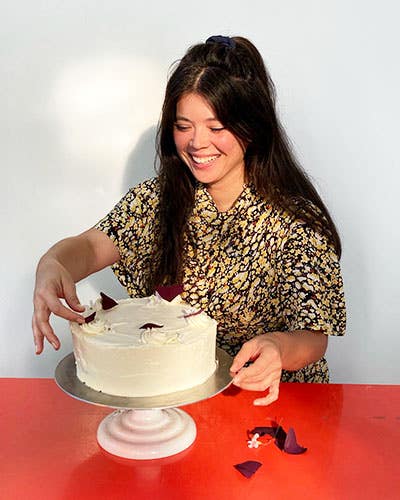 ---
Natasha Pickowicz is an NYC-based pastry chef and writer. She is a three-time James Beard Foundation Award finalist, recognition from her time spent running the pastry programs at the award-winning restaurants Altro Paradiso, Flora Bar, and Flora Coffee from their opening in 2016 until March of 2020. Currently, Natasha runs the acclaimed pastry pop-up called Never Ending Taste, which celebrates the relationship between local farming, social justice, and community bake sales. It has been held at NYC's Superiority Burger, Brooklyn's The Four Horsemen, the American-Vietnamese bakery Bạn Bè, the Taiwanese tea room Té Company, LA's Kismet, and San Diego's Chino Farms. She is now working on her debut cookbook.
Connect with Natasha on social @natashapickowicz