Another wonderful traditional Persian dish to complement a wide variety of dishes and completes the table.
| | |
| --- | --- |
| TYPE | SIDE DISH |
| SERVES | 4 to 6 |
| DIFFICULTY | MODERATE |
| PREP TIME | 15 MIN |
| COOK TIME | 30 MIN |
Ingredients
3 cups jasmine rice
1/2 cup Greek yogurt, whole fat
Kosher salt
4 Tbsp Butter
1/4 cup vegetable oil
1 pistil saffron
1/8 tsp turmeric
1/8 cup pistachios, toasted and chopped
1/8 cup barberries or cranberries
Directions
Bring a medium-sized pot of water to a boil. Season with salt.
Rinse the rice, then pour it into the boiling water and cook for 9 minutes, stirring to prevent sticking.
Drain the rice and rinse under cool water -- spread thinly on a sheet pan with parchment and let dry a little.
In a mixing bowl, add cooked rice, yogurt, and salt to taste. Incorporate well and set aside.
Melt butter and vegetable oil with saffron and turmeric. Simmer together for a few minutes.
Spoon 5-6 Tbsp of saffron butter mixture into a 12" All-Clad Nonstick fry pan and pack the rice mixture into the pan evenly, spreading the remaining butter mixture on top.
When ready to serve, loosely cover the nonstick pan with a pot lid and crisp the rice over medium heat (about 5-10 minutes). Transfer to the oven and finish warming (about 5-10 minutes). The oven will be set at 325 degrees from making the Short Rib Gormeh Sabzi.
Once out of the oven, flip it onto a platter. Garnish with pistachios and barberries/cranberries and serve.
Pro Tip
Be sure to let the rice fully crisp to golden brown on the stovetop -- you can check the progress with the help of a silicone spatula.
Also, pair it with my Short Rib Gormeh Sabzi recipe for a complete meal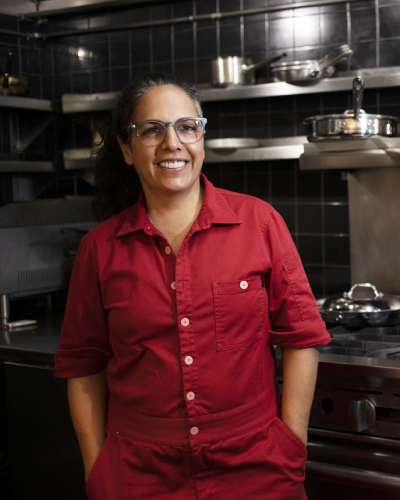 ---
Chef Einat Admony, known as the ultimate balaboosta (meaning "perfect housewife" in Yiddish) is the James Beard-nominated chef and owner of Balaboosta, the fine-dining Middle Eastern & Israeli restaurant and the beloved fast-casual falafel chain, Taïm. Admony is a pillar of the international Israeli cooking community. Her food tells an intricate story of strong immigrant roots and living the American Dream. Having grown up in Tel Aviv, she served as a cook in the Israeli Army before traveling to Europe to work in kitchens and eventually landing in New York City as an ambitious young chef. After 15+ years of leading the New York culinary scene and establishing multiple restaurants, Admony continues to innovate and inspire with elevated yet comforting homestyle cooking from her childhood. Admony is a double-time champion and competitor of Food Network's Chopped and Throwdown! with Bobby Flay. She has been featured by The New York Times, Bon Appetit, HuffPost, Forbes, among many others. Admony has authored two cookbooks with Artisan Books: Balaboosta (2013) and Shuk (2019). In 2014, she was a recipient of the Great Immigrants award from Carnegie Corporation of New York for exemplary contributions to American life. Outside of leading several expanding food businesses, Admony can be found at home in Brooklyn or at her country house in the Hudson Valley, cooking for her two children, Liam and Mika, her husband and business partner, Stefan Nafziger, and a steady stream of dinner party guests
To learn more about this chef, please visit their website at chefeinat.com
Connect with them on social Instagram: @chefeinat and Facebook: Chef Einat