There are few pastry recipes more versatile than a basic yeasted doughnut recipe. Instead of individually shaping each doughnut into a ball—which can be time-consuming and sticky—the entire batch of dough is rolled out into a single sheet and then quickly snipped into squares.
Once you know how to make the basic dough, the real fun starts. Glazes? Creamy fillings? Sparkly sugar or powdered sugar? Truly up to you. Freeze-dried fruits—here we'll use blackberries—transform into a fine powder, a sneaky way to add another layer of flavor and color to sugars. They also hint at the rich fruit jam inside.
| | |
| --- | --- |
| TYPE | BREAKFAST & BRUNCH |
| SERVES | 6 |
| DIFFICULTY | MODERATE |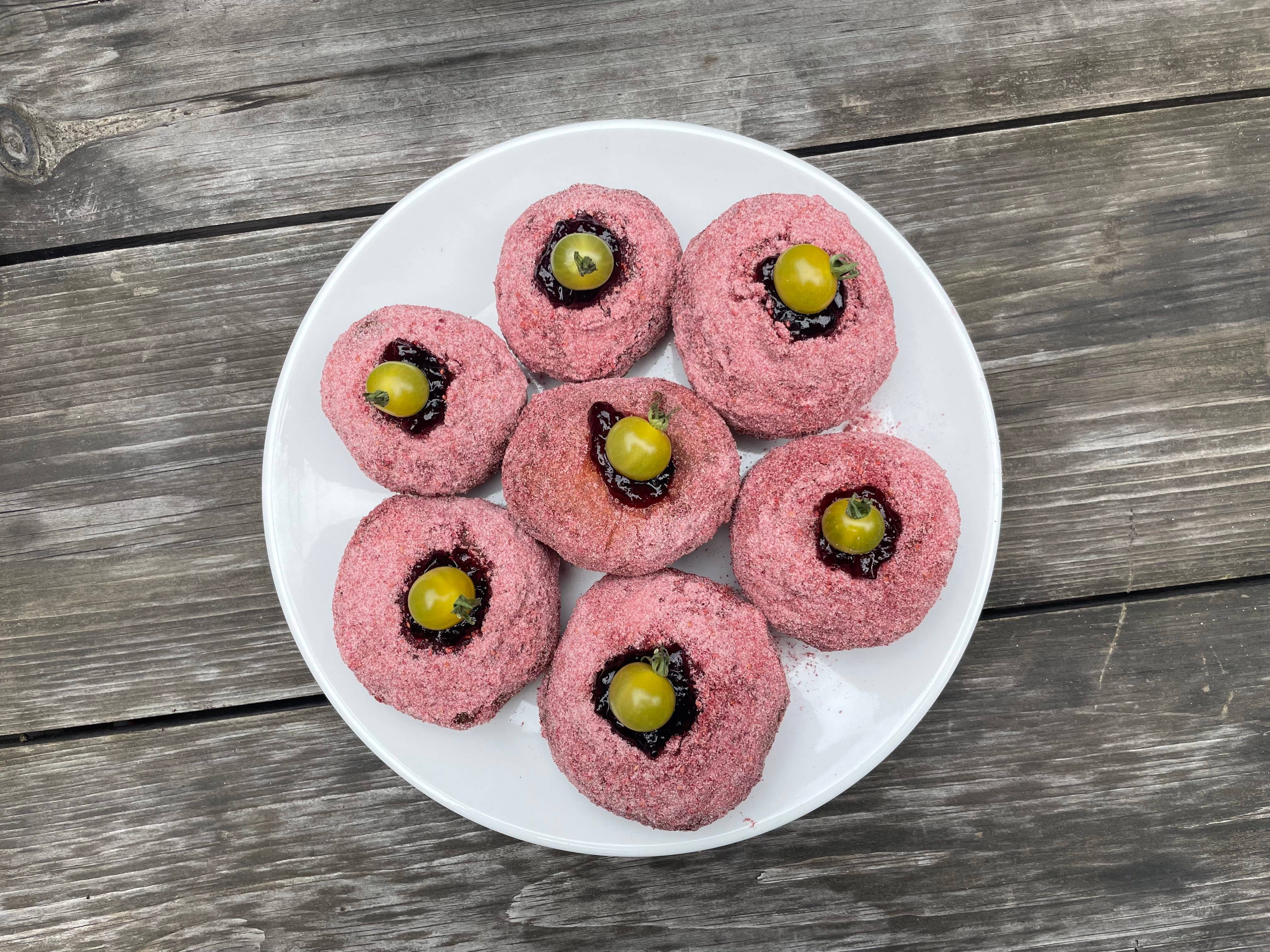 Ingredients
For the doughnuts:
1⁄3 cup (80 g) whole milk, slightly warmed
1⁄4 cup (50 g) sugar
1 teaspoon active dry yeast
2 eggs (100 g), at room temperature
1 teaspoon vanilla extract
1 cup (120 g) all-purpose flour, plus more for dusting
1 cup (125 g) bread flour
1 teaspoon kosher salt
4 tablespoons (2 ounces/60 g) unsalted butter, cubed, at room temperature
4 cups (950 ml) grapeseed or safflower oil
Blackberry Sugar (recipe follows)
1 cup Blackberry Jam
Flaky sea salt
For the blackberry sugar:
1⁄2 cup (15 g) freeze-dried blackberries
1 cup (200 g) sugar
1⁄4 teaspoon kosher salt
1⁄8 teaspoon citric or malic acid
Directions
For the doughnuts:
In a stand mixer fitted with the dough hook, combine the warmed whole milk, sugar and yeast. Let sit for a few minutes, or until the yeast looks foamy and puffy. Add the eggs, vanilla, all-purpose flour, bread flour, and kosher salt. Mix on medium-low speed until a smooth, stiff ball forms around the hook, 5 to 7 minutes. With the mixer running, add the butter, piece by piece, and continue to mix until the butter is incorporated and the dough is shiny and smooth, 3 to 4 minutes.
Use the sides of your hands to gently shape the dough into a smooth ball. Transfer to a medium All-Clad mixing bowl, cover tightly with plastic wrap, and set aside in a tepid to warm environment to proof until the dough has doubled I size and looks puffy and soft, about 1 1⁄2 hours. Refrigerate the dough overnight (or between 6 and 8 hours) until ready to fry the next morning.
Cut a large piece of parchment paper into twelve 5-inch (12.5 cm) squares. Lay the squares on a sheet pan and dust lightly with all- purpose flour. Turn the chilled dough out on another large piece of parchment paper dusted with all-purpose flour. Roll the dough into a square 1⁄2 inch (1.5 cm) thick. Lightly flour a sharp knife and slice the dough into 12 squares. Use the flat side of your knife or a large offset spatula to transfer each doughnut an individual parchment square. Loosely drape a piece of plastic wrap on top and let proof again, until the dough is puffed and swelled to almost twice its size, 1 to 1 1⁄2 hours.
In a wide, shallow saucepan, gently warm the grapeseed oil over medium-low heat. Assemble the rest of your fry station: Transfer the blackberry sugar to a wide bowl and have another plate lined with a kitchen towel. Test the oil with a thermometer; the oil should be at 325°F (165°C). Pick up a square of parchment paper with the doughnut on top and slide it into the oil. Wait a beat, then use tongs or chopsticks to gently remove the piece of parchment, allowing the doughnut to bob on the surface. Fry for 2 to 3 minutes on each side; the color should be a rich golden bronze. Remove the doughnut with a slotted spoon or tongs, letting the excess oil drip off for a few seconds before dropping in the bowl of blackberry sugar. Roll the doughnut well in the sugar and then transfer to the clean plate lined with towels.
Fit a piping bag with a plain round piping tip and fill the bag with the cooled jam. Puncture the doughnut along its edge with a small knife and gently, slowly squeeze about 2 1⁄2 tablespoons of jam inside. Feel the doughnut grow heavier in your palm, then slowly pull the piping tip out. Sprinkle the doughnuts with flaky sea salt and eat immediately.
For the Sugar:
In a food processor, combine the blackberries, sugar, and salt and blend on high speed until smooth, about 1 minute. Store the blackberry sugar in an airtight container at room temperature until ready to use.
Pro Tip
I tested this recipe to make it more streamlined (like making it with any freeze-dried berry instead of just blackberry)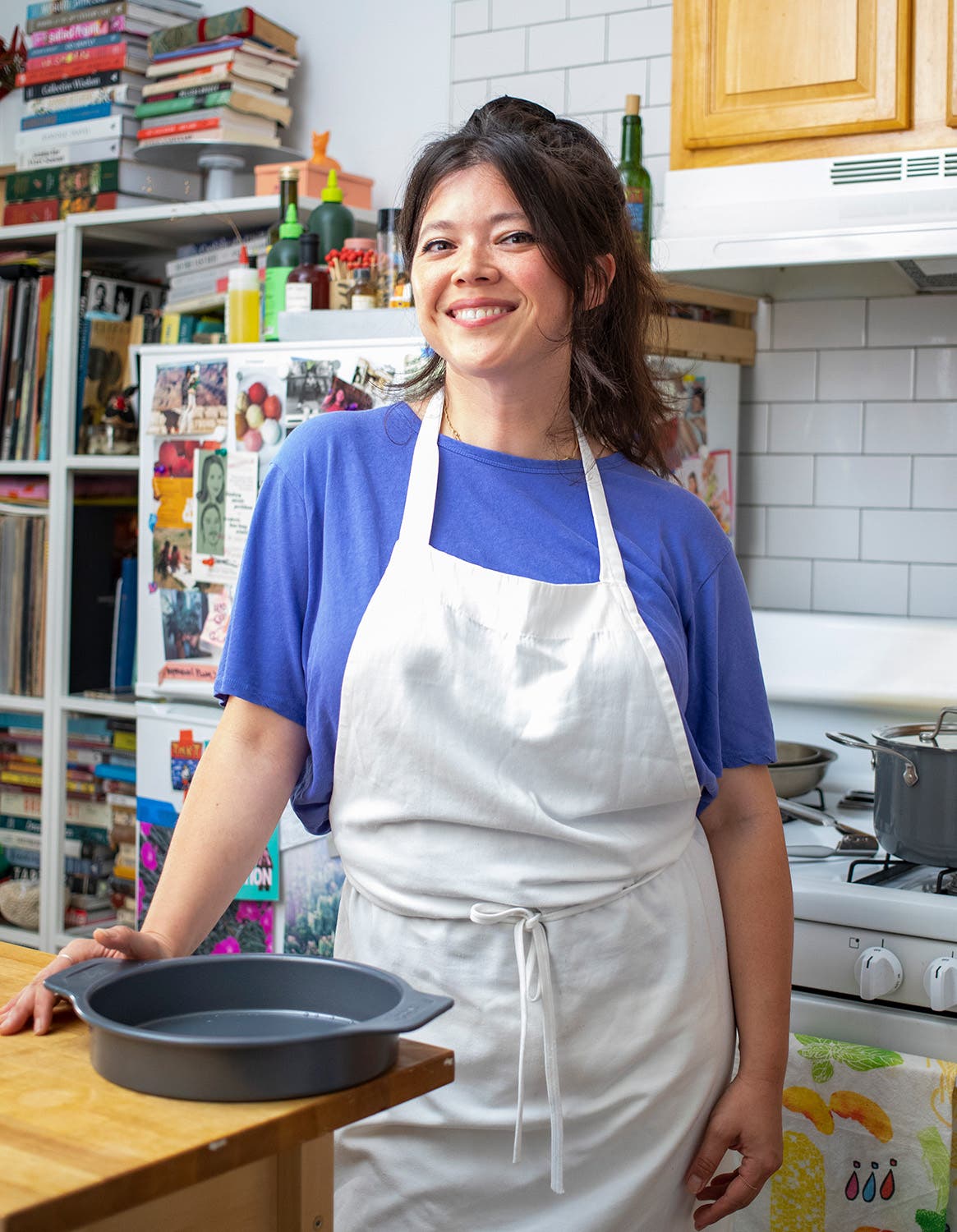 ---
Natasha Pickowicz is a New York City–based chef and writer. She is a three-time James Beard Foundation Award finalist. Much of her pastry work explores the relationship between baking and social justice, including ongoing collaborations with seminal New York City institutions like Lenox Hill Neighborhood House, God's Love We Deliver, the Brigid Alliance, and Planned Parenthood of Greater New York, for whom she produced a massive city-wide bake sale, raising more than $150,000 between 2017 and 2019. Currently, Pickowicz runs the pastry pop-up called Never Ending Taste, which has been held at NYC's Superiority Burger, Brooklyn's the Four Horsemen, the American-Vietnamese bakery Ba. n B., the Taiwanese tearoom T. Company, Los Angeles's Kismet, and the legendary Chino Farm in Rancho Santa Fe, California. Pickowicz's recipes and writing have been published in the New York Times, the Wall Street Journal, Bon App.tit, Saveur, Food & Wine, New York magazine, Cherry Bombe, and many other publications. Follow her on Instagram at @natashapickowicz.