All-Clad has a variety of cookware collections tailored to suit your culinary journey at every stage. With various sizes and shapes to choose from, we've got you covered. Discover our three essential must-haves, highlighting the unique advantages of each collection.
| | |
| --- | --- |
| TYPE | MAIN COURSE |
| SERVES | 4 |
| DIFFICULTY | MODERATE |
| PREP TIME | 10 MINUTES |
| COOK TIME | 20 MINUTES |
Ingredients
4 boneless chicken thighs
Fine sea salt
½ cup all purpose flour
2 tablespoons avocado oil
4 tablespoons unsalted butter
1 shallot, thinly sliced
Segments and juice of 1 lemon
2 tablespoons chopped parsley
Directions
Place a plastic bag on a work surface. Set one of the thighs on the bag and top with a second bag. Using a mallet or small pot, pound the chicken thighs aggressively enough to flatten the meat but not tear it. Continue to pound until the chicken is an even ¼-inch thick. Repeat with the remaining thighs.
On a D3 Stainless Steel Ovenware Roasting Sheet, season the chicken thighs on both sides with salt and dust both sides with a small amount of flour. Heat a G5™ Graphite Core Stainless Steel 10.5" Skillet over medium-high heat until it starts to smoke slightly. Add the avocado oil to the pan. If necessary, cook the chicken in batches to not crowd the pan. Add the chicken to the pan and cook until both sides are golden brown, about 3 minutes per side.
Pour off any oil remaining in the skillet, then add the butter and stir, cooking until the butter begins to brown. Once the butter gives off a nutty aroma, add the shallots. Cook for a few seconds; then add the lemon juice and segments. Add the chopped parsley and season with salt to taste.
Remove from the heat and add the chicken back to the pan, basting with the butter sauce for about 1 minute.
Arrange the chicken on a serving platter and pour the pan sauce over the meat. Serve alongside a risotto.
Pro Tip
Darker berries are studied to destroy cancer cells. We use a medley of berries in this recipe but if you prefer one over another that's ok too. If using just blueberries we suggest to use wild blueberries if available.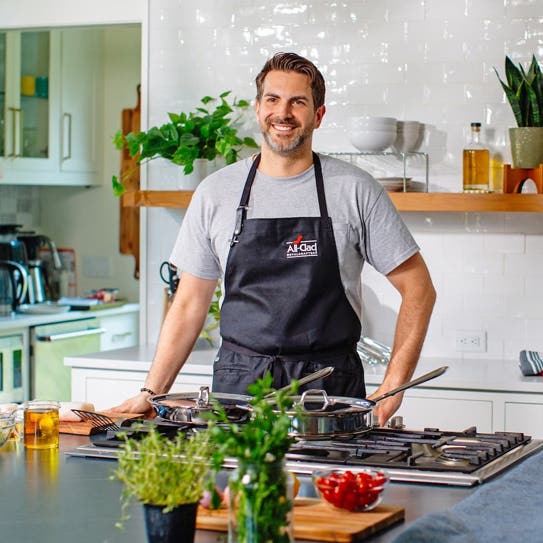 All-Clad Resident Chef Derek Finocchiaro
---
All-Clad's Resident Chef Derek has been working with flavors and fragrance for his entire career. Finding a path from perfumery to food, Derek competed on numerous amateur cooking shows which led him to the All-Clad Test kitchen. Here he excels in creating new recipes, blogs, video demos, and food photography for our consumers.