Alexis deBoschnek's Baked Eggs in Spiced Tomato Sauce with Goat Cheese
---
This is the ideal breakfast (or brunch!) when you're looking for something a little different. Goat cheese gets crumbled into tomato sauce spiced with pimenton. Don't forget to serve it with some crusty bread for sopping up all that sauce!
| | |
| --- | --- |
| TYPE | BREAKFAST & BRUNCH |
| SERVES | 4 |
| DIFFICULTY | EASY |
| PREP TIME | 10 MIN |
| COOK TIME | 40 MIN |
Ingredients
1 Tablespoon Olive Oil
2 Large Shallots, finely chopped
3 Garlic Cloves, thinly sliced
1 teaspoon smoked pimenton
1/2 teaspoon red pepper flakes
1/2 teaspoon freshly ground black pepper
1 cup cherry tomatoes
1 28 ounce canned whole tomatoes
1 teaspoon kosher salt
4 ounces goat cheese, crumbled plus more to serve
4 eggs
Herbs, finel chopped, to serve
Directions
Preheat the oven to 375° F
Heat the olive oil in All-Clad FusionTec 9.5" skillet over medium heat. Once the oil begins to shimmer, add shallots and cook until the shallots are beginning to soften, about 2 minutes
Add the garlic, smoked pimenton, red pepper flakes, and black pepper and cook until the garlic is aromatic, about 1 minute
Add the cherry tomatoes and cook until they begin to split stirring occasionally, about 3-4 mins
Reduce the heat to medium-low and add the canned tomatoes along with the liquid, carefully crushing the tomatoes with your hands. Add salt and stir to combine. Simmer the tomatoes until the sauce has thickened and reduced by a quarter, about 15 mins
Add the goat cheese and stir to combine. Gently crack the eggs into the sauce and transfer the pan to the oven. Bake 7-10 minutes, until the eggs are set to your liking. Serve with more goat cheese and herbs.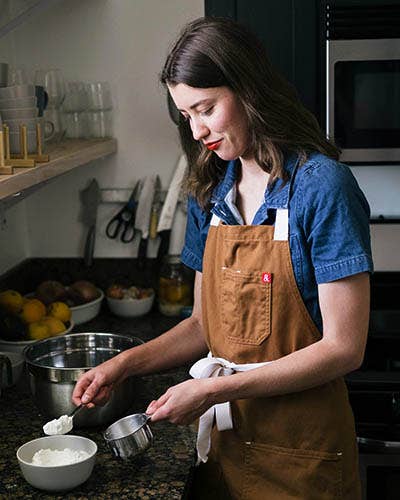 RECIPE BY
Alexis deBoschnek
---
Alexis deBoschnek is a recipe developer and host-based in the Catskills in upstate New York. Her first cookbook with Simon & Schuster will be published in Spring 2022.