Joshua McFadden's Cream Cheese Carrot Cranberry Muffins
---
These muffins are a delicious balance of sweet and savory. Aromatic spices like cinnamon and nutmeg offset enhance the flavors of carrot and cranberry. Meanwhile, rich cream cheese and olive oil in place of butter make these muffins feel particularly indulgent.
| | |
| --- | --- |
| TYPE | BREAKFAST & BRUNCH |
| SERVES | 12 |
| DIFFICULTY | EASY |
| PREP TIME | 10 MIN |
| COOK TIME | 25 MIN |
Ingredients
1⁄2 cup butter
2 1⁄2 cup unbleached flour
1⁄2 cup brown sugar
3⁄4 cup granulated sugar
1 tsp baking soda
1 tsp baking powder
2 tsp ground ginger
2 tsp cinnamon
1 tsp ground nutmeg
2 tsp salt
2 large eggs
1⁄2 cup extra virgin olive oil
1 cup water
1 cup grated carrots
1 cup fresh or frozen cranberries
1⁄2 cup diced crystallized ginger (optional)
1 - 8 oz package cream cheese
2 tsp vanilla extract
1 1⁄2 - 2 T honey (buckwheat preferred)
Directions
Preheat the oven to 400 F
Brown the butter in a pan. Once browned, use it to "grease" a 12-well muffin tin
In a small bowl, combine the cream cheese, vanilla, and honey. Set aside.
In a small bowl, whisk together the eggs, water, and olive oil
Make a well in the dry ingredients and pour in the wet ingredients. Mix.
Fold in the carrots and cranberries.
Fill each muffin tin with about 3 T of batter, then top with a large spoonful of cream cheese mixture on the center. Sprinkle with some coarse white sugar
Bake, checking around the 18-22 mark with a toothpick. If the toothpick comes out clean, they are done. Cool on a rack and enjoy.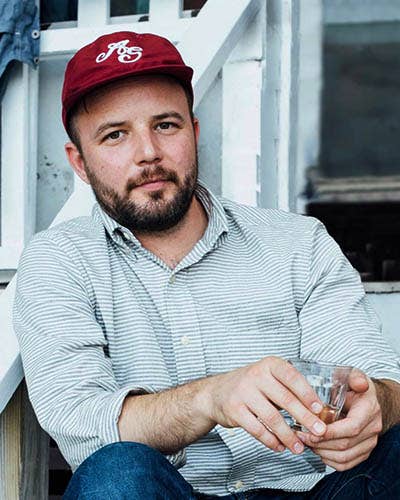 RECIPE BY
Joshua McFadden
---
Joshua McFadden is the founder of Submarine Hospitality in Portland, Oregon. He owns and manages Ava Gene's, Cicoria, and Tusk restaurants. In between running the restaurants, he is bringing new life to Berny Farm, a historic 50-acre farm in Springdale Oregon, with the goal of creating an agricultural complex that will host collaborations between farming, food, and design. His first book, Six Seasons: A New Way with Vegetables won a James Beard Award in 2018.