What happens when you do not have space or the ability to have an outdoor grill at home but still want to enjoy those grilled meals? Check out All-Clad's Extra Large capacity indoor grill to give you all the feels of summer grilling season from the comfort of your own kitchen.
| | |
| --- | --- |
| TYPE | MAIN COURSE |
| SERVES | 4 |
| DIFFICULTY | EASY |
| PREP TIME | 5 MIN |
| COOK TIME | 15 MIN |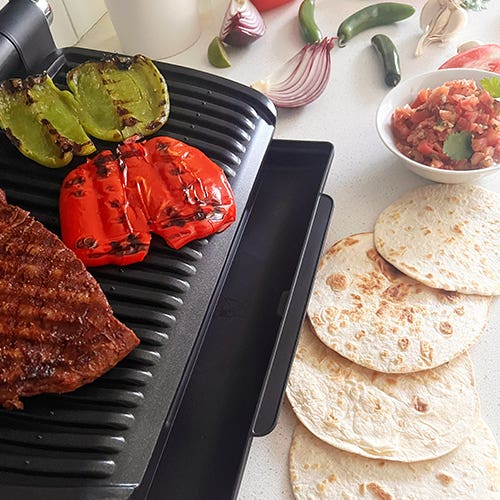 Ingredients
1 1/2 pounds Flank Steak
1 tablespoon ancho chile powder
1 teaspoon ground cumin
1 teaspoon dried oregano
1 1/2 teaspoons salt
1/2 teaspoon black pepper
1 teaspoon garlic powder
1 Red bell pepper cut in half
1 green bell pepper cut in half
1 medium yellow onion cut in half
Directions
In a small mixing bowl combine the dry seasoning ingredients. Mix well to combine and rub all over the steak reserving 1/2 teaspoon of the mixture.
Let the steak rest at room temperature for a half hour after rubbing it with the seasoning.
Preheat the Autosense grill under the preset of red meat to your desired cooking temperature. Let the indoor grill preheat and when it is indicated ready, place the steak onto the grill and press the top down into the meat. Let it cook undisturbed until the light blinks to the temperature of desire.
Take off the grill and let rest for 5 to 10 minutes before slicing the meat.
While the meat rests, drizzle the peppers and onion with olive oil and season with salt and pepper. Place on the grill and let cook until softened and grill marks are present. Remove from the grill and slice. Toss with the remaining seasoning right when it comes off the grill.
Build the fajitas with your toppings of choice and enjoy with a fresh margarita. Happy Cinco de Mayo.
Pro Tip
If you want to have the scored grill marks on your steak, halfway through the cook time lift the lid and rotate the meat 90 degrees. Place the lid back down and continue to cook to the desired temp.
---
Chef Bio
To learn more about this chef, please visit their website at name of link
Connect with them on social name of link