American-style coconut macaroons are a captivating study in opposing textures. Clusters of honeyed coconut bake with a crunchy, spiky exterior and a soft, taffy-like center. Coconut gets the spotlight, but the sticky sweet-and-sour citrus peel is a funky, bright second player.
| | |
| --- | --- |
| TYPE | DESSERT |
| SERVES | 20 - 40 MACAROONS |
| DIFFICULTY | EASY |
| PREP TIME | 20 MIN |
| COOK TIME | 1 HOUR |
Ingredients
2½ cups (200 g) unsweetened coconut flakes
4 egg whites (120 g) (see tip #2)
1 cup (200 g) coconut sugar
3 tablespoons (60 g) honey
1 teaspoon kosher salt
¼ cup (30 g) white rice flour
1 teaspoon vanilla extract
¾ cup (about 200 g) Candied Grapefruit Peel (page 131), roughly chopped
Flaky sea salt
Tip 1—Overcook your macaroon dough? Don't throw it away! Stir in 1 large egg white after the mixture has cooled to reintroduce moisture and lift, and you'll be able to bake as normal.
tip 2—Save the extra egg yolks for the crumbly-crisp cookies in this chapter, like the Coffee-Hazelnut Linzers (page 39) or Pine Nut Sablés with Taleggio (page 37). Freeze the yolks in a small container if you won't use them in the next few days.
Directions
Preheat the oven and prep the pans. Preheat the oven to 350°F (175°C). To bake in batches, top two half-sheet pans with parchment paper lightly misted with cooking spray.
Mix the ingredients. In a wide bowl, combine the coconut flakes, egg whites, coconut sugar, honey, kosher salt, and white rice flour and stir until well mixed and goopy.
Cook the dough. Gently heat a large skillet (at least 10 inches/25 cm wide) over low heat. Add the coconut mixture to the pan all at once. Stir constantly with a silicone spatula or wooden spoon; the mixture should lightly coat the bottom of the pan with a fine film. After 6 to 8 minutes, the mixture should appear glossy and wet but not runny, not parched or scorched-looking. Off the heat, stir in the vanilla and chopped candied grapefruit peel.
Rest the dough. Transfer the mixture to a bowl and press plastic wrap on top. Let the dough cool slightly, 15 to 20 minutes.
Shape the cookies. Transfer 2 tablespoon mounds of the dough to the prepared sheet pans, spaced 2 inches (5 cm) apart; you should be able to fit 10 to 12 per pan. Sprinkle the tops with a bit of flaky sea salt.
Bake the cookies. Bake the cookies until golden brown all over and glossy and crisp on the edges but soft and tender in the center, 18 to 20 minutes. Let cool completely on the pan. (The macaroons will continue to crisp up as they cool; you should be able to easily press a finger into the top of a hot macaroon.) The macaroons will stay chewy for up to 4 days if tightly wrapped and stored at room temperature.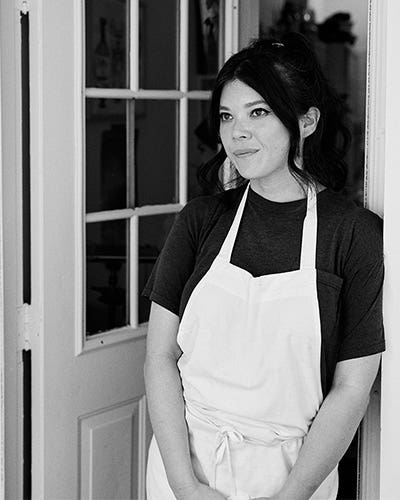 ---
Natasha Pickowicz is a New York City–based chef and writer. She is a three-time James Beard Foundation Award finalist. Much of her pastry work explores the relationship between baking and social justice, including ongoing collaborations with seminal New York City institutions like Lenox Hill Neighborhood House, God's Love We Deliver, the Brigid Alliance, and Planned Parenthood of Greater New York, for whom she produced a massive city-wide bake sale, raising more than $150,000 between 2017 and 2019. Currently, Pickowicz runs the pastry pop-up called Never Ending Taste, which has been held at NYC's Superiority Burger, Brooklyn's the Four Horsemen, the American-Vietnamese bakery Ba. n B., the Taiwanese tearoom T. Company, Los Angeles's Kismet, and the legendary Chino Farm in Rancho Santa Fe, California. Pickowicz's recipes and writing have been published in the New York Times, the Wall Street Journal, Bon App.tit, Saveur, Food & Wine, New York magazine, Cherry Bombe, and many other publications. Follow her on Instagram at @natashapickowicz