Simple ingredients brought together can create nostalgic memorable meals. This dish is very easy to make while giving you a warm hug of comfort.
| | |
| --- | --- |
| TYPE | MAIN COURSE |
| SERVES | 6 |
| DIFFICULTY | MODERATE |
| PREP TIME | 30 MIN |
| COOK TIME | 35 MIN |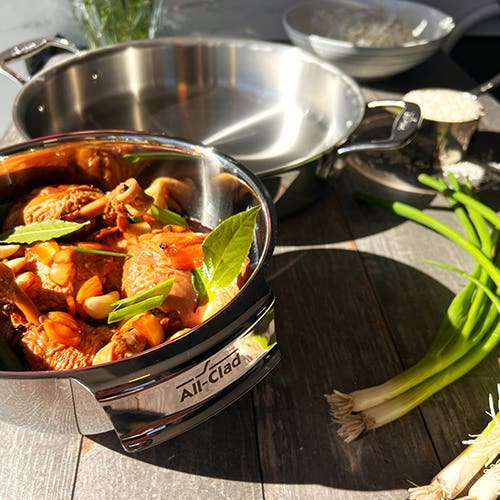 Ingredients
6 Chicken Thighs
6 Chicken Drumsticks
10 cloves of garlic, smashed
1/4 cup chopped scallions plus more green parts for garnish
2 teaspoons of whole black peppercorns
2 teaspoons of dark brown sugar
1/2 cup rice vinegar
1/2 cup white vinegar
1 cup soy sauce preferably low sodium
5 bay leaves
1 yellow onion, diced
Directions
Combine the smashed garlic, onion, scallion, peppercorns, brown sugar, rice vinegar, white vinegar, soy sauce, and bay leaves in a large mixing bowl. Whisk together until the sugar is dissolved or until everything is well combined. Submerge the chicken pieces in the marinade and use your hands to massage the chicken into the marinade. Ensure the chicken is fully submerged. Cover and place in the refrigerator for 2 hours or overnight if possible.
On medium heat, take your D3 Stainless 6-quart Mother of All Pans and add 2 tablespoons of neutral oil to the pan. When the oil is hot, remove the chicken pieces from the marinade. Be sure to reserve the marinade for later use.
Sear the chicken pieces in the pan for roughly 4 minutes per side until golden brown. Do not overcrowd the pan with the chicken. You can work in batches.
After all the chicken is seared off, pour in the reserved marinade straining out the solids from it as you do. Bring to a low boil.
Add the chicken pieces back to the pan with the marinade. Let the chicken simmer for 60 minutes or until fully cooked through.
When cooked serve immediately with jasmine rice. Garnish the dish with chopped scallion greens.
Pro Tip
The longer the chicken sits in the marinade the more flavorful the dish will become. That is why we do recommend marinading overnight if possible.
---
Chef Bio
To learn more about this chef, please visit their website at name of link
Connect with them on social name of link