The umami from the mushrooms and acidity from both the goat cheese and lemon will give this Sunday pasta dish a bright and flavorful feel that will differ from many cream sauce pastas you have ever had before.
| | |
| --- | --- |
| TYPE | MAIN COURSE |
| SERVES | 4 |
| DIFFICULTY | MODERATE |
| PREP TIME | 10 MIN |
| COOK TIME | 25 MIN |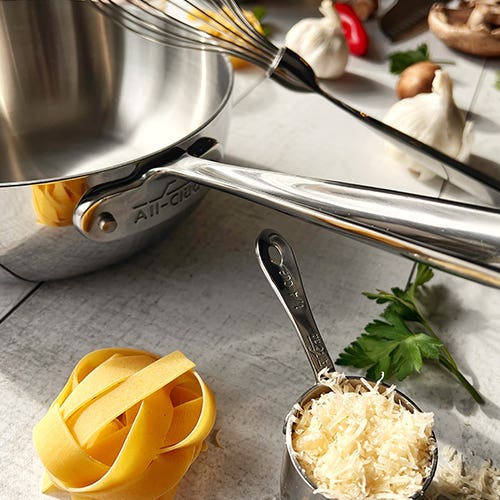 Ingredients
1 yellow onion chopped
1 small fennel bulb, sliced thin reserve some frond for garnish
1 Fresno Chile sliced
4 cloves of garlic, sliced thin
16 oz of mixed mushrooms (including cremini, portobello, and shiitake)
1 lemon zested and juiced
1/4 cup dry white wine
1/2 cup heavy cream
1/4 cup crème fraiche
4 oz goat cheese
1/4 cup grated Parmigiano Reggiano
1 lb. of pappardelle pasta
1 tablespoon mixed chopped herbs including tarragon, thyme, and sage
parsley for garnish
Directions
Cook the pasta according to the package directions in a large stockpot. While the water comes to a boil, make your pasta sauce. After your pasta is cooked, reserve 1/4 cup of the pasta water for the sauce.
In your D3 Stainless 2-quart Saucier over low heat, add the bacon lardons. Cook the bacon until the fat has rendered down and becomes crispy. Once cooked remove and set aside keeping 1 tbsp of rendered bacon fat in the pan.
Pour 1 tbsp of neutral oil into the same pan. Over medium heat add the onions, chile, and fennel. Sauté until the onions are translucent roughly 5 minutes.
Add the mushrooms and sauté until the liquid has evaporated out of them. They will reduce in size and become golden brown in roughly 8-10 minutes. Add the garlic and herbs to the pan and continue to cook until aromatic.
Pour in the wine to deglaze the pan. Let the wine reduce down for roughly 2- 3 minutes. Lower the heat to medium-low and add the heavy cream and crème fraiche. Stir to combine all of the ingredients together. Once the liquid is barely simmering add the goat cheese and Parmigiano slowly whisking to mix the cheese into the sauce. Let the sauce thicken for another minute or two. Taste and adjust with salt and pepper if needed.
Pour the pasta into the saucier. Add 2 tbsp of the reserved pasta water and toss to combine. Add more pasta water if needed. Serve immediately in pasta bowls. Garnish with fresh parsley and fennel fronds on top.
Pro Tip
The acidic nature of the goat cheese is what makes this dish unique. Make sure when adding the cheeses that both are at room temperature. Adding cold cheese to a hot liquid is one of the biggest reasons why a cheese sauce does not come together and will stay separated.
---
Chef Bio
To learn more about this chef, please visit their website at name of link
Connect with them on social name of link