If you are ever in a conversation with a chef and ask them "Is there a need for a saucier?" be prepared to sit down. This discussion might take a while. This product is a chef's piece. Something that they aspire to have in their kitchen. And once they do…. There is no going back.
So, what is it that makes a saucier so special? And what can you use it for? In our opinion, you can do just about anything in it. But there are definitely some recipes that shine when made in this pan. Let's go through some of them along with why using a saucier is key.
For starters, pasta chefs around the country find the saucier essential to marry the pasta with the sauce. The reason is simple, a saucier gives you the ability to flip freshly cooked pasta into a completed sauce hands-free. The curved sides of a saucier do a lot of the hard work with such recipes. The ability to go hands-free while accomplishing this technique will leave little to no room for the fresh pasta to break while being tossed in your sauce of choice.
Check out our recipe for Creamy Goat Cheese Pappardelle and see for yourself how easy it is to bring a delicious sauce together with some perfect al dente pasta.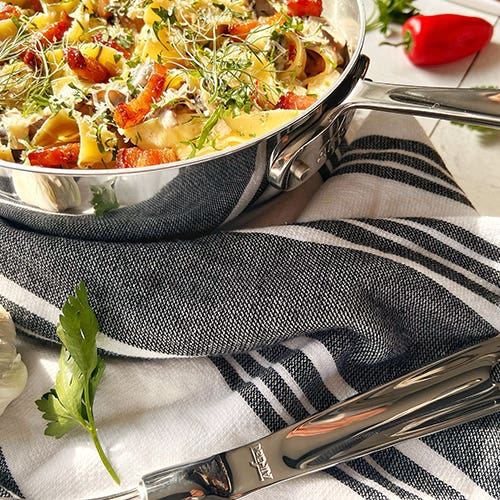 If you thought this hands-free flipping trick was perfect for just pasta, think again. Another Italian favorite shines in a saucier as well. That delicate dish would be risotto.
As the short grain arborio rice is cooking in ladle fulls of stock one by one, it is essential to move the rice grains in the pan to prevent them from cooking too quickly and becoming stuck in one spot of the pan. When you begin cooking the rice, it is still hard, so you can use utensils and not worry about breaking the grains. But as the rice cooks and starts to tender, using tools will make it easier to break the grains leaving you with a mushier product.
To use the saucier to your advantage try using this technique. Pour a ladle or two into the rice. Swirl the pan in a circular motion until you see the contents are in unison moving around the pan. Once you achieve this, flip the rice from back to front in one motion. You will see the rice flipping back and forth incorporating all the stock and rice mixture together letting it cook evenly. Risotto is delicate in nature and desires an even cook as well. This is where the even heating and retention that you can trust with All-Clad come into play. Not only does our saucier give you the design to go hands-free in delicate dishes but the quality metals All-Clad uses in construction give you the complete package to level up your cooking game and give you the confidence in the kitchen to create whatever you decide.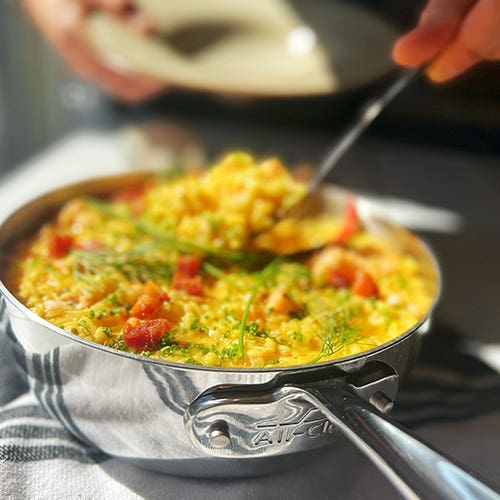 What dinner would be complete without a dessert to satisfy your sweet tooth?
When making a dessert sauce you want to make sure the heat is evenly distributed, the retention of heat is consistent, and you have a design where a whisk will not miss some of the contents along the sides. This is the third use for a saucier we wanted to highlight. The D3 construction will give your pan the even, consistent heat needed while the curved sides are ideal when creating a dish needing to be whisked.
Check out our recipe for Dulce de Leche with Churro bites to see how we slowly cook milk while whisking the contents consistently to create a decedent sauce for dipping.