A Showstopping Side Dish – Glazed Carrot Recipe
One of our favorite sides isn't made with anything fancy, but rather uses some basic pantry ingredients and your All-Clad Cookware. Our glazed carrots with a sugar-butter glaze recipe calls for just three ingredients but will make a huge impact on your weeknight table while supporting your dinner ideas.
Let's start with the star of this dish - the carrot. You can use all orange carrots or a combination of multi-colored carrots. Whichever color you choose, the key is ensuring they are roughly the same size. One way to do this is to buy bunched carrots, which are normally more or less uniform in size and are often a bit sweeter. Save the larger individual carrots for when you are making stock.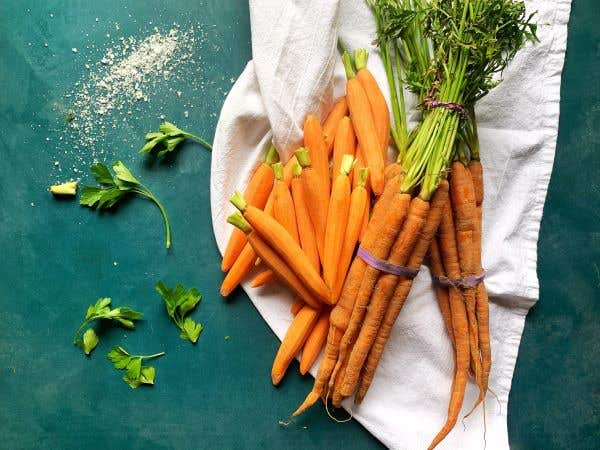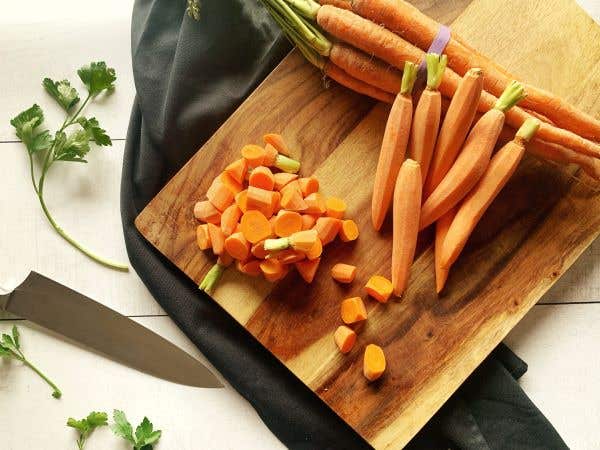 Once you've chosen your carrots, the first step is to peel and cut them, making sure they are as uniform as possible. You can slice them on a bias, cut them into matchsticks, or turn cut. As long as they are cut the same size they will cook evenly.
Now that your carrots are prepped, we recommend adding your carrots to a large sauté pan, such as the All-Clad Brushed D5 3 QT Sauté pan. making sure they are not overcrowded. Then, add just enough water so they are almost completely covered. Add a small amount of sugar and butter. The advantage to using a large stainless steel sauté pan is that heat is conducted evenly and quickly. Plus, the high sides make sure any bubbling splatter stays in the pan. This is important as you want the carrots to start cooking quickly as the water evaporates.
Once the carrots come to a rolling boil, turn down the heat to medium and let the carrots simmer. You want to be sure the water doesn't evaporate too quickly, as this will result in undercooked veggies. With proper heat control, you'll wind up with a glistening glaze, giving this three ingredient dish the beauty it deserves.
Check out our easy recipe for carrots below and share your own creations in the comments!
---
| | |
| --- | --- |
| TYPE | SIDE DISH |
| SERVES | 4 |
| DIFFICULTY | MODERATE |
| PREP TIME | 5 MIN |
| COOK TIME | 15 MIN |
Ingredients
1 pound bunched carrots, peeled and cut into same size either by slicing or cut oblique
water, to cover the carrots
1 teaspoon sugar
1 teaspoon butter
¼ teaspoon white wine vinegar, if needed
kosher salt to taste
parsley chopped, for garnish
Directions
Add the carrots into a cold All-Clad Brushed D5 3-Quart Sauté pan in a single layer. Give the pan a shake to create even spacing in the pan.
Add the sugar and enough water to cover the carrots.
Place the pan on the stovetop and turn the heat on to medium-high.
Add the butter and swirl around to incorporate while keeping even space between the carrots.
Allow the carrots to come to a boil. Once the carrots come to a boil keep an even simmer and turn the heat down to medium. This process should roughly take 10-12 minutes.
If you see the water is evaporating too quickly, turn the heat down and keep at a rolling simmer. The butter will be emulsified and the liquid will be formed into a shiny glaze. The carrots should have texture on the outside while being soft on the inside.
Remove from heat, garnish with fresh parsley, and a sprinkle of sea salt to taste.
Pro Tip:
If you take the glaze too far. The carrots will begin to caramelize. To help fix this you can add a tablespoon or two of water and a splash of white wine vinegar. Quickly reduce again.