Kapusta Piroshki by Dacha 46
These traditional fried treats are a Ukrainian staple and make for the perfect light meal or snack!
| | |
| --- | --- |
| TYPE | MAIN COURSE |
| SERVES | 6 |
| DIFFICULTY | MODERATE |
| PREP TIME | 30 MIN |
| COOK TIME | 50 MIN |
Ingredients
1 cup of whole milk
1½ teaspoons of dry active yeast
1½ teaspoons of sugar
1 egg
3 cups of all-purpose flour
2 tablespoons of salt, separated
2 tablespoons of melted and cooled unsalted butter
¼ cup water
1 medium yellow onion, thinly sliced
2 large carrots, peeled and grated
4 cups of shredded green cabbage
½ teaspoon of cracked black pepper
1 tablespoon of tomato paste
1 quart of canola or vegetable oil
Directions
Start by making the filling since it needs to fully cool before the piroshki can be assembled. In an All-Clad D3 Stainless Sauté Pan, sauté the onion and carrot in the butter over medium heat until softened and caramelized.
Add the tomato paste along with the salt, pepper, and cabbage to the carrot and onion and continue sautéeing until the cabbage is slightly wilted.
Add about ¼ cup of water to the mixture and cover the pan with a lid to allow the cabbage to steam and continue cooking down until the entire mixture is deeply caramelized and tender. This step takes about 30-40 minutes and shouldn't be rushed so you end up with a very silky and creamy filling.
To make the dough add the dry active yeast and sugar to a medium bowl.
Warm the milk until it's just warm to the touch about 100°F-105°F. Add the milk to the sugar and yeast and gently stir and leave for about 10 minutes to allow the yeast to activate.
Once the yeast has been activated add the melted butter, egg, flour, and salt and knead together until a smooth ball has been formed. The dough will start out rather tacky and wet and will come together after about 5 minutes. Place the dough in a lightly greased bowl, cover, and place in a slightly warm area for about 20 minutes.
While the dough is proofing, heat the oil in an All-Clad D5 Brushed 3 Quart Sauce Pan over medium-high heat until a candy thermometer reads 350°F.
After the dough has sufficiently proofed, turn it out onto a work surface and divide into either 6 pieces for larger piroshki or 12 smaller pieces for cocktail-sized snackable portions.
To assemble the piroshki roll each piece out into a circle and fill with about 2 tablespoons of filling for the smaller piroshki or ¼ cup for the larger size. Seal the piroshki by pinching down the middle very tightly so the filling doesn't come out while frying.
Place the piroshki into the hot oil carefully seam side down and fry on each side for about 2-3 minutes until deeply golden brown. Remove from oil and place on an All-Clad Pro-Release Half Sheet Pan with Cooling Rack to allow the excess oil to be absorbed. Serve hot and enjoy!
Pro Tip:
Piroshki are incredibly versatile and can be filled with an assortment of sweet or savory fillings.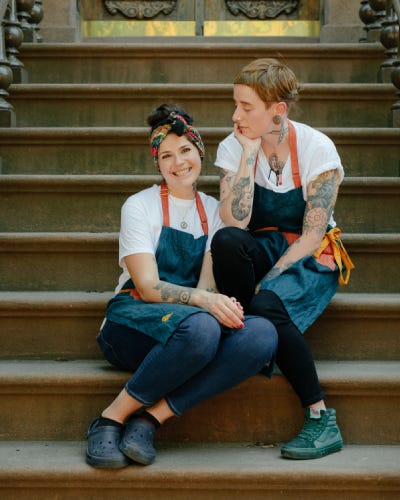 RECIPE BY
Jessica Quinn & Trina Quinn
---
Dacha 46 is a traveling pop-up experience that reimagines Eastern European cuisine and culture in a new light by using a seasonal and fresh approach to classic dishes breathing new life into them. We approach Dacha 46 through the lens of two women having spent their careers in the restaurant industry as well as through the Queer Jewish experience. Queerness isn't something that has been celebrated, and more often than not excluded in the majority of Former Soviet Union nations, so our existence and perseverance is our way of reclaiming our culture and cuisine and welcoming everyone else that has felt excluded to the table. Taking one of the main pillars of Eastern European culture, Dacha 46 is a way to celebrate the everyday.
To learn more, please visit their website at dacha46.com
Connect with them on social @dacha_46