G5™ Graphite Core Stainless Steel
G5™ Graphite Core Stainless Steel
Cleverly Engineered. Astonishingly Fast. Unexpectedly Light.
All-Clad's 1st ever graphite cookware combines the performance, durability and quality you trust with breakthrough technology, visible on the pan's surface, for high-speed, even heat and lightweight convenience.
G5™ Graphite Core Stainless Steel
A breakthrough innovation from our research lab.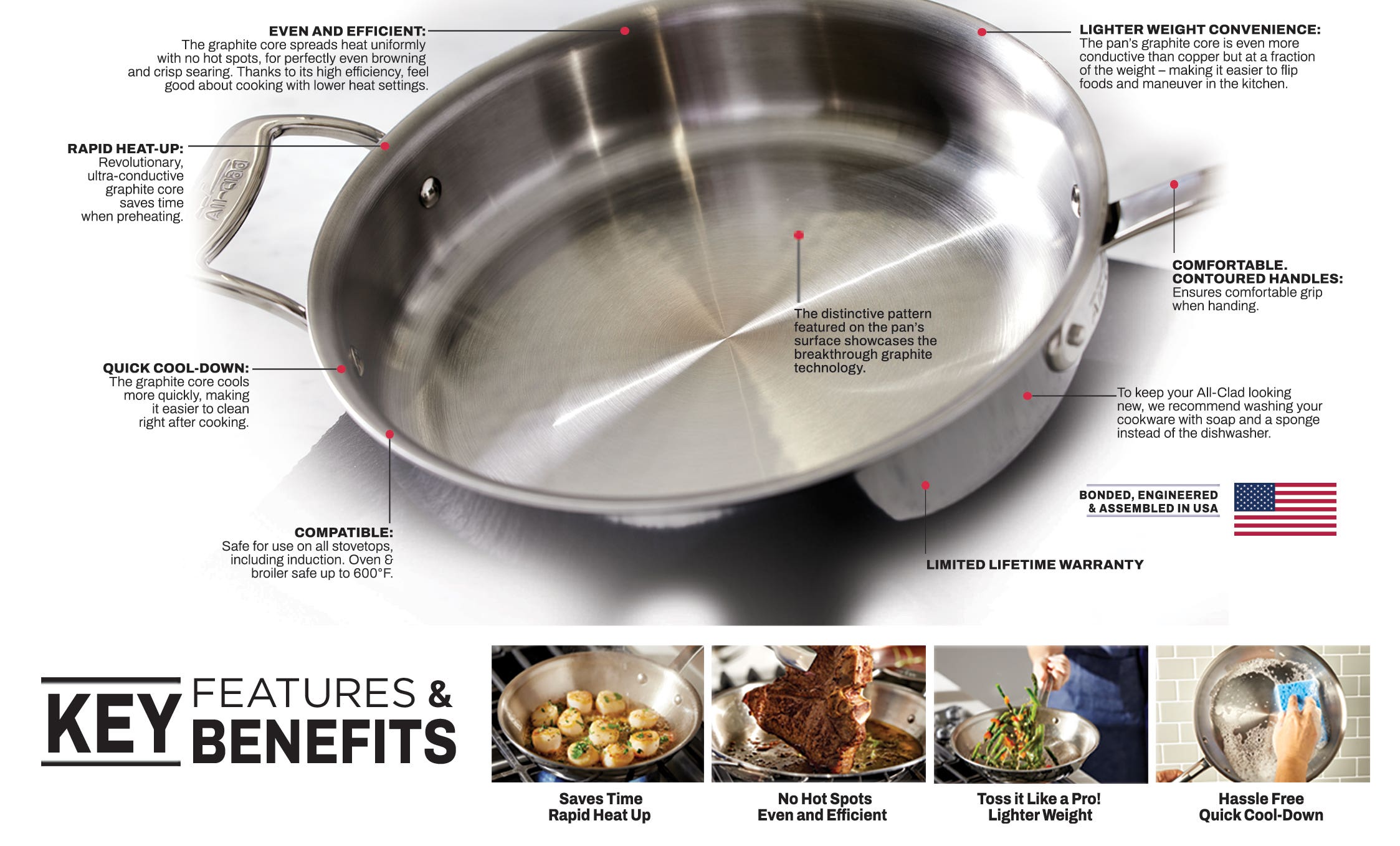 How It's Made and What It Provides
Learn how to properly use & care for your All-Clad Forged Knives
After each use, we recommend you hand wash your All-Clad Forged Knives in warm, soapy water with a non-abrasive sponge. Then thoroughly towel dry to prevent corrosion and securely store in wood block or knife sleeve to protect the blades.
Check out some tips from our resident All-Clad chef, Derek.
Learn some basic cutting techniques like chopping and dicing as well as creating extra thin slices neatly and safely.
Does the graphite material go all the way up to the rim of the pan?
No, the graphite material is securely encapsulated into the core of the cooking surface, however, the other materials are fully bonded all the way to the rim.
What is the benefit of G5™ Graphite Core cooling down so quickly?
Unlike most pans, you won't need to wait for the pan to cool to start cleaning. The pan will be 'cool to the touch' very soon after use.
Can I cook as I normally do with other cookware?
G5™ Graphite Core heats very quickly. We recommend using a lower heat setting than with traditional cookware and slightly lower than other All-Clad cookware.
Where is G5™ Graphite Core Made?
G5™ is proudly Bonded, Engineered, & Assembled in Canonsburg, PA – USA Since 1971