Piquillo Pepper Tomato Sauce by Paul Kahan
In classical French cooking, the term "mother sauce" refers to any one of five basic sauces, which are the starting points for creating an endless amount of recipes. This recipe is Chef Paul Kahan's take on a classic 'sauce tomate' - one of the French mother sauces that has become the mother sauce of his award-winning restaurant, avec, for the last 19 years
| | |
| --- | --- |
| TYPE | Sauce |
| SERVES | 4 |
| DIFFICULTY | Easy |
| PREP TIME | 5 MIN |
| COOK TIME | 30 MIN |
Ingredients
1 tablespoon olive oil
8 cloves garlic, thinly sliced
8 small shallots, thinly sliced
8oz roasted piquillo peppers, jarred, and their juice
2 cups whole peeled canned tomatoes, and their juice
2 tablespoon sherry vinegar
salt and black pepper
Directions
Heat the olive oil in the All-Clad Saucier or D3 Sauce Pan over medium heat.
Add the garlic and shallot and cook until tender, 5 minutes.
Add the peppers and tomatoes, gently breaking up the tomatoes with a spoon, and bring to a simmer.
Decrease the heat to low and cook for 30 minutes until the liquid has slightly reduced.
Let cool slightly and use an All-Clad Immersion Blender to blend the sauce until smooth.
Return the sauce back to the saucier and heat back to a simmer.
Add the sherry vinegar, salt, and pepper, and simmer gently until the sauce has thickened - but not so much that the sauce mounds, about 5 to 10 minutes.
Pro Tip:
Use this sauce to cook eggs in! Bring to a simmer in an All-Clad Universal Pan and crack in a few eggs. Simmer gently until whites are just set - about 5 minutes. Eat with lots of bread.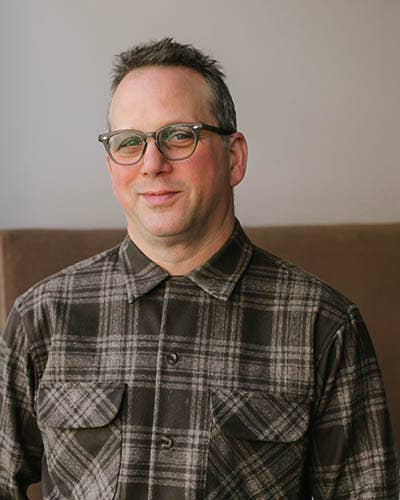 RECIPE BY
Paul Kahan
---
Chef and partner Paul Kahan has become the nationally recognizable face of Chicago chefs. Passionately seasonal, unconventionally creative, and dedicated to the inspiration of classical cuisine, Kahan has received international acclaim for Blackbird, avec, The Publican, Big Star, Publican Quality Meats, Dove's Luncheonette, Publican Quality Bread, Publican Tavern O'Hare. Awarded Outstanding Chef by the James Beard Foundation in 2013, Winner: Who's Who of Food & Beverage in America in 2014, and Winner: Best Chefs in America in 2004, Kahan has earned the praise of many who claim him to be one of America's most influential working chefs. In 2018, his cookbook "Cheers to the Publican, Repast and Present: Recipes and Ramblings from an American Beer Hall," won the IACP award in the "chefs and restaurants" category. In 2019, Kahan released his second book, 'Cooking For Good Times," which was named 'One of The Best Cookbooks Of The Year' by the New York Times Book Review. A Chicagoan through and through, Kahan is known for developing relationships with Midwestern farmers—leaving a permanent mark on his culinary outlook.
To learn more about this chef, please visit their website at https://www.oneoffhospitality.com
Connect with them on social https://www.instagram.com/paulkahan/