Pan Roasted Walleye with Steamed Clams, Spicy Sausage and Tomato Broth by Paul Kahan
A delicious Italian inspired seafood preparation combined with my favorite Midwestern lake fish.
| | |
| --- | --- |
| TYPE | MAIN COURSE |
| SERVES | 4 |
| DIFFICULTY | MODERATE |
| PREP TIME | 15 MIN |
| COOK TIME | 30 MIN |
Ingredients
4 - 5oz to 6oz pieces of Walleye, scaled and boned out
2 tablespoon olive oil
salt and pepper, to season
2 links fresh, spicy Italian Sausage, casing removed
2 shallots, sliced thin
4 cloves garlic, sliced thin
½ cup dry vermouth
½ cup crisp, white wine
24 little neck clams
2 tablespoon butter
1 teaspoon each parsley, chive, and tarragon, chopped
1 cup halved cherry tomatoes … I love Sungolds
juice of half a lemon
Directions
Preheat All-Clad FUSIONTEC Universal Pan over medium-high heat with olive oil. Season the walleye with salt and pepper on both sides.
When the oil is hot - starting to shimmer and slides easily over the pan - add the fish skin side down. Allow the fish to cook without disturbing for 5-7 minutes.
Lift a corner of the fish and if it's golden brown flip the fish and continue to cook for 3-4 more minutes.
Remove fish from the pan. Add sausage to the pan - crumbling it in to the pan in large chunks.
Cook until golden brown on one side, about 5 minutes.
Flip the sausage and add the shallots and garlic to the pan. Cook until the shallots and garlic are soft and just starting to caramelize, about 3 minutes.
Add the vermouth and wine to the pan and bring to a boil.
Add the little neck clams and cover the pan. Cook until the clams open, about 5 minutes.
Add in the butter and return walleye to the pan to reheat quickly.
To finish, toss in herbs and tomatoes, remove from heat, and squeeze a bit of lemon juice over the top.
Pro Tip:
Serve with crusty bread to sop up the delicious broth! Also, you can substitute the sausage with cured Spanish chorizo and the clams with mussels for a more Spanish-inspired dish.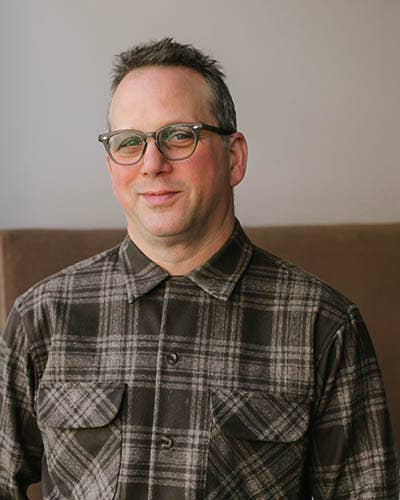 RECIPE BY
Paul Kahan
---
Chef and partner Paul Kahan has become the nationally recognizable face of Chicago chefs. Passionately seasonal, unconventionally creative, and dedicated to the inspiration of classical cuisine, Kahan has received international acclaim for Blackbird, avec, The Publican, Big Star, Publican Quality Meats, Dove's Luncheonette, Publican Quality Bread, Publican Tavern O'Hare. Awarded Outstanding Chef by the James Beard Foundation in 2013, Winner: Who's Who of Food & Beverage in America in 2014, and Winner: Best Chefs in America in 2004, Kahan has earned the praise of many who claim him to be one of America's most influential working chefs. In 2018, his cookbook "Cheers to the Publican, Repast and Present: Recipes and Ramblings from an American Beer Hall," won the IACP award in the "chefs and restaurants" category. In 2019, Kahan released his second book, 'Cooking For Good Times," which was named 'One of The Best Cookbooks Of The Year' by the New York Times Book Review. A Chicagoan through and through, Kahan is known for developing relationships with Midwestern farmers—leaving a permanent mark on his culinary outlook.
To learn more about this chef, please visit their website at https://www.oneoffhospitality.com
Connect with them on social https://www.instagram.com/paulkahan/