Gavin Kaysen's Pan-Seared Branzino with Brown Butter, Tomato, Olives, and Breadcrumbs
An hour before you cook your fish, unwrap it and leave out in the fridge, skin side-up. This helps dry it out just enough to achieve crispy skin when seared. If you can't find branzino, look for red snapper.
| | |
| --- | --- |
| TYPE | MAIN COURSE |
| SERVES | 2 |
| DIFFICULTY | MODERATE |
| PREP TIME | 10 MIN |
| COOK TIME | 10 MIN |
Ingredients
1 semi-ripe tomato
2 - 6oz branzino, sea bass, or trout fillets
fine sea salt
1 tablespoon avocado oil
1 teaspoon chives, thinly sliced
1 teaspoon tarragon, chopped
1 teaspoon chervil, chopped
1 tablespoon Castelvetrano or other green olives, roughly chopped
juice of 1 lemon
4 tablespoons unsalted butter
¼ cup bread crumbs, toasted
Directions
Fill an All-Clad D3 Stainless 4 Quart Sauce Pan with water and bring it to a boil.
Score the blossom end of the tomato lightly with an "X." Add it to the boiling water and blanch for about 1 minute, or until the skin begins to peel.
Peel the tomato and discard the skin.
Cut the tomato into quarters. Using a paring knife, remove the seeds and pulp. Dice the remaining section of tomato into small cubes and set aside.
In a small bowl, stir together the herbs, olives, and lemon juice. Set aside.
Drizzle a tablespoon of avocado oil in the D3 Universal Pan and preheat it to high heat.
Pat the fish skin dry with a paper towel and season with salt on both sides.
Once the pan is preheated and the oil is smoking, reduce the heat to medium-high and carefully lay each fillet on the pan, skin-side down. Press lightly with a turner to ensure even contact. Cook for 2-3 minutes, or until the skin begins to turn golden brown on the edges and releases from the pan. The fish should still be quite raw. Remove the fish from the pan and turn the heat to low.
Add the butter to the warm pan and cook, stirring frequently to prevent burning, until the butter takes on a golden color and has a nutty aroma, about 5 minutes.
Remove the pan from the heat and quickly add the prepared herb mixture, stirring vigorously to stop the butter from cooking further. Season to taste with salt.
Place the fish fillets, skin-side up, back into the pan with the sauce, and set back over the heat. The sauce will come to a gentle simmer. Cook until the fish is cooked through, about 1 minute.
Remove the pan from the heat. Gently transfer the fillets to a serving platter, skin-side up, and top with the sauce. Sprinkle with toasted bread crumbs and serve.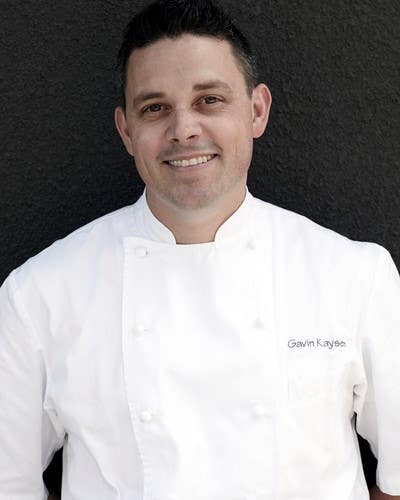 ---
Chef Bio
To learn more about this chef, please visit their website at name of link
Connect with them on social name of link