Gavin Kaysen's Cottage Cakes
I first tasted these on a trip with my wife to Vermont and have been making them for my kids ever since. I loved the idea of replacing some of the buttermilk with cottage cheese, which gives them a little extra protein. Rather than wait for bubbles to appear as a sign to flip my pancakes, I prefer to check for a deep hue to tell me when the time is right.
| | |
| --- | --- |
| TYPE | BREAKFAST & BRUNCH |
| SERVES | 6 |
| DIFFICULTY | EASY |
| PREP TIME | 5 MIN |
| COOK TIME | 35 MIN |
Ingredients
1 cup all-purpose flour
2 tablespoons pure cane sugar
1 teaspoon baking powder
¼ teaspoon baking soda
¼ teaspoon fine sea salt
1 cup buttermilk
1 large egg
½ teaspoon vanilla extract
½ cup cottage cheese
oil or butter, to coat the pan
butter and jam or maple syrup, for serving
Directions
In a mixing bowl, combine the flour, sugar, baking powder, baking soda, and salt and mix well.
In a separate bowl, combine the buttermilk, egg, and vanilla. Mix well with a fork to scramble the egg. Add the cottage cheese to the liquids and stir to combine.
Pour half of the flour mixture into the buttermilk and cottage cheese mixture. Mix gently with a silicone spatula.
Add the remaining flour mixture and stir until there are no dry lumps of flour. Do not overmix. Let the mixture rest for a few minutes to hydrate.
Warm a D3 Stainless Nonstick Fry Pan over medium heat. Coat the pan with butter or oil and continue to heat. Add ¼ cup of batter for each cake, spacing them apart so they do not touch.
Cook until the bottoms are dark golden brown, about 3 minutes. Flip and cook until the center of the cake feels firm, about 3 minutes longer. Remove the cakes from the pan.
Repeat this process until all of the batter has been used.
Serve with butter and jam or maple syrup.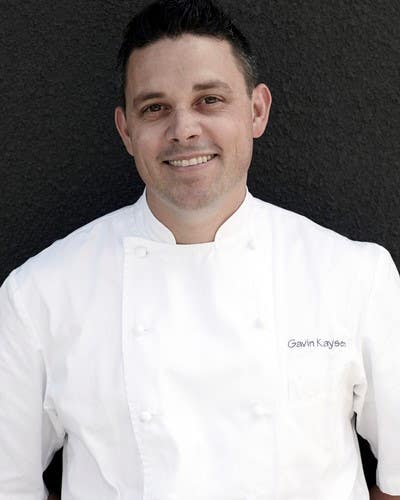 RECIPE BY
Gavin Kaysen
---
Chef Bio
To learn more about this chef, please visit their website at name of link
Connect with them on social name of link