Nina Compton's Banana Foster
This recipe is inspired by one of my favorite recipes from Brennen's restaurant in New Orleans, created by Ella Brennen. A pioneer of the modern American food movement, she pushed her chefs to the forefront helping to launch the celebrity chef phenomenon. Many credit the Brennan family, guided by Ella for pushing Creole cuisine into the American mainstream and creating a lasting impact on how Americans eat and drink.
| | |
| --- | --- |
| TYPE | DESSERT |
| SERVES | 2 |
| DIFFICULTY | CHALLENGING |
| PREP TIME | 5 MIN |
| COOK TIME | 40 MIN |
Ingredients
For the Banana Foster:
2 tablespoons unsalted butter
4 teaspoons dark brown sugar
4 ripe fig banana, peeled, halved lengthwise (Fig bananas are smaller plump tropical American banana having a flavor somewhat like a fig.)
2 small Ceylon Cinnamon stick
2 teaspoons Crème de banana
2 ounces Chairman's reserve spiced rum
1 large quenelle Vanilla ice cream, for serving (Ice cream recipe attached if desired)
For the Vanilla Ice Cream:
480 gram milk
480 gram whipping cream
60 gram sugar
1 vanilla bean
10 egg yolks
Directions
Melt butter, sugar, and cinnamon stick in an All-Clad D3 Stainless 10 Inch Fry Pan over medium low heat.
Add the banana pieces and sauté over medium heat until lightly browned, turning pieces once.
Remove pan from heat. Add liqueur and rum to pan and flambé. Carefully light the sauce with a long-reach lighter. Spoon flaming sauce over the banana pieces until flame is extinguished.
Serve warm banana pieces and sauce over vanilla ice cream.
For the Vanilla Ice Cream:
Add the cream, milk, and sugar to an All-Clad D3 Stainless 3 Quart Saucepan.
Split the vanilla bean down the middle with a sharp knife and scrape the seeds into the milk and cream. Add the pod to the pot as well.
Bring to a simmer, stirring occasionally. Then remove from the heat, cover, and let steep for 30 minutes.
Whisk the yolks in a medium mixing bowl until the mixture becomes lighter in color and thickens slightly.
Reheat cream mixture until warm but not hot, and remove vanilla pods.
Whisking constantly, add about a third of the warm cream to the yolk mixture slowly, to temper the yolks. Then add the tempered yolks back into the saucepan of warm cream, whisking to combine.
Place the pan over low heat and stir constantly for 10 minutes. The custard will thicken and will coat the back of a spoon when it's ready.
Place a large metal bowl into a larger bowl with iced water in the base, to create an ice bath. Pour custard into the metal bowl and stir occasionally, until cool. Strain the cooled custard put into an ice cream machine, following the manufacturer's directions.
Pro Tip:
My preferred equipment to finish the ice cream is the Paco Jet, which delivers a silky smooth texture that is restaurant quality. If you do not have one available, you can use your favorite Vanilla bean ice cream or use an ice cream machine by pouring the chilled custard directly into the machine and following the manufacturer's directions.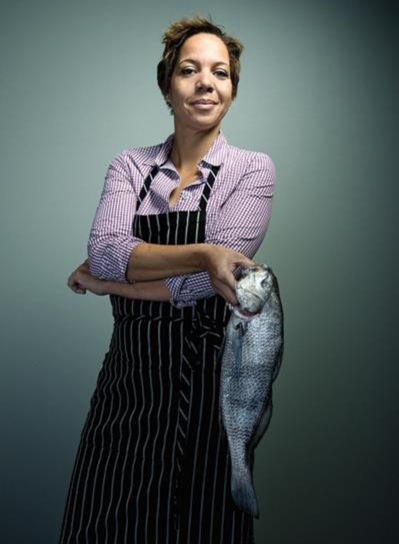 RECIPE BY
Nina Compton
---
Nina Compton was born and raised in St. Lucia. She grew up with the flavors and beauty of the Caribbean and pursued her career in the United States. She graduated from America's finest culinary school and developed skills that allowed her to be an award-winning chef and restauranteur. She is the chef/owner of Compère Lapin in New Orleans' Warehouse District. Nina also has a second restaurant venture, Bywater American Bistro (BABs), located in New Orleans' "Sliver by the River" Bywater neighborhood.
Since opening Compère Lapin, the restaurant has received critical acclaim awards including Eater National's "Best Restaurants in America 2017", a rave review in The New York Times, and Top 10 Winner of Playboy's Best New Bars in America 2016. At Compère Lapin, the talented toque creates robust dishes that meld the flavors of her Caribbean upbringing and love for French and Italian cuisine, while highlighting the Gulf and Louisiana's beautiful indigenous ingredients. Nina is the winner of the 2018 James Beard Awards "Best Chef: South" and one of Food & Wine magazine's "Best New Chefs 2017".