Hugh Acheson's Sapelo Summer Clam Chowder
---
Sapelo Island is a little island off the coast of Georgia. Years ago UGA started an aquaculture program there and now produces these amazing little clams. Basically, I looked around and found what I could for beautiful summer vegetables and made a chowder similar to New England clam chowder but uniquely southern and summery but still reminiscent of the classic.
| | |
| --- | --- |
| TYPE | MAIN COURSE |
| SERVES | 4 to 6 |
| DIFFICULTY | MODERATE |
| PREP TIME | 30 MIN |
| COOK TIME | 40 MIN |
Ingredients
1/2 pound slab bacon, cut into 1/2 inch cubes
1/4 cup water
2 tablespoons butter
1 each sweet onion, finely diced
1 each celery stalk, finely diced
1/2 pound chanterelles, cleaned & dried, hand torn
1 1/2 pounds Sapelo Island Clams, or littleneck clams(make sure to purge and rinse well)
1-quart whole milk
1 1/2 cups fresh yellow corn kernels, split into ¼ cups & 1 ¼ cups
1 each Fresno chili, seeds, stems, ribs removed, finely minced(you can use any chili honestly)
1/2 pound Yukon gold potatoes, peeled and cut into ½ inch cubes
2 each bay leaf
1 tablespoon chopped dill
1 tablespoon chopped parsley
1 cup heavy cream
Directions
In your 4.5qt FUSIONTEC™ Universal Pan, combine the bacon and ¼ cup of water, and cook on medium heat until the water evaporates, and the bacon starts to brown and crisp. Usually 8-10 minutes.
Add butter, onion, celery, and chantarelles.
Continue to cook on medium heat until the mixture is soft and a little golden brown. Stirring occasionally with a wooden spoon.
Carefully add your Sapelo Island clams. Increase the heat to medium-high and cover with the lid. Discard any that are broken or won't close when the shells are squeezed shut.
Cook until the clams open. Usually 3-5 minutes.
Remove the opened clams with a slotted spoon. Keep the clams that are opened up and discard any that don't open.
I will normally give a little extra time for some stubborn clams, sometimes they'll open up. Discard any that haven't opened up after a total of 10 minutes.
After all the clams are out, add the milk, the ¼ cup of corn, Fresno chili potatoes, and bay leaves.
Bring the liquid to a boil and reduce to low and cook for about 15 minutes. Until the potatoes become pretty tender and are fully cooked.
Strain the mixture through a colander or fine-mesh sieve. Keep the liquid and solids.
Return the solids to the pan and keep off the heat.
Transfer the liquid to a blender with 1 ¼ cups of corn kernels and heavy cream.
Puree until smooth and strain through a fine-mesh sieve into your FUSTIONTEC Universal Pan.
Reheat until simmering and season with salt and black pepper.
Add the clams, dill, and parsley back to the pot.
Serve with crusty bread. Enjoy!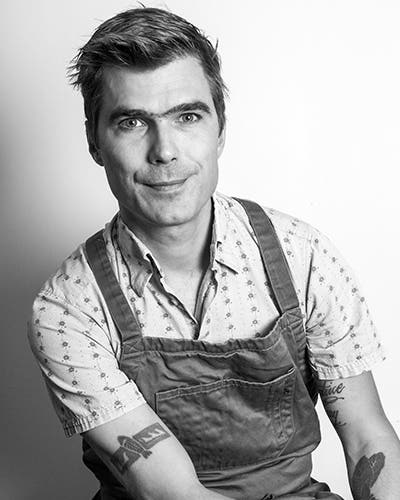 RECIPE BY
Hugh Acheson
---
Born and raised in Ottawa, Canada, Hugh started cooking at a young age and decided to make it his career after taking a very long time to realize that academics weren't his thing. At age 15, he began working in restaurants after school and learning as much as possible. Today, Acheson's experience includes working under Chef Rob MacDonald where he learned stylized French cuisine, wine, and etiquette at the renowned Henri Burger restaurant in Ottawa, and in San Francisco as the chef de cuisine with Chef Mike Fennelly at Mecca, and later as opening sous chef with famed Chef Gary Danko at his namesake restaurant, where he found a love of the simple, pure and disciplined. Taking these experiences, Hugh developed a style of his own forging together the beauty of the South with the flavors of Europe and opening the critically acclaimed Athens, GA restaurant 5&10 in March of 2000. In 2007, Acheson opened The National with fellow chef Peter Dale. Adding to his list of dining establishments, Hugh opened Atlanta restaurant Empire State South in the summer of 2010 and coffee shop Spiller Park Coffee in November of 2015.
To learn more about this chef, please visit their website at https://hughacheson.com/
Follow at https://www.instagram.com/hughacheson/
Follow at https://twitter.com/HughAcheson