Hugh Acheson's Lomo Saltado
---
Hugh wanted to recreate a Peruvian dish called Lomo Saltado with fall and wintertime vegetables. Hugh has spent a lot of time in Latin countries so it's often in his cooking repertoire. Peru has a ton of Japanese and Chinese diaspora, and this dish showcases it. It's a quick easy stir fry, great for leftover beef roast or even turkey legs.
| | |
| --- | --- |
| TYPE | MAIN COURSE |
| SERVES | 2 to 4 |
| DIFFICULTY | EASY |
| PREP TIME | 20 MIN |
| COOK TIME | 10 MIN |
Ingredients
1 ½ pound beef skirt steak, sliced thinly into strips
1 Aji Amarillo, seeds and veins removed, thinly sliced
1 teaspoon garlic, minced
4 tablespoons tamari
2 tablespoon olive oil
1 tablespoon brown sugar
4 tablespoons black vinegar
¼ teaspoon dried oregano
1 teaspoon ground cumin
1 teaspoon freshly ground black pepper
8oz red pearl onions, peeled, halved lengthwise
½ cup celery root, peeled, thinly julienned
½ cup Romanesco cauliflower, cut into florets
½ cup baby carrots, oblique cut
6oz french fries
3 - 28oz cans of San Marzano tomatoes, removed from juice, quartered
½ cup beef stock, low-sodium
1 tablespoon cornstarch
1 tablespoon water
Kosher salt to taste
steamed white rice served on the side
chives and cilantro, garnish for white rice
Directions
In an All-Clad Mixing Bowl, combine the beef sirloin, Aji Amarillo, minced garlic, tamari, brown sugar, black vinegar, oregano, cumin, and black pepper.
Mix and lightly season with Kosher salt.
While the beef is marinating, heat the olive oil over medium-high heat in All-Clad FUSIONTEC Universal Pan until it shimmers.
Add the onions, celery roots, cauliflower, carrots, and cook stirring often for 4-5 minutes.
Add the beef mixture and cook for 2-3 minutes.
Add the french fries and tomatoes.
Cook for 2 minutes and add the beef stock.
Meanwhile, mix the cornstarch and water until fully mixed. Using an All-Clad Stainless Steel Whisk into the beef and vegetables.
Cook until the sauce becomes thicker.
Check seasoning by tasting. Then serve with rice.
Garnish with chives and cilantro.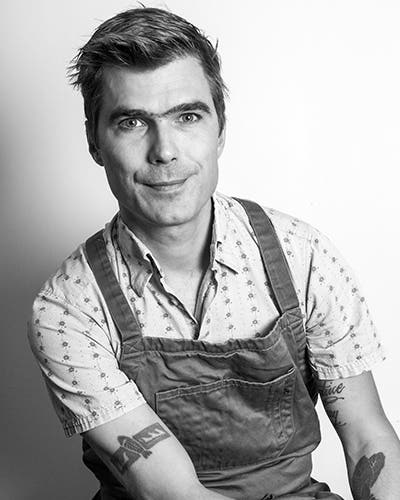 RECIPE BY
Hugh Acheson
---
Born and raised in Ottawa, Canada, Hugh started cooking at a young age and decided to make it his career after taking a very long time to realize that academics weren't his thing. At age 15, he began working in restaurants after school and learning as much as possible. Today, Acheson's experience includes working under Chef Rob MacDonald where he learned stylized French cuisine, wine and etiquette at the renowned Henri Burger restaurant in Ottawa, and in San Francisco as the chef de cuisine with Chef Mike Fennelly at Mecca, and later as opening sous chef with famed Chef Gary Danko at his namesake restaurant, where he found a love of the simple, pure and disciplined. Taking these experiences, Hugh developed a style of his own forging together the beauty of the South with the flavors of Europe and opening the critically acclaimed Athens, GA restaurant 5&10 in March of 2000. In 2007, Acheson opened The National with fellow chef Peter Dale. Adding to his list of dining establishments, Hugh opened Atlanta restaurant Empire State South in the summer of 2010 and coffee shop Spiller Park Coffee in November of 2015.
To learn more about this chef, please visit their website at www.hughacheson.com
Follow at https://www.instagram.com/hughacheson/
Follow at https://twitter.com/HughAcheson