Hugh Acheson's Trout Amadine with Green Beans
---
Trout Amadine is a great, classic preparation of fish that has a toasted brown butter flavor paired with almonds that give the dish its depth of flavor. Here we kicked up the flavor even more with a brown butter miso glaze on the trout to give a simple twist on the classic, and then a simple garnish of preserved lemon. Enjoy!
| | |
| --- | --- |
| TYPE | MAIN COURSE |
| SERVES | 2 to 4 |
| DIFFICULTY | MODERATE |
| PREP TIME | 30 MIN |
| COOK TIME | 20 MIN |
Ingredients
1/4 cup white miso
1/3 cup sake
1 tablespoon rice wine vinegar
2 tablespoons almond oil or sesame oil
2 tablespoons brown butter
1/4 cup granulated sugar
2 tablespoons grapeseed oil
1 whole rainbow trout, butterflied, pin bones removed
kosher salt
1/4 cup sliced, toasted almonds
1 each shallot, minced
1 each garlic clove, minced
1 pound green beans, trimmed & washed, blanched & shocked
1 tablespoon butter
1/2 cup chicken stock
1 tablespoon chopped parsley
1 tablespoon sliced chives
3 each preserved lemon rinds cut in thin strips
Directions
Whisk together miso, sake, vinegar, oil, brown butter, and sugar over medium heat.
Cook until sugar and miso are completely dissolved. Set aside and cool.
Season lightly the fish all over with kosher salt
Brush or spoon the mixture over the flesh side surface of the trout fillets. For best results, marinate for about 30 minutes.
Sprinkle the almonds onto the miso glaze and gently press to ensure the almonds stay on the trout. Making sure to cover most of the flesh as possible.
Heat your 4.5qt FUSIONTEC™ Universal Pan on medium heat with the tablespoons of grapeseed oil.
Wait for the oil to start to shimmer.
Add the shallot and garlic.
Cook until fragrant and slightly browned.
Add the green beans, butter, chicken stock
Cook on medium heat for 2 minutes.
Make sure the beans are in an even spread layer. Lay the almond crusted trout skin side down on the green beans
Place the lid on the pan and cook until the fish is down about 6-8 minutes.
Garnish the beans with parsley, chives, lemon zest.
Serve.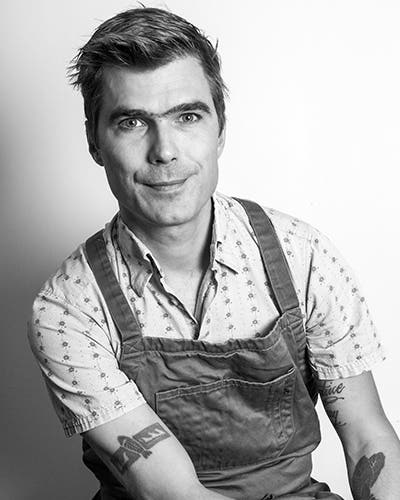 RECIPE BY
Hugh Acheson
---
Born and raised in Ottawa, Canada, Hugh started cooking at a young age and decided to make it his career after taking a very long time to realize that academics weren't his thing. At age 15, he began working in restaurants after school and learning as much as possible. Today, Acheson's experience includes working under Chef Rob MacDonald where he learned stylized French cuisine, wine and etiquette at the renowned Henri Burger restaurant in Ottawa, and in San Francisco as the chef de cuisine with Chef Mike Fennelly at Mecca, and later as opening sous chef with famed Chef Gary Danko at his namesake restaurant, where he found a love of the simple, pure and disciplined. Taking these experiences, Hugh developed a style of his own forging together the beauty of the South with the flavors of Europe and opening the critically acclaimed Athens, GA restaurant 5&10 in March of 2000. In 2007, Acheson opened The National with fellow chef Peter Dale. Adding to his list of dining establishments, Hugh opened Atlanta restaurant Empire State South in the summer of 2010 and coffee shop Spiller Park Coffee in November of 2015.
To learn more about this chef, please visit their website at https://hughacheson.com/
Follow at https://www.instagram.com/hughacheson/
Follow at https://twitter.com/HughAcheson