Rich and flavorful, yet surprisingly simple to make, this comforting pasta dish is one of Chef Gavin's favorites to cook at home for his three boys.
| | |
| --- | --- |
| TYPE | MAIN COURSE |
| SERVES | 6 |
| DIFFICULTY | EASY |
| PREP TIME | 20 MINUTES |
| COOK TIME | 2 TO 2 1/2 HOURS |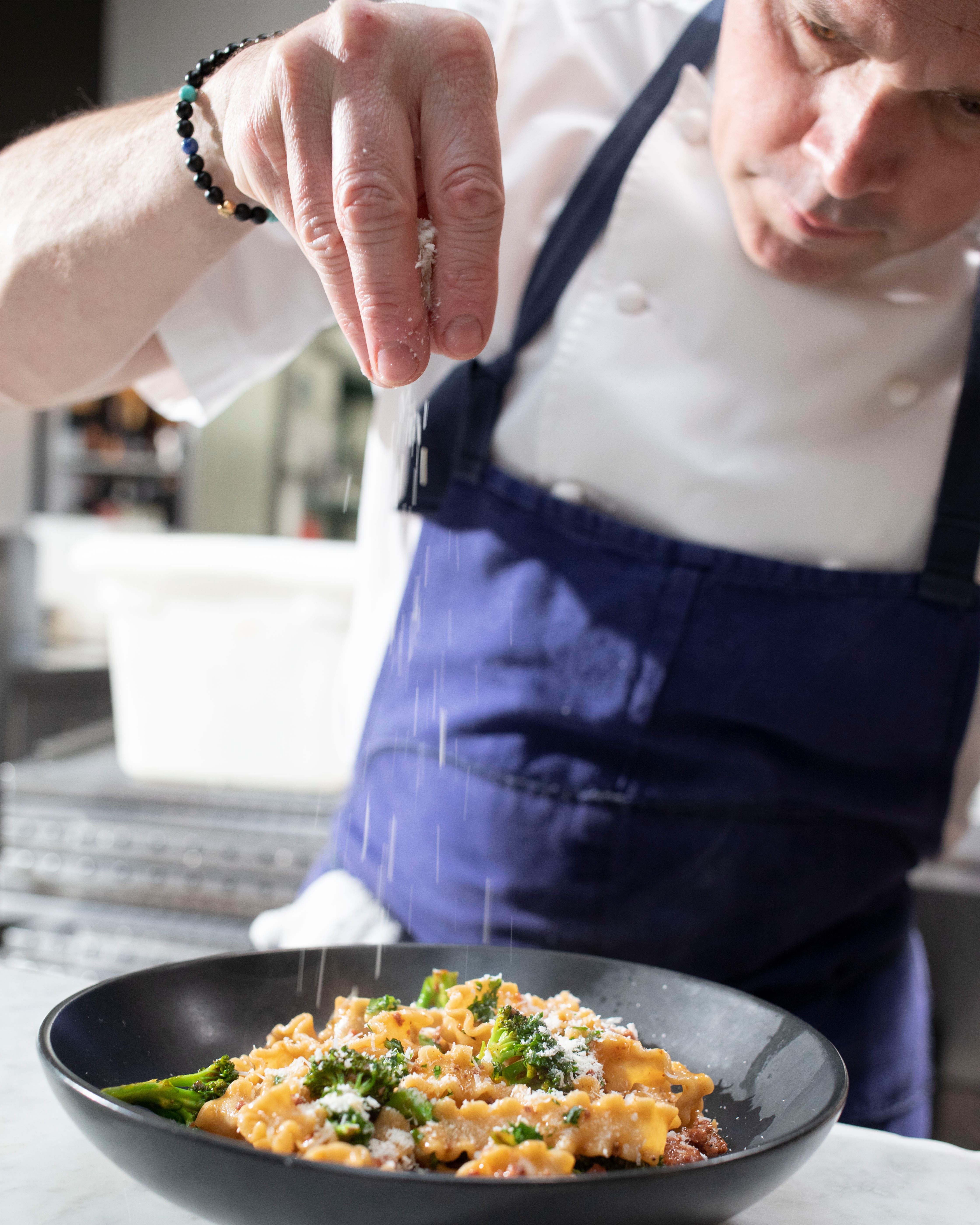 Ingredients
2 pounds ground pork
1½ teaspoons fennel seeds, toasted and crushed
1 teaspoon coriander seeds, toasted and crushed
1 teaspoon red pepper flakes
2 tablespoons minced parsley
1½ plus 1 tablespoons fine sea salt, plus more to taste
2 celery stalks, rough chopped
½ small yellow onion, rough chopped
2 garlic cloves, minced
⅓ cup tomato paste
½ cup white wine
3 cups chicken stock, homemade or from a butcher shop
4 tablespoons unsalted butter
12 oz. fresh pappardelle or tagliatelle
1 cup grated Parmesan cheese
Directions
In a bowl, combine the ground meat, toasted seeds, pepper flakes, parsley, and 1½ tablespoons of salt. Be careful not to overmix: too much friction will cause the meat to bind together.
Set the All-Clad 3 qt Copper Core saute pan over medium-high heat. Add the pork mixture and cook, using a large spoon or spatula to break apart the meat into smaller and smaller pieces as it renders. It's ready when it begins to brown and creates a fond on the bottom of the pan.
Meanwhile, in a food processor, combine the celery, onion, and garlic. Process just until the mixture is finely minced.
When the pork has begun to brown, add the minced vegetables and continue to cook for 2 to 3 minutes, stirring occasionally and scraping the bottom of the pan to release the fond. Once the fond has redeveloped, drain off any excess rendered fat. Add the tomato paste and stir to incorporate. Then add the wine and reduce for a minute or so.
Add the stock and bring to a boil. Once boiling, reduce the heat to a simmer and cook until the sauce has thickened and the meat is very tender, 2 to 2½ hours. Season to taste with salt.
When you're ready to serve the pasta, bring 4 quarts of water to a boil in an All-Clad stainless steel 8 qt stock pot. Season with 1 tablespoon of the salt.
Meanwhile, in the All-Clad 4 qt Copper Core sauce pan, combine the ragu and butter and bring to a simmer.
Drop the pasta noodles into the boiling water and cook according to instructions.
Scoop the cooked pasta out of the boiling water into the sauce and stir to coat. Add ½ cup of the Parmesan and combine well to integrate, cooking for another 2 minutes as the noodles absorb the sauce and it starts to thicken.
Serve the pasta with the remaining ½ cup Parmesan.
Pro Tip
This ragu can be made up to 3 days ahead and refrigerated until ready to use, or frozen for up to 3 months.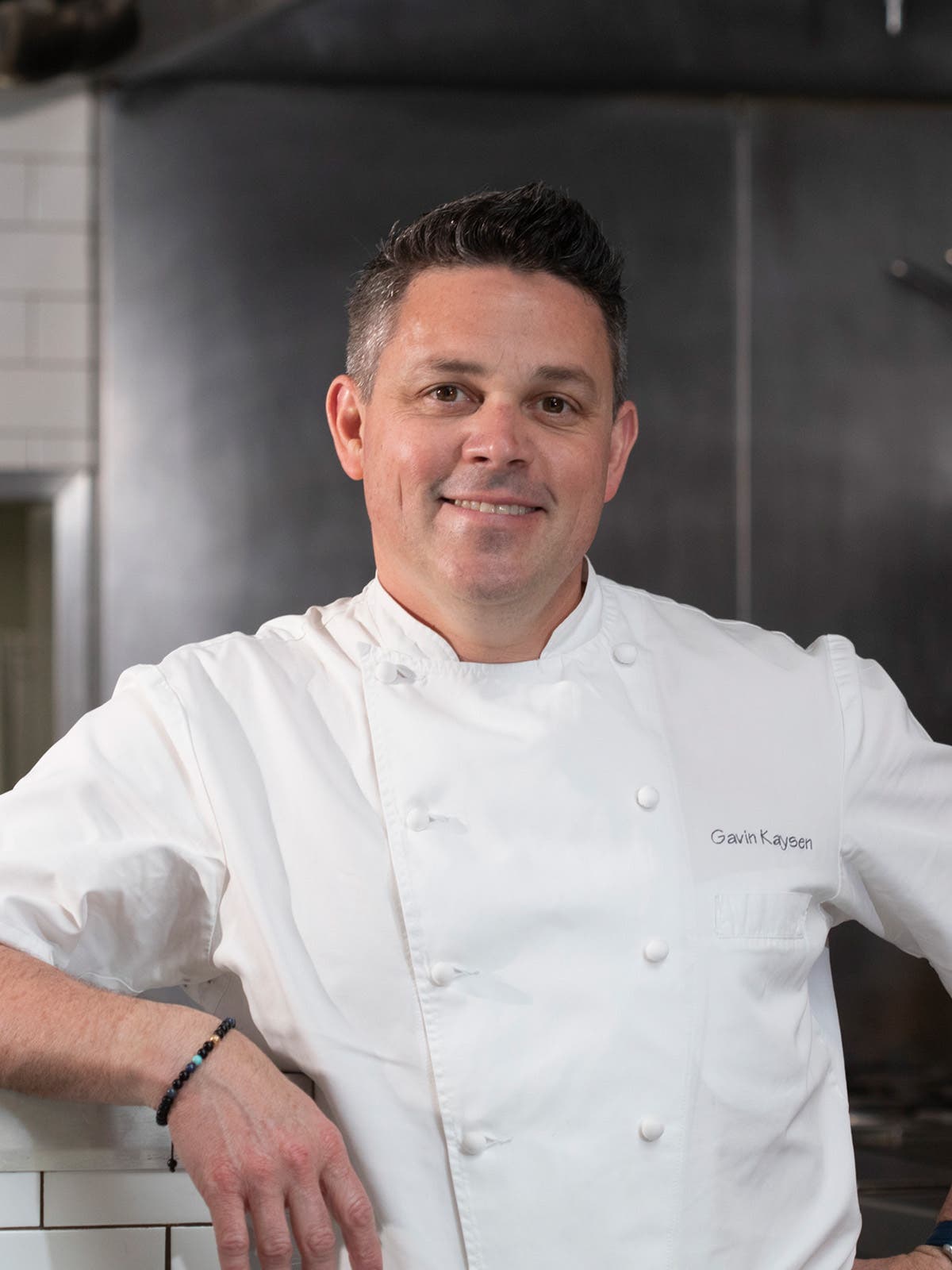 ---
All-Clad's Resident Chef Derek has been working with flavors and fragrance for his entire career. Finding a path from perfumery to food, Derek competed on numerous amateur cooking shows which led him to the All-Clad Test kitchen. Here he excels in creating new recipes, blogs, video demos, and food photography for our consumers.