Nina Compton's Louisiana Shrimp in Rundown Sauce
---
Flavor infused shrimp that are briefly cooked in an evenly heated All-Clad pan full of Rundown Sauce gives a simple dish more complexity.
| | |
| --- | --- |
| TYPE | MAIN COURSE |
| SERVES | 4 |
| DIFFICULTY | EASY |
| PREP TIME | 10 MIN |
| COOK TIME | 25 MIN |
Ingredients
1 habanero pepper
1 pound - 8 u 10 shrimp with heads on, clean, peeled shells reserved
shells of 1 pound of shrimp
1 cup tomato paste
¼ cup rough chopped ginger
¼ cup minced lemongrass
2 - 13.5oz can coconut milk
water as needed
1 tablespoon olive oil
1 teaspoon salt
1 teaspoon pepper
Directions
For the Rundown Sauce:
Clean, devein and peel the shrimp leaving the heads on. Reserve the shells.
In the All-Clad G5 Graphite 3 QT Sauté Pan on medium heat, sauté the habanero, lemongrass, and ginger for 3 minutes in olive oil.
Add the shrimp shells and cook until they turn bright pink.
Add the tomato paste and continue to cook on low heat for 4- 5 minutes.
Add the coconut milk and add additional water to cover the shells. Simmer for 45 minutes.
Strain the sauce on its own into a bowl without pressing. Cool over an ice bowl. Reserve until ready to cook shrimp.
For the Shrimp in Rundown Sauce:
Wipe your pan clean.
Season the shrimp with salt and pepper.
Sear the shrimp for 1 minute on each side.
Add the Rundown Sauce back into the pan and simmer until cooked through.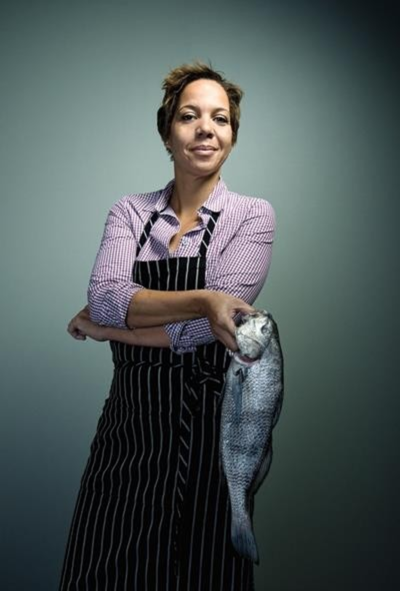 RECIPE BY
Nina Compton
---
Nina Compton was born and raised in St. Lucia. She grew up with the flavors and beauty of the Caribbean and pursued her career in the United States. She graduated from America's finest culinary school and developed skills that allowed her to be an award-winning chef and restauranteur. She is the chef/owner of Compère Lapin in New Orleans' Warehouse District. Nina also has a second restaurant venture, Bywater American Bistro (BABs), located in New Orleans' "Sliver by the River" Bywater neighborhood.

Since opening Compère Lapin, the restaurant has received critical acclaim awards including Eater National's "Best Restaurants in America 2017", a rave review in The New York Times, and Top 10 Winner of Playboy's Best New Bars in America 2016. At Compère Lapin, the talented toque creates robust dishes that meld the flavors of her Caribbean upbringing and love for French and Italian cuisine, while highlighting the Gulf and Louisiana's beautiful indigenous ingredients. Nina is the winner of the 2018 James Beard Awards "Best Chef: South" and one of Food & Wine magazine's "Best New Chefs 2017".