This dish was created to celebrate the beautiful gulf seafood we have, using layers of flavor and heat and fresh herbs to create a delightful bite.
| | |
| --- | --- |
| TYPE | MAIN COURSE |
| SERVES | 6 TO 8 |
| DIFFICULTY | MODERATE |
| PREP TIME | 20 MIN |
| COOK TIME | 1 HOUR 30 MIN |
Ingredients
For the Shrimp Stock:
4 quarts of shrimp shells
3 onions, julienned
1 head of garlic, sliced in half
1 inch piece of ginger, chopped
2 pieces of lemongrass, smashed and chopped
8 star anise pods
¼ cup coriander seeds
½ cup blended oil
6 quarts water
For the Pepper Pot Soup:
4 quarts celery root, chopped
3 onions, julienned
1 quart granny smith apples shaved thin
1 piece of ginger, sliced thinly
2 habaneros, chopped
2 pieces of lemongrass, smashed
4 cans of coconut milk
6 quarts of shrimp stock
salt to season
Directions
For the Shrimp Stock:
In an All-Clad D3 Stainless 8 Quart Stockpot, add the onion and shrimp shells in blended oil; sweat the onion until bodies are nicely toasted red, and onions are translucent.
Add the garlic, ginger, star anise pods, coriander seeds, and lemongrass in. Stir it constantly for a few minutes.
Add 6 quarts of water, then cover and cook for 45 minutes. Strain out the solids from the stock through a fine strainer.
For the Soup:
In a fresh All-Clad D3 Stainless 8 Quart Stockpot, add 1/4 cup of blended oil and sweat the onions, ginger, habaneros, and lemongrass. Add the celery root and continue sweating until soft.
Cover with the shrimp stock and then add coconut milk and simmer until vegetables are tender.
Remove the lemon grass. Use an All-Clad Immersion Blender and puree until the soup is smooth. If needed, warm up the soup prior to serving.
For the Final Dish:
In an All-Clad D3 Stainless 3 Quart Sauté Pan, heat 1 tablespoon of blended oil over medium heat. Sauté the shrimp for 1 to 2 minutes per side until cooked.
Serve the shrimp garnished with celery leaves, shaved granny smith apples, parsley herbs, and olive oil.
Serve the soup tableside to pour into the shrimp dish.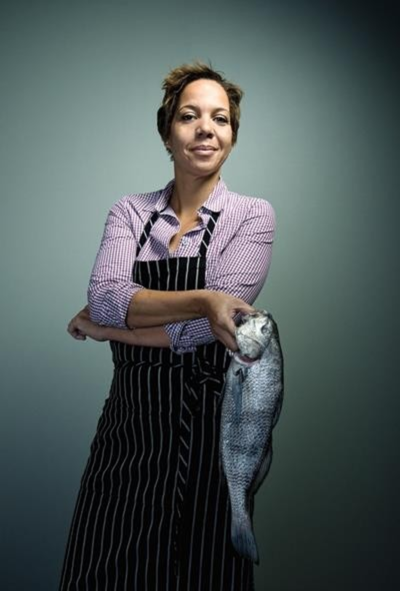 ---
Nina Compton was born and raised in St. Lucia. She grew up with the flavors and beauty of the Caribbean and pursued her career in the United States. She graduated from America's finest culinary school and developed skills that allowed her to be an award-winning chef and restauranteur. She is the chef/owner of Compère Lapin in New Orleans' Warehouse District. Nina also has a second restaurant venture, Bywater American Bistro (BABs), located in New Orleans' "Sliver by the River" Bywater neighborhood.
Since opening Compère Lapin, the restaurant has received critical acclaim awards including Eater National's "Best Restaurants in America 2017", a rave review in The New York Times, and Top 10 Winner of Playboy's Best New Bars in America 2016. At Compère Lapin, the talented toque creates robust dishes that meld the flavors of her Caribbean upbringing and love for French and Italian cuisine, while highlighting the Gulf and Louisiana's beautiful indigenous ingredients. Nina is the winner of the 2018 James Beard Awards "Best Chef: South" and one of Food & Wine magazine's "Best New Chefs 2017".