Fundamental Cookware for Starters: The Fry Pan
---
This article is one of a three-part series: Fundamental Cookware for Starters, where we share our go-to cookware for embarking on your culinary journey. Check out our posts on the Dutch Oven and Sauce Pan, and read ahead to learn more about why a 12-inch fry pan is the kitchen hero you didn't know you needed.
Building a cookware set from scratch can be intimidating, especially if you are low on space or cooking knowledge. One of the most versatile pieces of cookware you can have, and probably already own, is the humble fry pan. But not just any fry pan – an All-Clad 12 inch D3® Stainless Fry Pan , which can tackle just about anything in the kitchen. A large surface area combined with All Clad's tri-ply bonding technology means more room to cook with guaranteed even heat distribution without hot or cold spots. Plus, don't forget that All-Clad's stainless steel cookware can go from stovetop to oven, up to 600°F.
Here are some of the amazing things that can be accomplished in your All-Clad 12 inch fry pan:
Cooking the Perfect Eggs
Head back to our Cooking on Stainless Steel for Beginners post to learn how to simulate a non-stick surface on your stainless steel cookware. Then, take your fry pan and start the morning off right with sunny side up or fried eggs.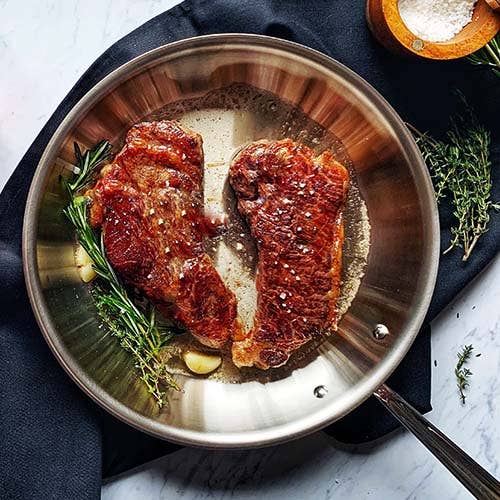 Searing the Ultimate Steakhouse Rib Eye
What makes a perfect steak? A perfectly seared outside with a juicy and tender inside. You can fit 2 beautiful NY Strip Steaks in our 12-inch fry pan, whose even heat distribution makes for an even sear for the entirety of both steaks. When your steak is perfectly seared, pop the pan into the oven to finish cooking to a perfect medium-rare.
Achieve Consistent Sauciness on Your Pasta
You don't have to rely on a stockpot to make delectable sauces for pasta. A 12-inch fry pan has plenty of capacity to cook and simmer your favorite sauce, and when it's just about done, add your pasta directly from the boiling water to the pan. Add a touch of pasta water and do your best "chef flip". The high curved sides of the 12 inch D3® Stainless Fry Pan make it easy to combine pasta and sauce with minimal mess This action will marry the pasta and sauce into the ultimate consistency. Flipping the pasta instead of using utensils will also ensure you do not break the delicate pasta while combining. Need some sauce inspiration? Check out our favorite Nduja Puttanesca recipe.
Let Your Vegetables Steal the Show
Now you might ask… what about some vegetables? All-Clad Chef Ambassador Paul Kahan shared his recipe for Honey Roasted Squash, which combines the best of all the flavors of fall. Not only does Chef Kahan roast the squash in the oven to caramelize the exterior, but he also leverages All-Clad's famous even heat to give a quick stovetop sear to his radicchio.