Paul Kahan's Honey Roasted Squash and Charred Radicchio Salad
---
A simple and delicious technique to roast winter squash and combine with an absolute favorite, charred bitter greens.
| | |
| --- | --- |
| TYPE | SALAD |
| SERVES | 4 |
| DIFFICULTY | Easy |
| PREP TIME | 10 MIN |
| COOK TIME | 35 MIN |
Ingredients
For the Squash:
1 small carnival squash, cut in half, seeded with a large spoon, then sliced into ½ inch thick wedges
Half a small head of radicchio, cut into 4 wedges
1 lemon cut in half
1 lemon for zesting and juice of a lemon
1 tablespoon honey
2 tablespoons extra virgin olive oil
Splash of balsamic
1 lemon cut in half
Salt and pepper to taste
For the Vinaigrette:
1 lemon for zesting and juice of a lemon
¼ cup walnut piece
¼ cup extra virgin olive oil
4 anchovy fillets
1 small garlic clove
2 tablespoons white wine vinegar
Directions
Preheat oven to 425 degrees.
Heat a 10.5 inch All-Clad Skillet to medium-high heat, add enough olive oil to coat the bottom.
Sear radicchio wedges on one side for 30 seconds, flip and sear another 30 seconds.
Place warm radicchio in a medium All-Clad mixing bowl and toss with a splash of balsamic, a gentle squeeze of lemon, and touch of salt and pepper.
Wipe out pan with paper towel once cooled.
In a separate bowl, combine squash, juice from other lemon half, extra virgin olive oil, honey, and season to your liking with salt and pepper.
Place the squash and all juices into the 10.5 inch All-Clad Skillet. Roast in the oven for 25-35 minutes, until golden brown and tender when pierced with a knife.
For the vinaigrette - In a food processor, combine walnuts, oil, anchovies, and garlic and process until smooth. Add vinegar, lemon juice, and zest and pulse two times. Taste for seasoning. If your anchovies are very salty, you won't need any additional salt. Otherwise, add a pinch or so if you like.
In a serving bowl, layout roasted squash, radicchio (you can tear apart the chunks a bit if you like), and drizzle with a tablespoon or so of vinaigrette. The leftover keeps well in a sealed container in the fridge. I prefer to serve slightly warm or at room temp.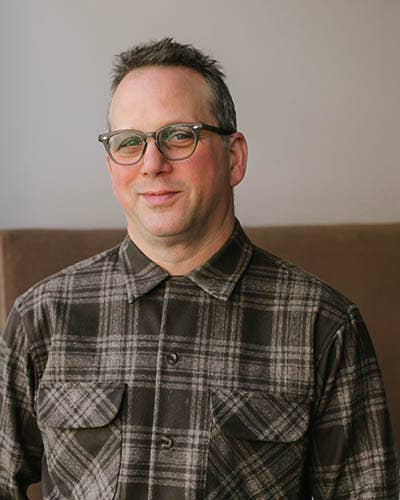 RECIPE BY
Paul Kahan
---
Chef and partner Paul Kahan has become the nationally recognizable face of Chicago chefs. Passionately seasonal, unconventionally creative and dedicated to the inspiration of classical cuisine, Kahan has received international acclaim for Blackbird, avec, The Publican, Big Star, Publican Quality Meats, Dove's Luncheonette, Publican Quality Bread, Publican Tavern O'Hare. Awarded Outstanding Chef by the James Beard Foundation in 2013, Winner: Who's Who of Food & Beverage in America in 2014 and Winner: Best Chefs in America in 2004, Kahan has earned the praise of many who claim him to be one of America's most influential working chefs. In 2018, his cookbook "Cheers to the Publican, Repast and Present: Recipes and Ramblings from an American Beer Hall," won the IACP award in the "chefs and restaurants" category. In 2019, Kahan released his second book, 'Cooking For Good Times," which was named 'One of The Best Cookbooks Of The Year' by the New York Times Book Review. A Chicagoan through and through, Kahan is known for developing relationships with Midwestern farmers—leaving a permanent mark on his culinary outlook.
To learn more about this chef, please visit their website at https://www.oneoffhospitality.com
Follow at https://www.instagram.com/paulkahan/