Fundamental Cookware for Starters: The Sauce Pan
---
This article is one of a three-part series: Fundamental Cookware for Starters, where we share our go-to cookware for embarking on your culinary journey. Check out our posts on the Dutch Oven and Frying Pan, and read ahead to learn more about why a large sauce pan is a kitchen workhorse.
Despite its name, an All-Clad 3-Quart Sauce Pan is essential for a lot more than just sauces and gravies. The high sides, tight-fitting lid, and ability to distribute heat evenly and quickly make this vessel ideal for dishes that require kitchen techniques like stewing, steaming, blanching, and boiling. Since it is oven-safe, you can even do a smaller braise in the sauce pan. The 3-quart capacity is large enough for a delicious weeknight meal, and maybe even some leftovers too.
Here are some of our favorite ways to use a 3-Quart Sauce Pan:
Elevated Sauces
Whether you make a quick sauce or simmer all day long, a 3-Quart Sauce pan was made for your favorite marinara sauce. Your tomatoes will cook evenly for a perfect easy meal.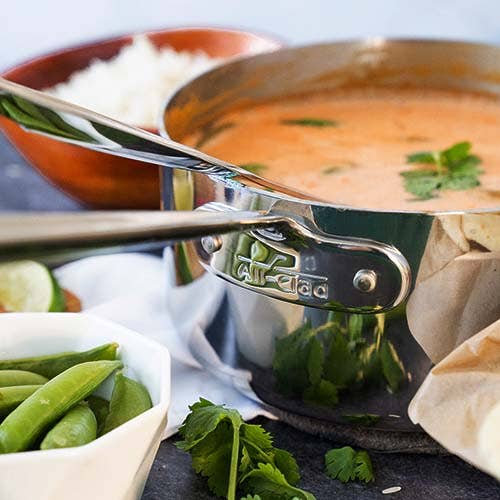 Flavorful Weeknight Dinners
Looking for a simple, yet flavorful weeknight meal for your family? Look no further than lentil dal – it is part sauce, part curry, and perfect to spoon over a bowl of rice. A 3-Quart sauce pan has enough capacity to hold enough for the family, four. When cooking lentils, it's important to boil your cooking liquid rapidly before going into a gentle simmer. This will keep your lentils from overboiling and becoming mushy. All Clad's bonded construction retains heat along with reacting to it quickly. Even though you want the lentils tender you still want them to hold their shape and feel.
Simplified Rice Cooker
Need to cook that rice, too? You don't need a rice cooker to get perfectly cooked grains. The tight-fitting lid on All-Clad sauce pans allows rice to steam perfectly, and since heat is distributed evenly and quickly, once your pan is covered, you can be assured that the heat will go from boil to low simmer fast. This ensures you do not undercook or burn your rice.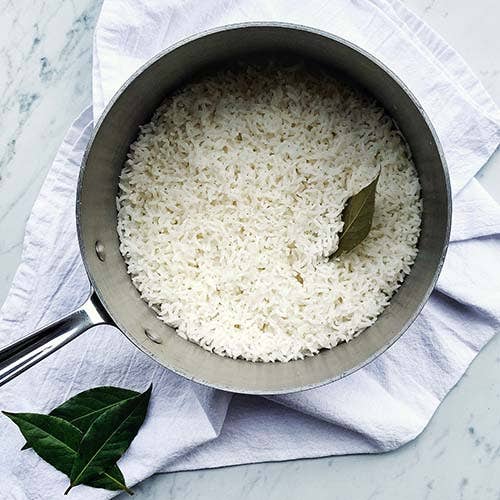 Comfort Meals with Ease
During the cooler months, we are all looking for some warm comforting dishes. A sturdy sauce pan will be your best friend during soup season. The D3 Stainless Steel Sauce Pan has the capacity to make lunch today and have some leftovers for tomorrow, plus your house will be filled with a delicious aroma as your soup simmers throughout the day.
A Balanced Meal with Tasty Vegetables
We love our All-Clad Sauté Pans for cooking leafy greens, but a sauce pan is key to one of the most unsung heroes of the kitchen – blanching! Blanching is a quick way to cook green vegetables while maintaining their vibrant color. To blanch, just add your vegetables to a boiling pot of water for just under a minute, which will gently soften the outside while keeping the interior crisp. It will also sweeten the produce. The biggest benefit is it will give your green vegetables the most vibrant color possible, in turn giving you some camera-worthy pictures of your own culinary creations in the process.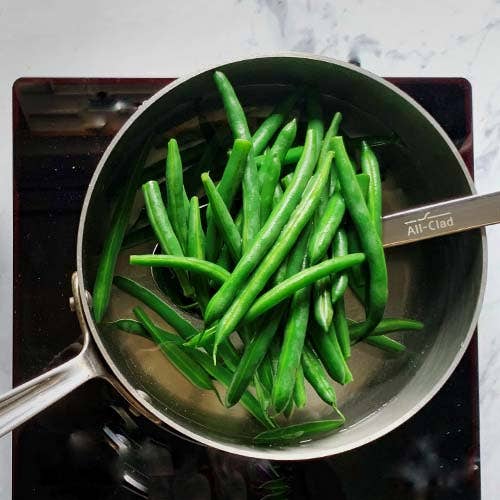 For all of these reasons, a large 3 Quart Sauce Pan is one of our most recommended vessels for those starting their culinary journey with All-Clad. While most home cooks discuss the importance of quality ingredients when cooking, we believe that the cookware you use is just as important. So the only question left to ask is: What do you want to create in your sauce pan? Tell us in the comments!