Gavin Kaysen's Pork Piccata
I love this recipe as it unlocks one of my favorite ingredients: fond, which refers to the caramelized bits left in the bottom of your pan. Releasing it to create a quick pan sauce is a great (and delicious) technique.
| | |
| --- | --- |
| TYPE | MAIN COURSE |
| SERVES | 2 |
| DIFFICULTY | MODERATE |
| PREP TIME | 10 MIN |
| COOK TIME | 15 MIN |
Ingredients
2 - 8 ounce boneless pork chops or loin steaks
fine sea salt
½ cup all-purpose flour, for dusting
2 tablespoon low-smoke vegetable oil, such as avocado oil
4 tablespoons unsalted butter
¼ cup capers, rinsed and drained
Juice of 1 lemon
2 sprigs parsley, picked and chopped
Directions
Place a plastic bag on a work surface. Set one of the pork chops on the bag and top with a second bag. Using the mallet or small sauce pan, pound the pork aggressively enough to flatten the meat but not tear it. Continue to pound until the pork is an even ¼ inch thick. Repeat with the remaining chops.
On an All-Clad Pro-Release Sheet Pan, season the pork chops on both sides with salt and dust both sides with a small amount of flour.
Heat an All-Clad Copper Core 12-Inch Fry Pan over medium-high heat until it starts to smoke slightly. Add the vegetable oil to the pan. If necessary, to not crowd the pan, cook one chop at a time. Add to the pan and cook until both sides are golden brown, about 3 minutes per side. Remove from the heat.
Pour off any oil remaining in the fry pan, then add the butter and stir, cooking until the butter begins to brown.
Once the butter gives off a nutty aroma, add the capers. Cook for a few seconds; then add the lemon juice. Add the chopped parsley and season with salt to taste.
Remove from the heat and add the pork back to the pan, basting with the butter sauce for about 1 minute.
Arrange the pork on a serving platter and pour the pan sauce over the meat.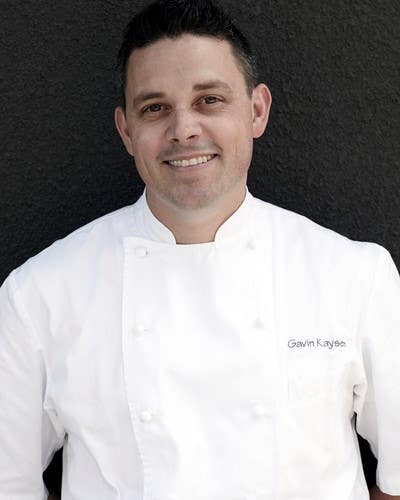 RECIPE BY
Gavin Kaysen
---
Chef Bio
To learn more about this chef, please visit their website at name of link
Connect with them on social name of link