Natasha Pickowicz's Zucchini and Sweet Corn Whole Wheat Hand Pies
Inspired by focaccia di recco, an irresistible Ligurian snack made with a cracker-thin unleavened dough stuffed with melty cheese, this hand pie dough instead contains a brighter, lighter, fresh vegetable filling. The dough is made with all whole wheat flour, which gives this hand pie a hearty toothsomeness that pairs so well with tender, raw zucchini and sweet summer corn. You don't need any special equipment for the dough, which comes together in a small mixing bowl and is kneaded into a stretchy, pliant dough by hand. You'll love hand stretching this dough into thin, translucent sheets, a lot like strudel or filo pastry, but much more sturdy. A little filling is spooned in, and then the pie is sealed. After a brief bake in a very hot oven, the pies emerge, golden brown and glossy, with tissue-thin pastry and a bright veggie filling. Don't forget a few sprigs of fresh herbs at the end, like basil or parsley, and serve with a big leafy salad.
| | |
| --- | --- |
| TYPE | BREADS |
| SERVES | 6 |
| DIFFICULTY | MODERATE |
| PREP TIME | 40 MIN |
| COOK TIME | 40 MIN |
Ingredients
For the Pie Dough:
200 grams whole wheat flour
100 grams room temperature water
50 grams olive oil
½ teaspoon kosher salt
¼ teaspoon baking powder
For the Pie Filling:
2 medium-sized zucchini
2 ears sweet corn
1 tablespoon olive oil
kosher salt and freshly cracked black pepper, to taste
fresh herbs like basil and parsley, for garnishing
one egg
Directions
For the Pie Dough:
In a small mixing bowl, combine the whole wheat flour, water, olive oil, kosher salt, and baking powder. Stir with your fingertips until combined; the dough will feel very loose and gooey. Continue to knead with your hands until a smooth, elastic ball forms, about 4 minutes. Wrap tightly in plastic wrap and transfer to the fridge to rest for at least 30 minutes.
For the Pie Filling:
While the dough is resting, prepare the vegetable filling. Slice the corn kernels off the cob; you should have about 1 and a half cups of kernels.
Thinly slice the zucchini by hand or on a mandolin and transfer to a small bowl. Add a big pinch of kosher salt and massage the zucchini with your hands. Let it sit for 15 minutes, to release some of the water.
After it has rested, wring the zucchini out with your hands, discarding as much of the excess water as you can. Stir in the corn kernels and dress with olive oil and freshly cracked black pepper. Taste the filling; it should taste seasoned but still sweet. Add more salt if necessary.
Baking:
Preheat the oven to 425°F. Remove the dough from the refrigerator and unwrap it. Cut into 6 pieces, which will make 6 small hand pies.
Lightly coat two All-Clad Pro-Release Baking Sheets with olive oil (or use one baking sheet and bake the pies in batches). Stretch the dough directly on the greased sheet tray, using the tips of your fingers to push each ball of dough into an oblong shape about 12 inches long and 8 inches wide. The dough should look very sheer and translucent; it's okay if it tears a little bit!
Once the dough is stretched out, scatter ½ cup of the filling over half of the stretched dough. Gently pick up the other half of the dough and drape it over the filling to seal. Crimp the edges of the dough shut. Repeat with the remaining dough until the filling is used up. These pies are very delicate and thin, so handle them gently, but don't worry too much about any torn pieces of dough or holes.
Brush the surface of the hand pies with one egg, whisked up. Transfer to the oven and bake until golden brown and sizzling, about 25 minutes. (Check after 20 minutes to make sure they're not browning too quickly).
Remove the pies from the oven and immediately loosen them from the baking sheet with a nonstick solid turner. Transfer to a drying rack.
Garnish the hand pies with fresh herbs, freshly ground black pepper, and flaky sea salt. Eat immediately. If reheating, store them in an airtight container in the refrigerator. Slowly toast them in a dry, HA1 Hard Anodized Nonstick Sauté Pan over medium-low heat until the top of the pies feel hot and the bottom is crispy again.
Pro Tip:
This time of the year, the markets are bursting with delicious vegetables, and other leafy greens — like escarole, collards, kale, spinach, and arugula — would be so welcome in this filling, too. I also love adding a few chopped anchovies to the vegetable mix, or you could sprinkle a little grated mozzarella on top of the filling before you seal the pie. A few tablespoons of cooked, crisped chopped bacon would be pretty wonderful, too — just make sure you keep the focus on the sweet, tender corn and zucchini.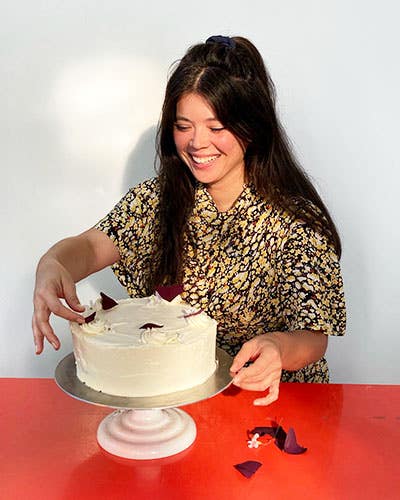 RECIPE BY
Natasha Pickowicz
---
Natasha Pickowicz is an NYC-based pastry chef and writer. She is a three-time James Beard Foundation Award finalist, recognition from her time spent running the pastry programs at the award-winning restaurants Altro Paradiso, Flora Bar, and Flora Coffee from their opening in 2016 until March of 2020. Currently, Natasha runs the acclaimed pastry pop-up called Never Ending Taste, which celebrates the relationship between local farming, social justice, and community bake sales. It has been held at NYC's Superiority Burger, Brooklyn's The Four Horsemen, the American-Vietnamese bakery Bạn Bè, the Taiwanese tea room Té Company, LA's Kismet, and San Diego's Chino Farms. She is now working on her debut cookbook.
Connect with Natasha on social @natashapickowicz