Before the fall season turns to jack-o-lanterns and trick or treating, it's all about apples. Everything from apple picking to apple cider donuts seems to officially beckon the start of the season.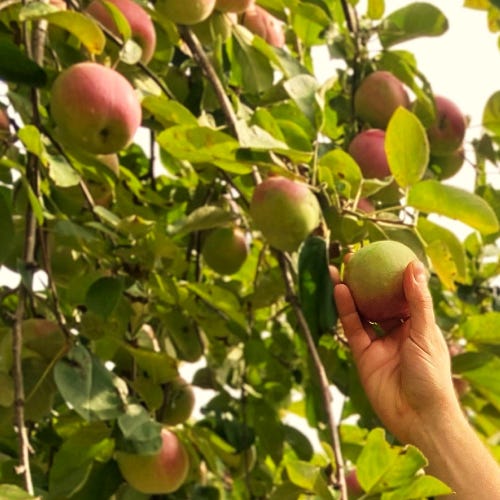 While few fall experiences are more fun than apple picking, figuring out what to do with the bushels of apples you picked can be a bit daunting. Luckily, you can use apples in an abundance of dishes from sweet to savory.
One of the simpler things to make is apple butter – applesauce that has been cooked down to a dark brown, deeply caramelized spread packed with intense apple flavor (no actual butter involved).
McIntosh apples are a great variety for this recipe since they break down easily and are super juicy with a tart and tangy flavor. A great accompaniment to savory dishes like pork chops, a delicious spread for morning toast, or even an unexpected addition to salad dressings, apple butter is surprisingly versatile.
However you decide to enjoy your apple butter, we suggest using an All-Clad Copper Core 3 Quart Saucepan to cook it. The extended cooking time of the recipe means that there is more potential to burn the ingredients. Copper Core provides optimal conductivity and heat control, allowing you to quickly correct if the apples appear to be overcooking.
Check out our Apple Butter recipe and let us know what creative ways you serve it!
When you want to cook down your apples, but still keep them intact, firmer varieties like Granny Smith and Fuji are up to the task of making a delicious caramelized apple garnish. Granny Smith apples have a firmness and acidity made for pies, tarts, soups, and even stuffing. Fuji apples are also dense enough to hold up when cooked. They're sweet and crisp, low in acid, and have notes of honey and citrus. Combining both varieties, skin on, will make your garnish stand out with beautiful colors.
An All-Clad D5 Stainless 3 Quart Sauté Pan will allow your apples enough room to sear and not steam, optimizing the depth of flavor. Ensuring your butter or oil is hot before adding the apples will keep them from sticking to the pan, and the higher sides will keep the sticky splatter to a minimum.
Check out our Caramelized Apple Sauce recipe that pairs perfectly with this seasonal favorite: Duck Breast.
When it comes to cooking with apples, the most common use is in desserts - pies, crisps, and other pastries, often paired with cinnamon and walnuts. There are numerous varieties to use when baking apples for dessert, but our preferred is the Honeycrisp apple since it retains its sweetness rather than mellowing out after cooking. Banana bread might be popular, but apple bread is secretly our favorite. Check out our Walnut Cinnamon Apple Bread recipe. Not only can this be enjoyed as dessert, but leftovers make for a delicious twist on tomorrow morning's French toast.
All-Clad Pro-Release Bakeware is coated with a ceramic-reinforced nonstick material that resists scratches and releases food easily batch after batch.
However you decide to enjoy this season's apples, there's an All-Clad cookware piece ready to help your recipes turn out amazing time and time again. Share your favorite apple recipe with us in the comments below!