While I love a teetering, elaborately engineered layer cake, sometimes I just want to snack on a simple sheet cake, topped only with a little icing or pinch of flaky salt. On cool Fall mornings, this cake is particularly delightful - it combines tart apples, brown sugar, whole wheat flour, and powdered cinnamon into the coziest, easiest sheet cake you can whip up in 15 minutes. The tart icing has a secret ingredient too—a dash of dried fennel pollen, which adds a mysterious floral perfume to this perfectly autumnal treat.
| | |
| --- | --- |
| TYPE | BREAKFAST & BRUNCH |
| SERVES | 8 TO 10 |
| DIFFICULTY | EASY |
| PREP TIME | 20 MIN |
| COOK TIME | 10 MIN |
Ingredients
For the Apple Cake:
2 large (400g) tart apples, like Granny Smith
1 cup brown sugar (200g)
¾ cup (150g) grapeseed oil
2 large eggs (100g)
1 teaspoon (5g) vanilla extract
1½ cup (180g) all-purpose flour
⅓ cup (60g) whole wheat flour
1 teaspoon (4g) baking powder
2 teaspoons (12g) baking soda
½ teaspoon (1g) ground cinnamon
1 teaspoon (7g) kosher salt
For the Fennel Pollen Icing:
1 cup powdered sugar
2 tablespoons apple juice from juice wrung out of Granny Smith Apples
½ teaspoon fennel pollen
¼ teaspoon kosher salt
Directions
For the Apple Cake:
Preheat the oven to 350°F (175°C).
Drape a saddle of parchment paper into the All-Clad Pro-Release Nonstick 9x13" Rectangular Baking Pan and set aside.
Grate the apples with the largest opening on a box grater or on a mandolin. Set aside.
Whisk together the eggs and brown sugar until creamy and slightly lightened in color, about 3 minutes.
Add the vanilla extract and grapeseed oil and whisk to combine.
In a small mixing bowl, whisk together the all-purpose flour, whole wheat flour, baking powder, baking soda, ground cinnamon, and kosher salt. Tip these dry ingredients into the wet ingredients and combine with a spatula by hand, until halfway combined and streaky.
To remove additional moisture, place the grated apple in a tea towel over a separate bowl to wring out the extra juices. Be sure to save the extra apple juice for the icing. Add the apples to the cake batter and do not overmix. The batter should be very stiff and heavy in apples.
Spread the batter into the prepared baking pan. Transfer to the oven and bake until a cake tester pulls dry and clean, about 35 to 40 minutes.
Remove from the oven and let cool completely in the cake pan while you prepare the icing.
For the Fennel Pollen Icing:
Combine the powdered sugar, two tablespoons of apple juice, kosher salt, and fennel pollen. Stir until smooth; the icing will be very runny. Taste and add more salt if desired.
Once the cake is completely cool, drizzle the icing all over the cake and spread with a spatula to coat evenly.
If you would like to garnish the cake with additional decor, try adding a few sprigs of dried fennel seed, edible petals, or a teaspoon of chopped rosemary.
Let the cake sit for 15 minutes then slice it into big squares and serve.
Store at room temperature in an airtight container for up to 5 days, or tightly wrapped in plastic in the freezer for up to three weeks.
Pro Tip:
This recipe even works great in the 8" Loaf Pan. For a healthier breakfast, you can omit the icing and slice slabs 1-inch thick and add a dollop of yogurt and some cut-up fresh apples or pears.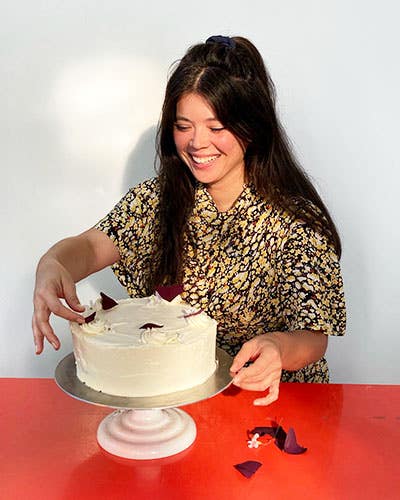 ---
Natasha Pickowicz is an NYC-based pastry chef and writer. She is a three-time James Beard Foundation Award finalist, recognition from her time spent running the pastry programs at the award-winning restaurants Altro Paradiso, Flora Bar, and Flora Coffee from their opening in 2016 until March of 2020. Currently, Natasha runs the acclaimed pastry pop-up called Never Ending Taste, which celebrates the relationship between local farming, social justice, and community bake sales. It has been held at NYC's Superiority Burger, Brooklyn's The Four Horsemen, the American-Vietnamese bakery Bạn Bè, the Taiwanese tea room Té Company, LA's Kismet, and San Diego's Chino Farms. She is now working on her debut cookbook.
Connect with Natasha on social @natashapickowicz