Paul Kahan's Wisconsin Fish Fry
---
This is a classic Wisconsin Fish Fry. While it's great served simply with tartar sauce, I like to combine Kewpie Japanese mayonnaise with some chopped-up homemade bread and butter pickles, chopped herbs, lemon juice, and a little grated lemon zest.
| | |
| --- | --- |
| TYPE | MAIN COURSE |
| SERVES | 4 |
| DIFFICULTY | EASY |
| PREP TIME | 5 MIN |
| COOK TIME | 15 MIN |
Ingredients
4 pieces of 6-7 oz Whitefish portions (fresh, skin and pin bones removed)
1 large egg
1 small ripe tomato
1/2 cup water
1 clove garlic, peeled
1/2 cup all-purpose flour
2 cups high-quality breadcrumbs or panko
Extra virgin olive oil
Salt and pepper
Directions
Preheat oven to 375 degrees
In a blender, combine the egg, garlic, water, and tomato, and blend for 15 seconds. Pour into a mixing bowl large enough to hold liquid. The bigger the better.
Place flour on a large plate or bowl
Place breadcrumbs on a separate large plate or bowl.
Season all four pieces of fish with salt and pepper.
One at a time, dip fish pieces in flour and coat completely. Shake off excess. Dip in egg mixture.
Carefully remove fish and place on bread crumbs. Shake a bit on the top, flip, and repeat. The fish should be completely crusted with crumbs. Place on a clean plate, and repeat this simple three-step process for the remaining pieces of fish.
In a large D3 Stainless All-Clad skillet (12" would hold four pieces, or use a 10" and cook two at a time), add enough olive oil to cover 1/8 inchi high. Heat over medium-high to the point where a pinch of bread crumbs sizzles nicely.
Place fish in a pan and cook about 30 seconds over high heat. Turn flame down to medium and cook until golden brown, approximately 1-2 more minutes.
Flip all four pieces of fish and place the entire pan in the oven for three minutes.
Remove pan and place fish on a paper towel-lined plate.
Serve with a simple tartar sauce.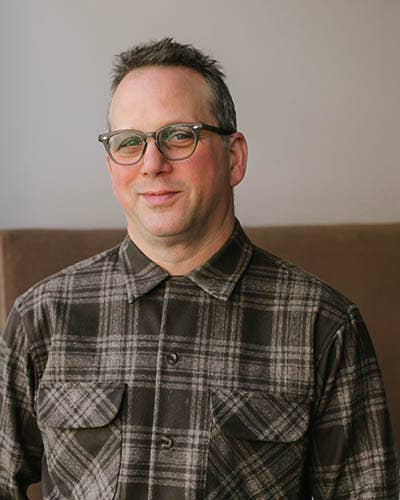 RECIPE BY
Paul Kahan
---
Chef and partner Paul Kahan has become the nationally recognizable face of Chicago chefs. Passionately seasonal, unconventionally creative, and dedicated to the inspiration of classical cuisine, Kahan has received international acclaim for Blackbird, avec, The Publican, Big Star, Publican Quality Meats, Dove's Luncheonette, Publican Quality Bread, Publican Tavern O'Hare, Big Star Wrigleyville, and Café Cancale. Awarded Outstanding Chef by the James Beard Foundation in 2013 and Best Chef of the Midwest in 2004, Kahan has earned the praise of many who claim him to be one of America's most influential working chefs. In 2018, his cookbook "Cheers to the Publican, Repast and Present: Recipes and Ramblings from an American Beer Hall," won the IACP award in the "chefs and restaurants" category. His second cookbook, "Cooking for Good Times", was released in October 2019 and has received national accolades including a nod as a New York Times Best Seller. A Chicagoan through and through, Kahan is known for developing relationships with Midwestern farmers—leaving a permanent mark on his culinary outlook.