Paul Kahan's Roasted & Marinated Root Vegetables
---
| | |
| --- | --- |
| TYPE | SIDE DISH |
| SERVES | 6 |
| DIFFICULTY | EASY |
| PREP TIME | 5 MIN |
| COOK TIME | 15 MIN |
Ingredients
2 lbs beets, sweet potatoes, parsnips, or turnips
2 tablespoons mild olive oil
2 teaspoons sugar or honey
2 sprigs thyme
1 sprig rosemary
Juice of 1 orange or 2 tablespoons red wine or champagne vinegar
2 tablespoons EVOO
red pepper flakes
salt and pepper
Directions
Preheat oven to 375 degrees
Prepare your root vegetables: Peel beets, especially if they are dirty or gnarly. Sweet potato and turnip skins can just be scripped, as their skins will soften as you cook. Peel larger parsnips, but feel free to leave smaller ones washed and unpeeled.
Cut the vegetables into uniform chunks, about 1/2 inch thick by 2 inches long. For parsnips, remove the tough inner core once you've cut it into uniform pieces.
To roast, preheat an All-Clad Sauté Pan big enough to hold the vegetables in a single layer (at least a 2 qt sauté). Add olive oil until it shimmers.
Add the vegetables and let them carmelize, about two minutes. Check frequently to ensure they are not burning - lower the heat if necessary to prevent scorching.
Mix the vegetables gently with a spoon and season with salt and pepper, add your honey or sugar, and transfer to the oven.
Cook until the vegetables are lightly browned and tender. You can test with the tip of a sharp knife after about 6 minutes - if they are easily pierced, they are ready.
Spoon the vegetables into a large bowl, discarding the herbs. Add the EVOO, orange juice, or vinegar and pinch of chili flakes
Let cool and serve at room temp, or store in the fridge for up to five days.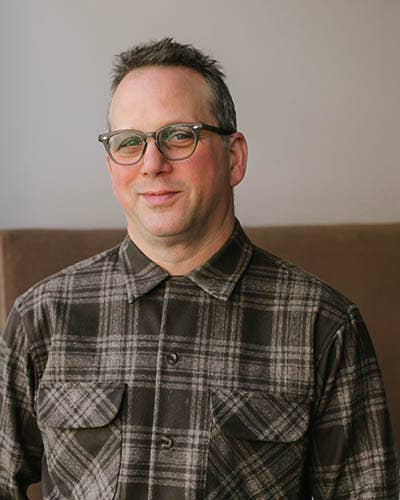 RECIPE BY
Paul Kahan
---
Chef and partner Paul Kahan has become the nationally recognizable face of Chicago chefs. Passionately seasonal, unconventionally creative, and dedicated to the inspiration of classical cuisine, Kahan has received international acclaim for Blackbird, avec, The Publican, Big Star, Publican Quality Meats, Dove's Luncheonette, Publican Quality Bread, Publican Tavern O'Hare, Big Star Wrigleyville, and Café Cancale. Awarded Outstanding Chef by the James Beard Foundation in 2013 and Best Chef of the Midwest in 2004, Kahan has earned the praise of many who claim him to be one of America's most influential working chefs. In 2018, his cookbook "Cheers to the Publican, Repast and Present: Recipes and Ramblings from an American Beer Hall," won the IACP award in the "chefs and restaurants" category. His second cookbook, "Cooking for Good Times", was released in October 2019 and has received national accolades including a nod as a New York Times Best Seller. A Chicagoan through and through, Kahan is known for developing relationships with Midwestern farmers—leaving a permanent mark on his culinary outlook.