Natasha Pickowicz's Crispy Panisse with Pecorino and Apricot Jam
Panisse, a Mediterranean snack made from finely ground chickpea flour, has crisp, crunchy edges with creamy, fluffy insides. Like cooking polenta or steaming rice, the actual measurements are fairly standard and don't change too much. Where my twist comes in is in the sweet-and-savory toppings that hit the Panisse nuggets right out of the sizzling oil. A drizzle of tart apricot preserves freshly cracked black pepper, and a generous dusting of grated cheese takes these into an utterly irresistible place. If you love lavender, try dunking a few fresh sprigs in the oil before you fry the Panisse — the herbs infuse the oil with their perfumed scent, and they make a lovely edible garnish, too.
| | |
| --- | --- |
| TYPE | SIDE DISH |
| SERVES | 6 |
| DIFFICULTY | EASY |
| PREP TIME | 30 MIN |
| COOK TIME | 10 MIN |
Ingredients
2 heaping cups (250 grams) finely ground chickpea flour
1 liter vegetable stock, low sodium
3 tablespoons olive oil
2 cloves garlic, grated
1 teaspoon kosher salt
3 tablespoons apricot jam, for drizzling
freshly cracked black pepper
¼ cup freshly grated parmesan or pecorino
flaky sea salt, to finish
2 cups grapeseed oil, for frying
2 to 3 sprigs fresh lavender, optional
Directions
Combine the chickpea flour, olive oil, grated garlic, kosher salt, and two cups of stock in an All-Clad D3 Stainless 3 Quart Sauce Pan. Whisk well until smooth, then whisk in the rest of the stock. Bring up to a simmer over medium-low heat, whisking continuously. The mixture should look smooth and runny, and will quickly turn heavy and porridge-like. Continue to cook over medium-low heat, whisking continuously, until the mixture is thick and stiff, about 10 minutes. (It should look creamy and thick, like polenta).
Immediately transfer the mixture to an All-Clad Pro-Release Quarter Sheet Pan and use a spatula to smooth the surface to a depth of the baking sheet, or about ¾" tall.
Let cool slightly and then transfer to the refrigerator to set up completely, about 30 minutes to 1 hour.
Remove the baking sheet from the fridge and invert it onto a cutting board; the Panisse dough should pop right out.
Portion the Panisse into 1" cube-shaped nuggets using a sharp knife, and a ruler if you really want to get precise. (If you want to cook these later, transfer them to an airtight container and freeze for up to one month).
Over medium heat, bring 2 cups of neutral oil, like grapeseed, up to around 350°F in an All-Clad D5 Stainless 3 Quart Sauté Pan (the oil should be about ¾" deep). Drop in the lavender sprigs and fry until crisp, about 30 seconds. Remove with a slotted spoon and transfer to a baking sheet lined with a towel.
Carefully drop in the Panisse nuggets and fry, for about 5 minutes, until lightly golden and crisp all over. It's helpful to use chopsticks to flip the Panisse over, so they get color on all sides.
Remove the Panisse as they finish frying with the chopsticks and transfer to the towel-lined plate to drain. Let the lavender oil cool completely and save it for future projects.
To serve, arrange a pile of nuggets on a dish and spoon the apricot preserves all over. Top with freshly cracked black pepper and a big flurry of grated cheese. Finish with a pinch of flaky sea salt. Eat immediately, while the nuggets are still hot and crisp.
Pro Tip:
You can freeze the portioned, cooked Panisse nuggets, stacked neatly in an airtight container, for up to one month before frying. I like to make a big batch of Panisse and then have it on hand for quick cravings and impromptu happy hour snacks. Also consider portioning your Panisse into other shapes, like long, skinny fries, round pucks, or even playful shapes using your favorite cookie cutters. Though I love these with a savory twist, the beauty of Panisse is that they can go sweet as easily as salty, and would be such a delicious and special breakfast. For an extra sweet twist on these, omit the black pepper, garlic, and cheese and add a dusting of powdered sugar and a spoonful of berries. Delicious!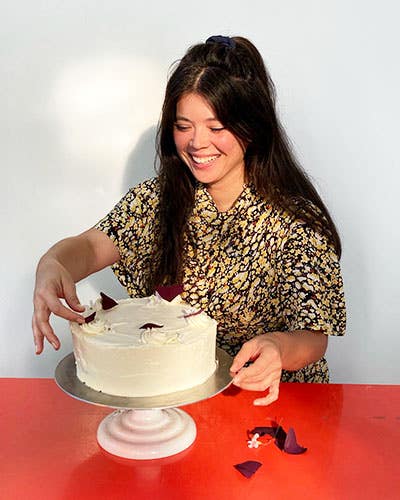 RECIPE BY
Natasha Pickowicz
---
Natasha Pickowicz is an NYC-based pastry chef and writer. She is a three-time James Beard Foundation Award finalist, recognition from her time spent running the pastry programs at the award-winning restaurants Altro Paradiso, Flora Bar, and Flora Coffee from their opening in 2016 until March of 2020. Currently, Natasha runs the acclaimed pastry pop-up called Never Ending Taste, which celebrates the relationship between local farming, social justice, and community bake sales. It has been held at NYC's Superiority Burger, Brooklyn's The Four Horsemen, the American-Vietnamese bakery Bạn Bè, the Taiwanese tea room Té Company, LA's Kismet, and San Diego's Chino Farms. She is now working on her debut cookbook.
Connect with Natasha on social @natashapickowicz