Natasha Pickowicz's Spelt Focaccia with Roasted Root Vegetables
---
Often I'll go overboard at the farmer's market, snapping up baskets of squash, potatoes, turnips, onions, and other autumnal treasures without quite knowing what I'll do with them and when. I recently roasted a chicken, set over a tray of diced root vegetables, and found myself with a ton of leftovers and no game plan. I took all of those half-used veggies - daisy-shaped Delicata squash, Harukei turnips with their greens still attached, young yellow onions, and acorn squash - and arranged them on a simple, no-knead focaccia dough made crisp in the oven with plenty of olive oil. It's as pretty as a painting and so fun to decorate – and if you have a little leftover chicken schmaltz to dip it in, all the better.
| | |
| --- | --- |
| TYPE | BREADS |
| SERVES | 8 |
| DIFFICULTY | EASY |
| PREP TIME | 30 MIN |
| COOK TIME | 1 DAY |
Ingredients
For the pre-ferment:
1/2 cup spelt flour (whole wheat or rye flour works here as well)
1/3 cup warm water
1/4 teaspoon dry instant yeast
For the focaccia
All of the pre-ferment (about 120g)
50g spelt flour (about 1/3 cup)
180g all-purpose flour (about 1 1/2 cups)
190g warm water (about 3/4 cup)
3/4 teaspoon (3g) dry instant yeast
1 teaspoon kosher salt
1/4 cup olive oil
2 cups mixed chopped fall vegetables sliced thinly (like squash, onions, potatoes, turnips)
Flaky sea salt
Black pepper
Directions
For the pre-ferment:
Mix the spelt flour, water, and dry instant yeast with a spoon in a small dish.
Cover with plastic wrap and leave at room temperature for at least 4 hours and up to 12 hours. It will look spongey and bouyant.
For the focaccia:
In a large bowl, add the all-purpose flour, spelt flour, all of the preferment, warm water, dry instant yeast, and kosher salt. Mix well with a wooden spoon, until no dry flour is visible, about 4 minutes. Let rest for 30 minutes, covered, at room temperature.
Dip your fingertips in a little water and gently lift one edge of the dough to stretch and pull it upward, and then folding it over into the center. Continue to rotate the bowl, lifting and stretching the edges of the focaccia, until the dough feels bouncy and won't stretch any further. Cover and let rest for 30 more minutes. Continue this stretch and fold process two more times for an additional 60 minutes of rest time. Cover the bowl tightly with plastic wrap and transfer to the fridge to rest overnight, for at least 10 hours or up to 48 hours.
When ready to bake the focaccia, toss the sliced vegetables with 1 tablespoon of olive oil and a big pinch of flaky sea salt. Set aside.
Turn the oven on to 425°F. Remove the dough from the fridge and transfer to the All-Clad Pro-Release non-stick baking sheet coated in a tablespoon of olive oil. Flip the dough over so it is evenly coated in the oil. Use greased fingertips to poke, press, and stretch the dough to fit the pan. If it starts bouncing back, let it rest for 5 minutes before trying to stretch it further. The dough should fit the entire pan after a rest time of about 1 hour.
When the dough has relaxed and looks bubbly and ready to bake, dimple the dough well with the tips of your fingers to pop the larger bubbles. Scatter the marinating vegetables on top of the foccacia. Transfer to the oven and bake until golden and fragrant, about 25 to 30 minutes. Remove from the oven, transfer to a drying rack, and add the remaining olive oil to moisten the surface of the bread and vegetables. Sprinkle generously with flaky sea salt and freshly cracked black pepper and cut into 12 pieces to serve.
Pro Tip:
If using raw potatoes, squash, or onions, be sure to cut them thinly (no thicker than 1/2cm wide) so they have enough time to soften and caramelize in the oven. Another suggestion: I love using leftover cooked vegetables too, which add unbeatable creaminess to a crunchy bread; try crumbling cooked potatoes into large chunks, or mashing cooked squash into a paste to spread onto the top of the focaccia before baking. To add extra heartiness to the bread, you could also add soft grated cheese (like low-moisture mozzarella or cheddar) or torn mushrooms before baking, or adding crumbles of feta or dollops of ricotta on the focaccia as soon as it comes out of the oven. I also love very, very thinly sliced lemon (including the peel!), which adds a bright tang and bitterness to complement the soft, starchy root vegetables. Also, feel free to play around with the proportions of whole-grain flours; the more whole grain flour you add to the dough, the more dense and chewy the bread will be, so start in small increments at first so as not to compromise the fluffy texture of the bread. And let the dough properly rest before baking, which allows for maximum delicious bubbly holes, and don't be shy with the olive oil - that's what gives the focaccia and irresistible crunchy and richness.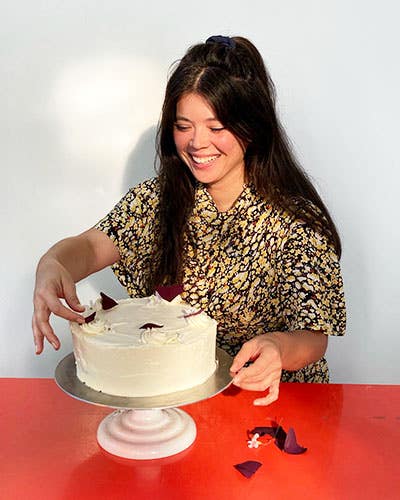 RECIPE BY
Natasha Pickowicz
---
Natasha Pickowicz is an NYC-based pastry chef and writer. She is a three-time James Beard Foundation Award finalist, recognition from her time spent running the pastry programs at the award-winning restaurants Altro Paradiso, Flora Bar, and Flora Coffee from their opening in 2016 until March of 2020. Currently, Natasha runs the acclaimed pastry pop-up called Never Ending Taste, which celebrates the relationship between local farming, social justice, and community bake sales. It has been held at NYC's Superiority Burger, Brooklyn's The Four Horsemen, the American-Vietnamese bakery Bạn Bè, the Taiwanese tea room Té Company, LA's Kismet, and San Diego's Chino Farms. She is now working on her debut cookbook.